Immersion Trips
Immersion programs empower you to explore career options and make informed decisions.
They are open to all majors within A&S | Maxwell, and are designed to help you:
gain familiarity with a variety of different geographical regions;
make valuable connections with industry leaders and alumni;
learn about future internship and job opportunities; and
have a wider perspective of your chosen field.
Talk to your advisor about which immersion trip is right for you.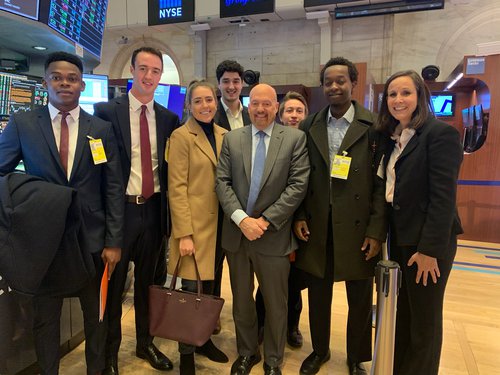 Tom Toomey '95 majored in history and found his niche on Wall Street. He's made it possible for A&S | Maxwell students to explore careers in finance through the annual Stocks and Finance immersion trip. Students and advising staff spend three days in New York City each fall, visiting the New York Stock Exchange and firms in the financial sector—and sometimes meet media celebrities, like Jim Cramer (pictured), host of CNBC's Mad Money.
"I no longer fear venturing into the unknown"
A&S | Maxwell student Shaquille Reid '22 reflects on his Stocks and Finance experience.
No Matter the Major, Stocks and Finance Immersion Offers A&S | Maxwell Students a Window Into Finance
The Stocks and Finance Immersion offers Jehan Muhialdain '22 a window into finance.
Ally Peyton '21, a policy studies major, participated in the 2019 Winston Fisher Seminar, a weeklong business immersion program in New York City. The seminar was founded by real estate developer Winston Fisher '96, a member of both the Syracuse University Board of Trustees and the Dean's Advisory Board in A&S. Check out her story.