Pi Mu Epsilon
New York Alpha Chapter
History and Mission
Pi Mu Epsilon is the national mathematics honorary society. Founded in 1914 at Syracuse University, PME currently has over 350 chapters at colleges and universities throughout the United States. The purpose of the society is to promote mathematical activities among students.
Activities
Pi Mu Epsilon hosts mathematical talks given for and by SU undergraduates, career-focused discussion panels, mathematical movie screenings and other social events. It also runs advising panels and organizes preparation sessions for Putnam competition and GRE Mathematics Test. Events are announced via email; to be added to the mailing list, send a message to Leonid Kovalev at lvkovale@syr.edu. Recent and forthcoming events also appear on this page.
Some of the recent presentations by Pi Mu Epsilon members:
Pi Mu Epsilon Membership
Membership in Pi Mu Epsilon, New York Alpha Chapter is open to all students in good standing with Syracuse University who meet the eligibility requirements listed below.
Major in Mathematics or a related field, including but not limited to: biology, chemistry, economics, engineering, or physics.
Completion of two semesters of calculus and two additional courses in mathematics at or above the calculus level.
GPA in mathematics at least 3.317 and an overall GPA at least 3.142. Special cases with an upward trend will be duly considered.
Scholarly interest in promoting mathematics on campus and in the Syracuse community.
---
Spring 2023 Inductees
Macy Aiken, Arshjott Bhangu, Spencer Evans-Cole, Lillian Impastato, Aksel Malatak, Juliette Mangon, Juliana Mini.
Spring 2022 Inductees
Ding Chen, Yuming Jiang, Trevor Knight, Jinao Zhang
Spring 2021 Inductees
Jenna Cammerino, Yijing Chen, Jason Curtachio, Emma Fenton, Zhao Jin, Liangchen Li, William Mahaney, Anthony Mazzacane, Zhuoqi (Chi Chi) Tong, AiJing Wu, Gia Zhao
Spring 2020 Inductees
Noah Goldmann, Bin Liao, Samson Lin, Can Luo, Xinyue Mao, Maya Ostoin, Connor Ritchie, Aaron Wargula, Sifei Zhu
Spring 2019 Inductees
Kasey Brinkerhoff, Delong Chen, Brittany Wright.
Spring 2018 Inductees

Valerie Boctor, Andrew Cummings, Matthew Gonzales, Evan Lewis, SunLee Stechuk, Xinxuan Wang, Lin Yang.
Winter 2018 Inductees

Patrick Cummings, Megan Donato, Emily Dyckman, Zijia Liu, Grace Mehr, Nachmon Nagel, Xintong Wang.
Fall 2016 Inductees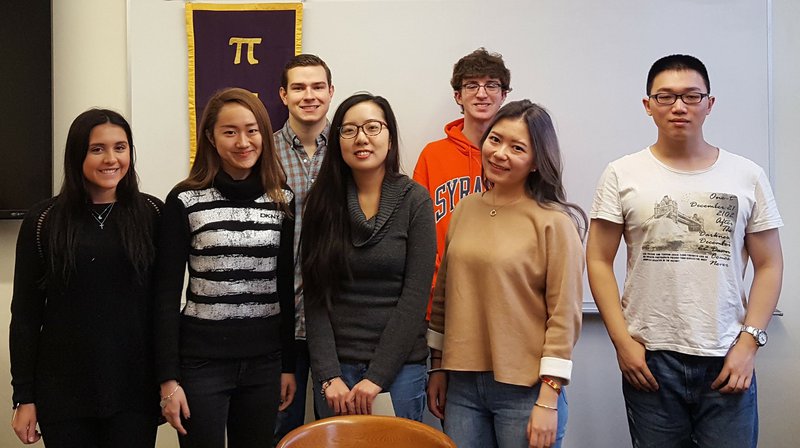 Bryan Alicea, Ruixin Chen, Alexa Georgakopoulos, Wanni Huang, Meghan Lentz, Thompson Morgan, Tianyi Wang, Yuxin Zhang.
Spring 2016 Inductees

Jordan Barrett, Victor Cannestro, Max Engelhard, Jessye Green, Matthew Melkonian, Zhenyun Shi, Grant Webster.
Spring 2015 Inductees
Weiyi Chen, Tyler Fernandez, Faith Hopeck, Wei-yu Hsieh, Zhaoheng Li, Manxi Qin, Mengran Zhang.
Spring 2014 Inductees
Mary-Johanna Adjetey, Kevin Donovan, Amine Elmeghni, Fred Gard, JiaJin Lei, Lameess Mehanna, Kaitlin O'Rourke, Liwen Qin, Tessa Xie, Ju Yuan, Zhan Zhao.
Spring 2013 Inductees
Craig Allen, Grant Griffiths, Stephen Sorokanich III, Xin Tian, Ashley Valentijn.
Fall 2012 Inductees
Bingjing Feng, Xinyi (Shirley) He, Stanley Hoffman, Randi Rodecker, Shuo Zhang.
Spring 2012 Inductees
Joe Andrade, JiaYu Chen, Dan Goldman, Chris Hoffman, Dylan Hsu, Qiu Jin, Ben Kaplan, Alex Lam, Han Li, Yunjia Mi, Terence Nip, Keeley Naughton, James Schwartz, Liwei Zhu.
Spring 2011 Inductees
Jessica Auriemmo, Christa Carsten, Justin Cyr, Chuoping Deng, Scott DePutron, Benjamin Hatch, Tracy Isman, Gordon Jones, In Gun Kim, Marc Peterson, Alex Petzke, Syed Rahman, Maria Rozas Espanol, Jiahui Wang, Renyong Zhang.