Ancient Climates and Ecosystems Research Group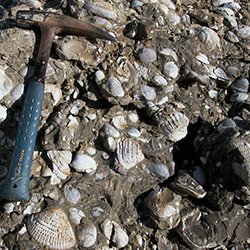 The Ancient Climates and Ecosystems research group in the Department of Earth and Environmental Sciences focuses on understanding the patterns and mechanisms behind changes in past climate and ecosystems. Our collective work spans timescales from a few thousand to several billions of years, settings from terrestrial to aquatic to marine, and illustrates how the Earth system works over the range of extremes in Earth surface evolution. Insights contribute to an improved understanding of processes relevant to current rates of global environmental and biospheric change.
Our faculty and graduate students hold a regular weekly seminar, known as 'PaleoX', where we discuss ongoing research by group members and guests, and newly published papers, across the range of paleoclimatology, -ecology, -limnology, -oceanography, -biology... Discussions, like our group, are highly interdisciplinary, wide-ranging in scope, and bring together many different perspectives. We meet regularly on Thursdays at 11 AM in rm 333C, and interested participants are welcome to join us.
Group Principal Investigators