WRSO
Writing & Rhetoric Student Organization (WRSO)
The Writing & Rhetoric Student Organization (WRSO) was founded originally as the Writing Program Student Organization on September 10, 2014. Comprised of six executive board members and several active members, the WRSO works to bring together undergraduate writing majors and minors for social events, professional development workshops, community service initiatives, and networking.
The mission of the WRSO is to build community and share opportunities within the Writing Program by connecting students to resources and fostering relationships between faculty, WRT alumni, and each other.
2016-2017 Executive Board
Zach Barlow, Co-President
Katy Kawasoe, Co-President
Sakura Tomizawa, VP of Budgeting & Finance
AbbyLeigh Charbonneau, VP of Event Management
Assistant Professor Patrick W. Berry, Faculty Adviser
Connect With Us!
We're always looking for creative ideas to help our fellow Writing majors. If you have any ideas for an event or if you would like to help the WPSO contact us at
Email: wpso.syr@gmail.com
Facebook: https://www.facebook.com/WritingProgram
Twitter: @WPSOatSU
Fall 2015 Event: Creative Nonfiction Workshop and Dinner
You are invited to the WPSO's Creative Nonfiction Workshop and Dinner on Tuesday, October 20! The catered dinner will take place in the Noble Room of Hendricks Chapel from 6-8 pm. Ivy Kleinbart will provide a few tips and techniques for successful creative nonfiction workshopping. Come to enjoy food, share your work, meet new people, and improve your writing! To reserve your spot, please send a copy of the nonfiction work(s) you would like to workshop to wpso.syr@gmail.com no later than Sunday, October 18 at 6 p.m. You will receive a confirmation email. Space is limited, so reserve your spot as soon as possible! Hope to see you there!
Fall 2014 WPSO Social Event Recap
On Thursday, November 20, 2014, current and prospective students, faculty, and friends of the Writing and Rhetoric major and minor gathered for the first annual Writing Program Student Organization (WPSO) social event.
The event brought together Writing majors and minors just before the Thanksgiving holiday and marked the official debut of the newly founded Writing Program Student Organization.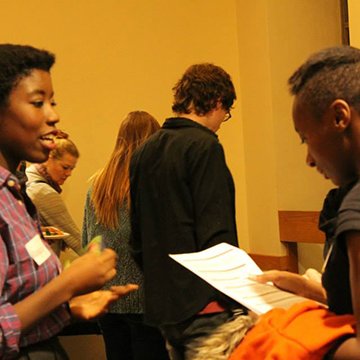 The Writing Program Student Organization's goal is simple: to build community within the Writing Program. "We wanted to make an organization that could forge a bond between faculty and students in the Writing Program. Everyone working together, networking their resources, and making a stronger program as a whole," says WPSO co-chair Johnathan McClintick, "We were super-excited by the turnout at the WPSO social, and feel it's just the beginning of great things to come."
Three students from the Writing Program—Chamelia Moore, Annemarie Menna, and Johnathan McClintick—shared their writing at the social. Moore and Menna, read pieces from Professor Kevin Browne's class WRT 422: Studies in Creative Nonfiction: Memoir and Spoken Word.
"All of us on the Writing Program faculty have hoped that we would someday have a student organization since the major was established in 2009. We are grateful that this group of student leaders has brought the WPSO into being and are excited about this group's plans for the future," says Lois Agnew, Chair and Director of the Writing Program.
As the semester winds down, the WPSO looks optimistically towards the future of the Writing Program and its newly founded student organization. "I am looking forward to next semester," says WPSO co-chair and senior Writing and Rhetoric major Maryann Akinboyewa. "We have so many exciting things planned for all the Writing majors. Everything will be bigger and better."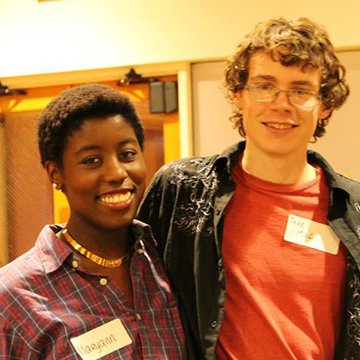 For more information, visit the WPSO Facebook page.
To join the WPSO or for more information, please send an email to wpso.syr@gmail.com.
—story by the Writing Program Student Organization