Pre-Health Advising Overview

Our Services
Pre-health advising will help you build a path to your chosen healthcare field.
There is no required route for entry into professional schools. All physicians, dentists, veterinarians, and other healthcare providers started where you are today. As students, they held diverse backgrounds, perspectives, interests, talents, skills and experiences—just as you do. Preparing for professional school is a developmental process, so the admissions review is holistic. This is why, during their undergraduate careers, we encourage all pre-health students to:
demonstrate intellectual aptitude and curiosity;
demonstrate a commitment to healthcare;
contribute to the community; and
build character.
Prepare
We are here to help you cultivate these attributes. We help students navigate the required pre-professional courses and develop academic plans to best pace themselves and maintain a competitive GPA. Advising conversations frequently center around:
academic planning;
research;
summer experiences;
gaining clinical exposure;
engaging in community service and volunteerism; and
developing leadership skills.
During the active application phase, we assist applicants by:
reviewing personal statements;
conducting mock interviews; and
guiding students through the centralized application systems.
We also offer a committee letter for applicants to schools of human medicine. The Pre-Health Evaluation Committee process begins the year before the opening of the application service. For students who take a gap year, we keep in touch as they develop further experience and strengthen their development.
Testimonial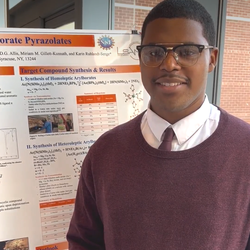 Donyell Logan G'23 Medicinal Chemistry
Career goal: Become a physician-scientist and faculty member at a U.S. college of medicine
"The pre-health advising office has been extremely influential on my success here at Syracuse University. They helped me revise my personal statement and move forward in my process on my journey towards medical school. As a result, I received a fellowship at Memorial Sloan Kettering Cancer Center with full tuition scholarship for the MCAT and an MCAT prep course."


Visit Us
Appointments are designed for in-depth discussions regarding your pre-health plans and goals. Please schedule an appointment with your pre-health advisor on OrangeSUccess for larger matters. During summer, current undergraduate students can make in-person appointments through OrangeSUccess. For phone or ZOOM appointments, students and alumni are always invited to contact us by email or phone.
Contact Us
122 Life Sciences Complex
315.443.2212
prehealthadvising@syr.edu