Reflections of Excellence
Humanities Center fellowships underscore University commitment to high-impact research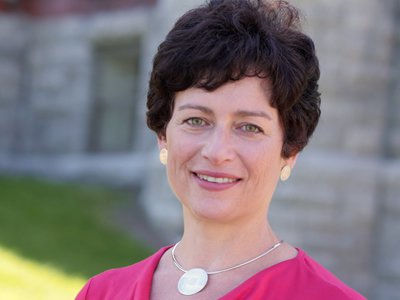 Every year, the Humanities Center in the College of Arts and Sciences offers a range of highly competitive fellowships to Syracuse University faculty and graduate students.

These awards, which directly align with the University's commitment to high-impact research, encompass semester-long Faculty Fellowships and yearlong Dissertation Fellowships and Graduate Student Public Humanities Fellowships.

"We are committed to supporting emerging and established scholars," says Vivian May, director of the Humanities Center and professor of women's and gender studies in A&S. "By bringing together researchers from diverse backgrounds, we inspire a cross-disciplinary dialogue that explores the humanities in a global context, contributes to Syracuse's vibrant intellectual community, and showcases the wide relevance and scope of humanities inquiry."

The 2017 Faculty Fellows are Roger Hallas, associate professor of English, and Scott Manning Stevens, associate professor of English and director of Native American studies. The 2017 Syracuse Symposium Fellow is Joan Bryant, associate professor of African American studies.

The 2016-17 Dissertation Fellows are Amy Burnette, a Ph.D. student in English, and Jessica Pauszek, a Ph.D. student in writing studies, rhetoric and composition.

The 2016-17 Graduate Student Public Humanities Fellows, supported in partnership with the Central New York Humanities Corridor and Humanities New York, are Jesse Quinn and Kishauna E. Soljour '13, Ph.D. students in geography and history, respectively, in the Maxwell School.

"This year's Fellows are impressive," May adds. "They reflect the innovation and excellence for which the University is known, and their projects highlight the humanities' vitality in both traditional and interdisciplinary contexts. Notably, their work explores histories, narratives, genres and communities that have been overlooked or underappreciated."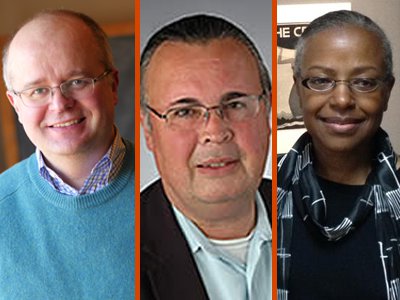 Every spring, the Humanities Center supports up to four Faculty Fellows: three from A&S (one of whose research supports the Syracuse Symposium theme) and one from Maxwell.

Roger Hallas
"A Medium Seen Otherwise: Photography and Documentary Film"
Hallas is using his Faculty Fellowship to complete a book about the relationship between photography and documentary film. While working on his previous book, "Reframing Bodies: AIDS, Bearing Witness and the Queer Moving Image" (Duke University Press, 2009), he noticed a growing number of photographers using photos in multimedia environments to document traumatic experiences.

"This changing ecology got me thinking about how traditional media is used in new, creative ways," says Hallas, who also coordinates the English department's film and screen studies program. "The intersection of photography and documentary film is an area of scholarship that is significant but often overlooked. I study an international range of documentary films, web documentaries and photobooks, and how audiences perceive them."

Hallas spent most of the semester ensconsed in the Carnegie Library Reading Room, writing chapters of the book. In March, he presented part of a chapter at the annual conference of the Society for Cinema & Media Studies in Chicago, where he spoke with editors at several presses about his next project, an edited collection on visual arts documentaries. "I conceive it as a companion piece to 'A Medium Seen Otherwise,' and already have received commitments from an international and interdisciplinary range of contributing authors," he adds.

Hallas co-directs the annual Syracuse University Human Rights Film Festival with Tula Goenka G'86, associate professor of television, radio and film (TRF) in the Newhouse School. He is using his Faculty Fellowship in conjunction with a Howard Fellowship, awarded by the George A. and Eliza Gardner Howard Foundation through Brown University.

Scott Manning Stevens
"Indian Collectibles: Encounters, Appropriations and Resistance in Native North America"
Stevens is one of the nation's foremost authorities on Native American literary and visual cultures during the 1700s and 1800s. His Faculty Fellowship project traces the colonial legacy's influence on modern Native American self-expression in literature and the visual arts.

"His work involves a series of case studies exploring cultural appropriation, as manifested in natural history museums, fine arts collections and libraries," May says. "By studying the political and aesthetic issues surrounding indigenous collectibles, Scott adds to our understanding of and appreciation for Native heritage and history."

A citizen of the Akwesasne Mohawk Nation, Stevens previously was director of the D'Arcy McNickle Center for American Indian and Indigenous Studies at The Newberry Library in Chicago and an adjunct professor of American studies at the University of Notre Dame. He is the author or editor of multiple books, the latest of which is "Why You Can't Teach United States History Without American Indians" (University of North Carolina Press, 2015).

Joan Bryant
"Kinship, Labor and the 19th-Century Worlds of Asa Valentine, FMC"
As a Syracuse Symposium Fellow, Bryant is interested in notions of "Place," the theme of this year's symposium. She is studying the journal of one Asa Valentine, a free man of color, or FMC, who lived in southwestern New Jersey. The journal documents his labor from 1845 to 1863.

"This unpublished, never-before-referenced document is a starting point for mapping the contours of black life in a place situated on the edge of the free North," says Bryant, whose research involves northern free people of color. "The idea of 'place' is not just a spot on a map; it involves conflict and encompasses kinship, memory and social status."

Bryant is the author of the forthcoming "Reluctant Race Men: Black Opposition to the Practice of Race in 19th-Century America" (Oxford University Press). She recently co-curated a Special Collections Research Center exhibition titled "Black Utopias," commemorating the 50th anniversary of the publication of "The Autobiography of Malcolm X" (Grove Press, 1965).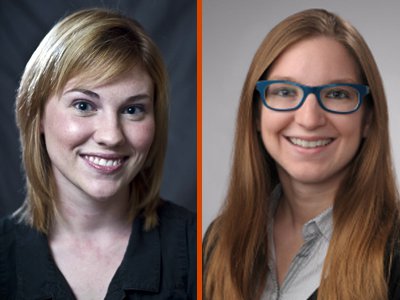 Every year, the Humanities Center awards up to two Dissertation Fellowships to Ph.D. students in A&S. These competitive one-year awards support doctoral students completing their dissertations. Each Fellow's project must show strong evidence of humanities content and methods, as well as advance humanities scholarship.

Amy Burnette
"Praxis Memoriae: Memory as Aesthetic Technique in English Renaissance Literature, 1580-1630"
Mnemonic devices are often regarded as easily remembered words, phrases or rhymes. During the English Renaissance, they played more of an artistic role, supplying authors with a theory and practice of literary invention.

"Praxis Memoriae," or the "Practice of Memory," engaged with the humanist revival of the classical "ars memoria" (colloquially known as the "Art of Memory") more than 400 years ago. The "Art of Memory" was a host of mnemonic devices that helped readers and listeners retain information and cultivate ideas.

"My project shows how memory was used as a creative stimulus for literature," Burnette says. "I hope to reintegrate memory into the history of English Renaissance aesthetics."

Central to her research are the works of Shakespeare, poet Edmund Spenser and clergyman Thomas Adams, as well as period commonplace books with illustrations of printed media.

Proof of Burnette's scholarly mettle also abounds in the second edition of "A Feminist Companion to Shakespeare" (Wiley-Blackwell, 2016), edited by her advisor, Dympna Callaghan, the William L. Safire Professor of Modern Letters. Callaghan invited her to submit a chapter to the acclaimed book.

"This fellowship helps me show how memory was the source of literary meaning itself," Burnette adds.

Jessica Pauszek
"Literacy and Labor: Archives, Networks and History in Working-Class Communities"
Raised in a small, blue-collar town in Western New York, Pauszek didn't know what "working class" truly meant until after she left home. "I grew up in a community of laborers, whom I saw working at print shops, ink shops, steel mills, food production plants and the coal factory," she says. "This sense of identity and work was ingrained in me."

Pauszek's background sparked an interest in "literacies of everyday life." Thus, she used her fellowship to develop a transnational print and digital archive of the Federation of Worker Writers and Community Publishers (FWWCP). From 1976 to 2007, the FWWCP was a London-based network that self-published thousands of texts about working-class life, and eventually expanded to other continents. FWWCP pieces often reflected the social and political climate of the time, casting light on issues of migration, vocational experiences, gendered identity and educational practices.

"Although these materials are housed in London's Trades Union Congress Library Collections, they also are represented in our digital archive," says Pauszek, who has been appointed assistant professor of literature and languages at Texas A&M University-Commerce. "I plan to keep working on the archive and to develop a book manuscript focusing on the literary practices of transnational working-class communities."

Winner of the Syracuse University Libraries' Mary Hatch Marshall Essay Award, Pauszek recently defended her dissertation in the Composition and Cultural Rhetoric Doctoral Program.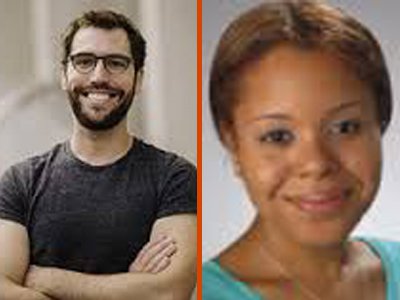 Graduate Student Public Humanities Fellowships also are one-year awards, highlighting creativity and experimentation in the public sphere.

"We are committed to supporting emerging scholars. These fellowships develop skills for doing public work, engaging wider publics and strengthening the public humanities community throughout New York state," May says.

This year's Graduate Student Public Humanities Fellows will discuss their research on Friday, April 28, from 9:30 to 11:30 a.m. in the Sainsbury Library (Room 304) in the Tolley Humanities Building. The event is free and open to the public.

Jesse Quinn
"Precious Earth: Stories of Mining and Political Change in the Adirondack Mountains"
Quinn spent five years producing wildlife documentaries for the National Geographic Society before coming to Syracuse. For his fellowship, he is drawing on his experience in digital mapping, qualitative research and television production to develop a digital humanities project about industrial mining and resource extraction in the Adirondacks. He currently is interviewing local citizens, environmental groups and scholars about the political impacts of these projects on the region.

"Resource extraction has been key to maintaining the region's economy and environment since the Adirondack Park's creation [in 1892]," says Quinn, referencing the region's long history of public and private collaboration in resource management. "The people in these small towns, therefore, have complicated relationships with such projects. On one hand, they provide jobs and income, but, on the other hand, they pose interesting environmental and political challenges that are part of people's everyday lives."

Quinn also is the winner of travel research awards from the American Association of Geographers and the American Research Institute of the South Caucasus, enabling him to conduct related research in the former Soviet republic of Georgia. He earned a master's degree in geography and development at The University of Arizona.

Kishauna E. Soljour '13
"The Road to Independence: Somali-Bantu Refugee Immigration to Syracuse"
Like Quinn, Soljour works at the nexus of the interpretive social sciences and visual arts. Her fellowship underwrites the creation of a short film and a collection of oral histories documenting refugee experiences in Central New York.

"I use multimedia to promote social justice efforts, public policy, immigration, racial identity, gender and citizenship," says Soljour, who previously was a dual major in African American studies in A&S and TRF in Newhouse. "This fellowship supports my interest in modern African Diaspora studies in the West."

Central to Soljour's research is a local organization called Refugee and Immigrant Self- Empowerment (RISE), which grew out of the Somali Bantu Community Association founded in 2004. The City of Syracuse is home to about 10,000 resettled refugees, including the Bantu, an ethnic minority group from the southern part of Somalia, Africa.

Located in the Tolley Humanities Building, the Humanities Center cultivates diverse forms of humanities scholarship, sponsors a range of dynamic programming and partnerships, highlights the humanities as a public good and underscores the relevance of the humanities for addressing enduring questions and pressing social issues.