Scott Manning Stevens [Akwesasne Mohawk]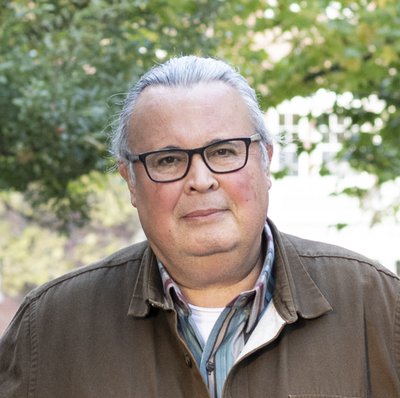 Scott Manning Stevens [Akwesasne Mohawk]
Associate Professor, Director, Native American and Indigenous Studies

CONTACT
English
Humanities Faculty
314 Tolley Humanities Building
Email: scsteven@syr.edu
Office: 315.443.8785

A&S AFFILIATIONS
Art and Music Histories
Religion

PROGRAM AFFILIATIONS
Medieval and Renaissance Studies
Native American and Indigenous Studies

Degrees
Harvard University, Ph.D. in English 1997
Harvard University, A.M. in English 1991
Dartmouth College, A.B. in English, 1985
Research and Teaching Interests
Primary interests in Native American cultures of the Northeast from the pre-colonial period to the present. Specialized area interests in visual culture, museum studies, and Native American literatures. Dr. Stevens is a citizen of the Akwesasne Mohawk Nation and holds courtesy appointments as an Associate Professor of Art and Music History and an Associate Professor of Religion.

Book chapters and articles
"The Achievement of Karl Bodmer," Faces from the Interior: The Native American Portraits of Karl Bodmer, ed. Toby Jurovics. Seattle: University of Washington Press, 2021
"The Language of Belief: Religious Conversion in Eighteenth-Century Iroquoia," Feeling Godly: Religious Affections in Early North America, ed. A. Van Engen and C. Wigginton. Amherst, MA: University of Massachusetts Press, 2021.
"From 'Iroquois Cruelty' to the Mohawk Warrior Society: Stereotyping and the Strategic Uses of a Reputation for Violence," Violence and Indigenous Communities: Confronting the Past, Engaging the Present, ed. J. Ostler, J. Reid, and S. Sleeper-Smith. Evanston, IL: Northwestern University Press, 2021.
"On Native American Erasure in the Classroom," Teaching Race in Perilous Times, ed. Jason Cohen. Albany, NY: SUNY Press, 2021.
"Roy Lichtenstein's Wild West," Roy Lichtenstein: History in the Making, 1948-1960, Eds. Elizabeth Finch and Marshall Price. New York: Rizzoli Press, 2020.
"Collecting Haudenosaunee Art in the Modern Era," refereed on-line journal published by MDPI, special issue titled "Native Survivance and Visual Sovereignty: Indigenous Visual and Material Culture in the 19th and 20th Centuries," ed. Amy Lonetree and Sascha Scott, Arts, 2020, 9(2),55; https://doi.org/10.3390/arts9020055
"Memorial Culture," The Routledge Handbook to the History and Society of the Americas, Ed. Olaf Kaltmeier, Josef Raab, Michael Stewart Foley, Alice Nash, Stefan Rinke, and Mario Rufer. New York: Routledge, 2019.
"Tomahawk: Materiality and Depictions of the Haudenosaunee," Early American Literature 53, no. 2 (2018).
"Collectors, and Museums: From Cabinets of Curiosities to Indigenous Cultural Centers," The Oxford Handbook of American Indian History, ed. Frederick Hoxie. Oxford University Press, 2016.
"Witnessing History, Staging History: The American Indian Paintings of John Mix Stanley," Painted Journeys: The Art of John Mix Stanley, Ed. Peter H. Hassrick and Mindy N. Besaw. Norman, OK: University of Oklahoma Press, 2015.
"'The Voice of One Crying in the Wilderness': The KJV and Ethno-Exegesis in Iroquoia," The King James Bible across Borders and Centuries, ed. Angelica Duran. Pittsburg: Duquesne University Press, 2014.
"The Historiography of New France and the Legacy of Iroquois Internationalism," Comparative American Studies, Vol. 11 No. 2, June 2013, 148-65.
"A View from Iroquoia," primary essay in a catalog for the exhibit, On the Trails of the Iroquois, March of 2013, at the Kunst- und Ausstellungshalle in Bonn, Germany. Sylvia Kasprycki, curator and editor. Berlin: Nicolai Verlag, 2013.
"The Path of the King James Version of the Bible in Iroquoia," Prose Studies, vol. 34, issue 1 (Routledge), 2012
"The National Museum of the American Indian and the Politics of Display." American Indians and Popular Culture: Literature, Arts, and Resistance. Ed. Elizabeth DeLaney Hoffman. Los Angeles: Praeger Publishers. 2012.
"Cultural Mediations: or How to Listen to Lewis and Clark's Indian Artifacts"; refereed article, published by UCLA, American Indian Culture and Research Journal, issue 31.3, 2007.
"'Unaccommodated Man': Essaying the New World in Early Modern Europe." Multicultural Europe and Cultural Exchange in the Middle Ages and Renaissance. Ed. James Helfers. Turnhout, Belgium: Brepols Publishers, 2005.
"New World Contacts and the Trope of the 'Naked Savage'". Sensible Flesh: On Touch in Early Modern Culture. Ed. Elizabeth Harvey. Philadelphia: U of Pennsylvania Press, 2003.
"Mother Tongues and Native Voices: Linguistic Fantasies in the Age of the Encounter." Telling the Stories: Studies in Native American Literature. Ed. E. Hoffman-Nelson and M. Nelson. New York: Peter Lang Publishers, 2001.
"Sacred Heart and Secular Brain." The Body in Parts: Fantasies of Corporeality in Early Modern Europe. Ed. Carla Mazzio and David Hillman. New York: Routledge, 1997. *Winner of the English Association's Beatrice White Book Prize for the Outstanding Scholarly Work in the Field of English Literature before 1590.
"William Apess's Historical Self." Northwest Review XXXV-3 (1997): 67-84.