Volunteers from the Department of Chemistry in the College of Arts and Sciences worked with the local section of the American Chemical Society to provide chemistry demonstrations at the launch of the STEM Micron Chip Camp at Liverpool Middle School on April 4. The purpose of the camp was to interest young people in the Syracuse area in STEM (Science, Technology, Engineering, and Math) and to prepare them for careers in the semiconductor and related fields.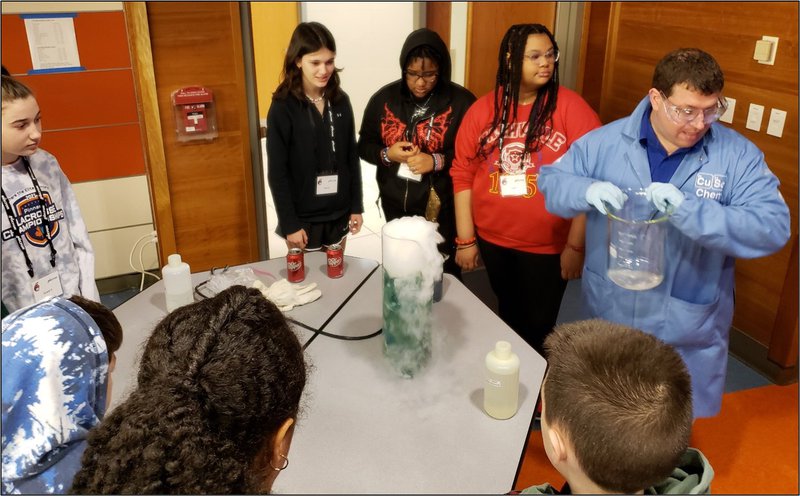 Bonomo (in lab coat) demonstrates an experiment.
Jon French, assistant teaching professor and undergraduate director of chemistry, and Gary Bonomo, chemistry lab supervisor and instructor, prepared and performed an array of captivating chemistry demonstrations: a soda can/bottle crusher, CO2 bubbler, dry ice with pH indicator, magnetic slime, marbled shaving cream, limiting reagent and beetle dye. Students also participated in these and other hands-on activities. French and Bonomo coordinated with the CNY American Chemical Society for a portion of the supplies. They were assisted by enthusiastic volunteers from Syracuse University (Liz Clifford, Kali Bosket, Jordan Avinoam, Jennifer Jankowski and Kathryn Piper). The bubbling, foaming, slimy creations fascinated the students who had fun while learning about chemistry and the volunteers enjoyed inspiring the next generation of scientists.
The event was a huge success and was also featured on local news outlets: CNY Central and Channel 9 news.