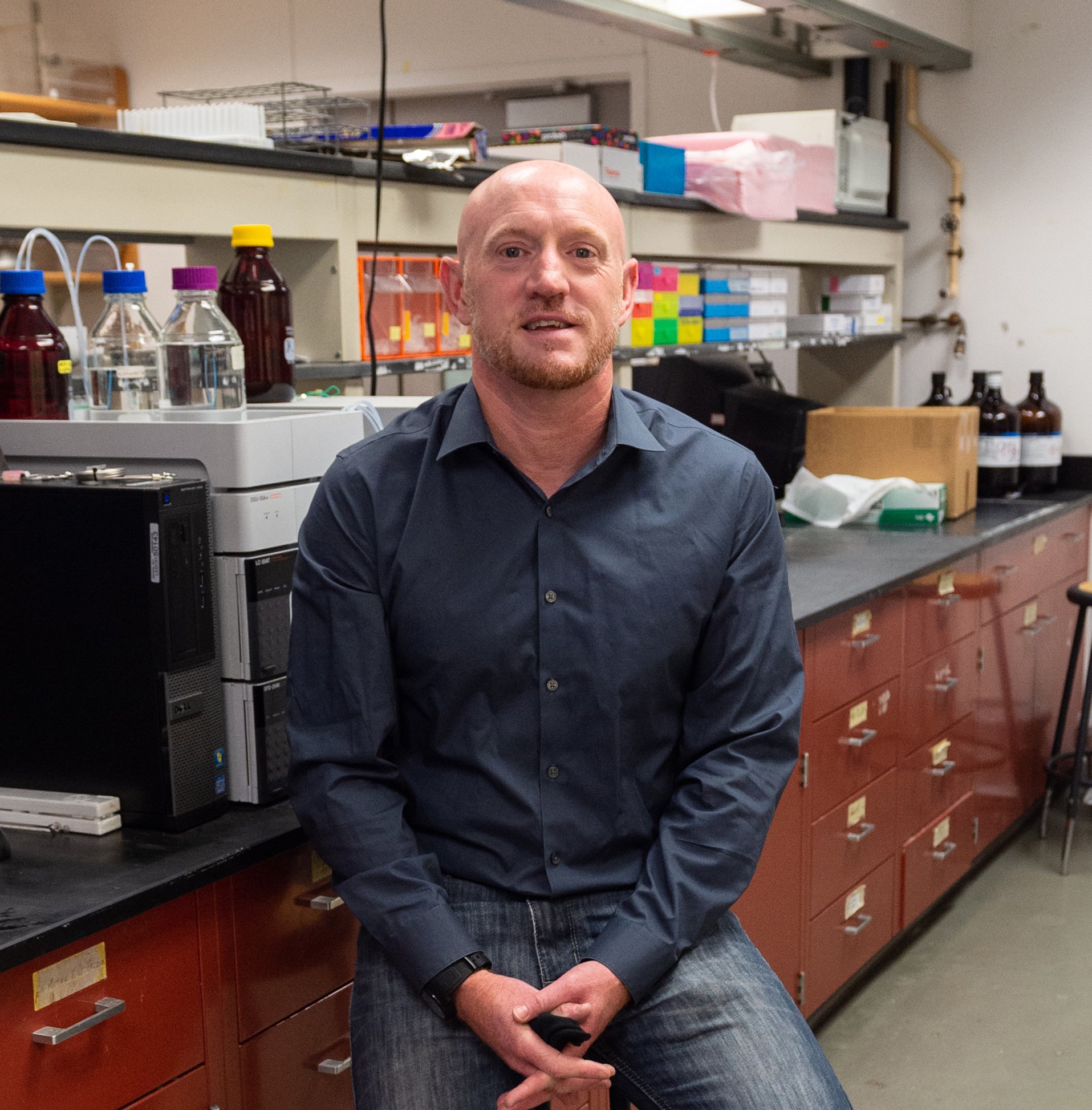 by John H. Tibbetts
Robert Doyle, Dean's Professor of Chemistry in the College of Arts and Sciences and associate professor of pharmacology at SUNY Upstate Medical University, received the 2022 American Chemical Society Central New York Section Award in the field of chemistry and chemical engineering. The award was delayed a year because of Covid-19 restrictions.
"I'm a member of the American Chemical Society, which is one of the largest scientific societies in the world and my professional home as a chemist," says Doyle. "I am delighted to be selected from all the great research going on in CNY."
Doyle received the award for developing an experimental peptide treatment that causes significant and consistent weight loss and normalizes glucose in laboratory animals but without common, negative side-effects.
Today's weight-loss and diabetes drugs on the market often do not achieve long-term weight-loss because nausea and vomiting force 70% of patients to stop treatment within a year. Current drugs target receptors that control food intake but can also increase gastrointestinal distress.
"We wanted to find a treatment to uncouple nausea and vomiting from weight loss," says Doyle. "Our drug reduces food intake in rodents by 87% over two days and causes significant weight loss at doses 10 times that of current FDA medications, without any observed nausea or vomiting in rodent studies."
The researchers created the peptide drug GEP44 in the laboratory, comprising 44 amino acids that target three different weight-loss and glucoregulatory receptor pathways simultaneously.
"Current drugs target one receptor that contributes to weight loss and food intake reduction," says Doyle.
"Our drug, however, targets that receptor and adds other ones as well. Together, they synergistically contribute to weight loss while downplaying illness triggers causing nausea and vomiting. It's the sum contributions of targeted receptors communicating to each other that is facilitating these changes."
The experimental drug would increase the burn rate of calories while allowing patients to remain on the drug for longer periods, lose weight and not feel sick while taking it.
The next steps are to develop this therapy with a large pharmaceutical partner, move the drug through the pre-clinical phase, and eventually to a Phase 1 human trial.
Doyle is primary investigator for three current NIH R01 awards, totaling more than $6 million, and an award from the Department of Defense ($3 million) related to obesity, diabetes mellitus or chemotherapy-induced nausea and vomiting, in collaboration with either Seattle Children's Research Institute (Prof. Christian Roth) or the University of Pennsylvania (Prof. Matthew Hayes).
The researchers acknowledge funding from the Congressionally Directed Medical Research Programs of the U.S. Department of Defense, which is interested in this topic because many veterans have weight-related type 2 diabetes.