Department of Physics Holds Second Annual Paid Internship Program for Aspiring Young Scientists in Syracuse
The Syracuse University Research in Physics program brings Syracuse City School District students to campus labs for six weeks of physics research.
Students from Syracuse-area high schools participated in this summer's Syracuse University Research in Physics paid internship program. The students presented their research during a culminating poster session on August 4 in the Physics Building. (Photo by Yudaisy Salomón Sargentón)
In 20 years, when you ask a group of scientists to recall the moment they decided they wanted to pursue a career in STEM, they might say it happened on the campus of Syracuse University in the summer of 2023. Thanks to the Syracuse University Research in Physics (SURPh) paid internship program, Syracuse City School District (SCSD) students and recent graduates spent six weeks on campus in labs and in classrooms where they worked alongside College of Arts and Sciences (A&S) faculty to engage in cutting-edge research. Among the topics explored, students took a dive into the world of invisible subatomic particles, known as neutrinos, and probed the inner regions of distant galaxies using computational astrophysics.
SURPh was an idea developed last year by rising senior physics major Ruell Branch, who is also an alum of SCSD. The program provides SCSD students the unique opportunity to work as a paid scientist before entering college, which organizers hope will inspire the young researchers to continue in STEM. The program is led by Jennifer Ross, professor and department chair of physics, and also includes co-organizers Melanie Pelcher, a science teacher at Henninger High School in Syracuse, Devon Lamanna '23, an SCSD alum who majored in economics in the Maxwell School and is now pursuing a master's in the same subject, and Yudaisy Salomón Sargentón, operations specialist for the Department of Physics.
Now in its second year, SURPh is a collaboration of A&S and SCSD and is supported in part by the National Science Foundation, the John Ben Snow Foundation, A&S' Engaged Humanities Network and the Department of Physics. The program welcomed 12 new student participants and five that returned from last year's cohort to serve as near-peer mentors. Faculty instructors included physics professors Eric Coughlin, who specializes in computational astrophysics and simulations of black holes and stars; Alison Patteson, who focuses on experimental biophysics and bacterial biofilms; Jennifer Ross, who specializes on experimental biophysics and microtubule self-organization; and Mitch Soderberg and Denver Whittington, who specialize in experimental neutrino physics.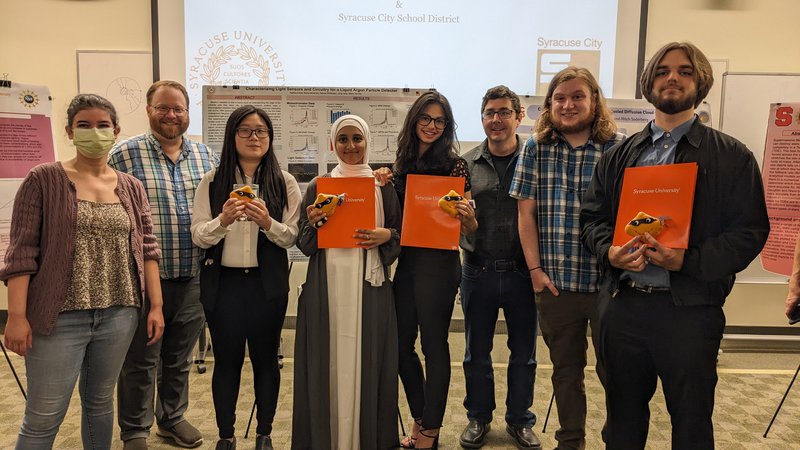 A&S physics professors Denver Whittington (second from left) and Mitch Soderberg (third from right) with the experimental neutrino physics research group. (Photo by Yudaisy Salomón Sargentón)
The program wrapped up with a poster session where students presented their research to their peers, faculty, local high school teachers and families in the physics building on the Syracuse University campus.
"It is exciting to see the science these students are able to achieve in just six weeks," says Ross. "It is even more exciting that so many wanted to return as mentors and to do science with us a second summer. To me, that is the impact – creating the longitudinal pipeline going into the future."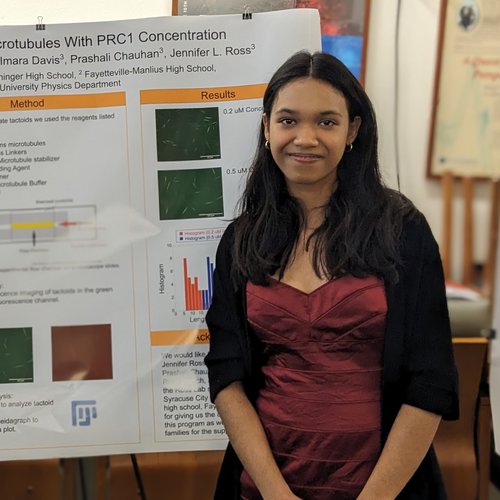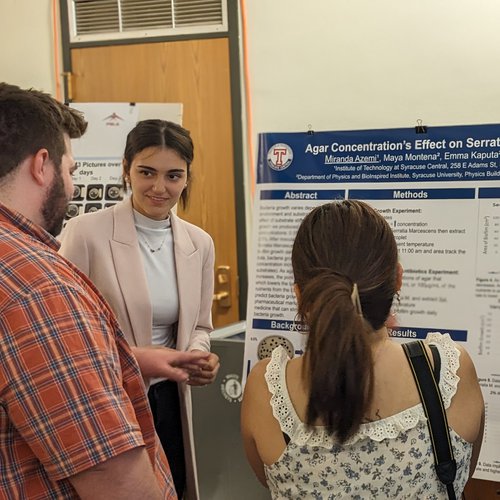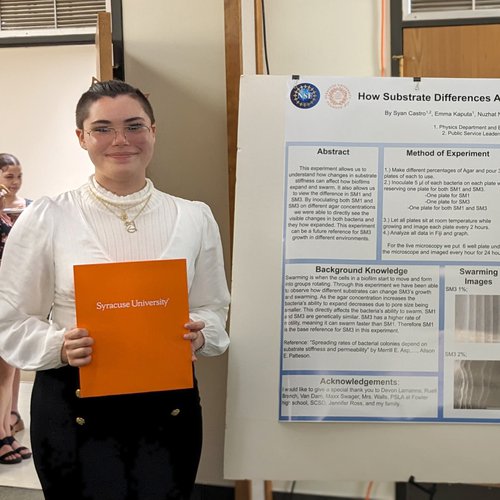 While one of the major goals of the program is to instill in these students an interest in science, Ross hopes the six weeks on campus serves as a recruiting tool that will bring them back to Syracuse University for the next step in their academic journey.
"(At the poster session) one local teacher said that the students from his school are all saying that Syracuse University is a top pick for them to go to college, and he wasn't sure they were thinking about college before," explains Ross. "That is a major win. Any kids who continue their school after this is a win. Any kid who stays with science is a win. If they pick physics, double win. My top-level goal is to have a student do this program, major in physics, decide to stick with it for a Ph.D., and come back to teach for us at Syracuse University. We are trying to create our own pipeline of diverse talent from the local neighborhoods up."
Ross says they plan to hold the event again next year and will get started in December with recruiting at all the local high schools.