A Commitment to A&S Excellence
Dean Mortazavi recognizes Kishi Animashaun Ducre and Alan Middleton, outgoing associate deans, for their achievements in fostering equity and inclusion and research excellence in the College of Arts and Sciences.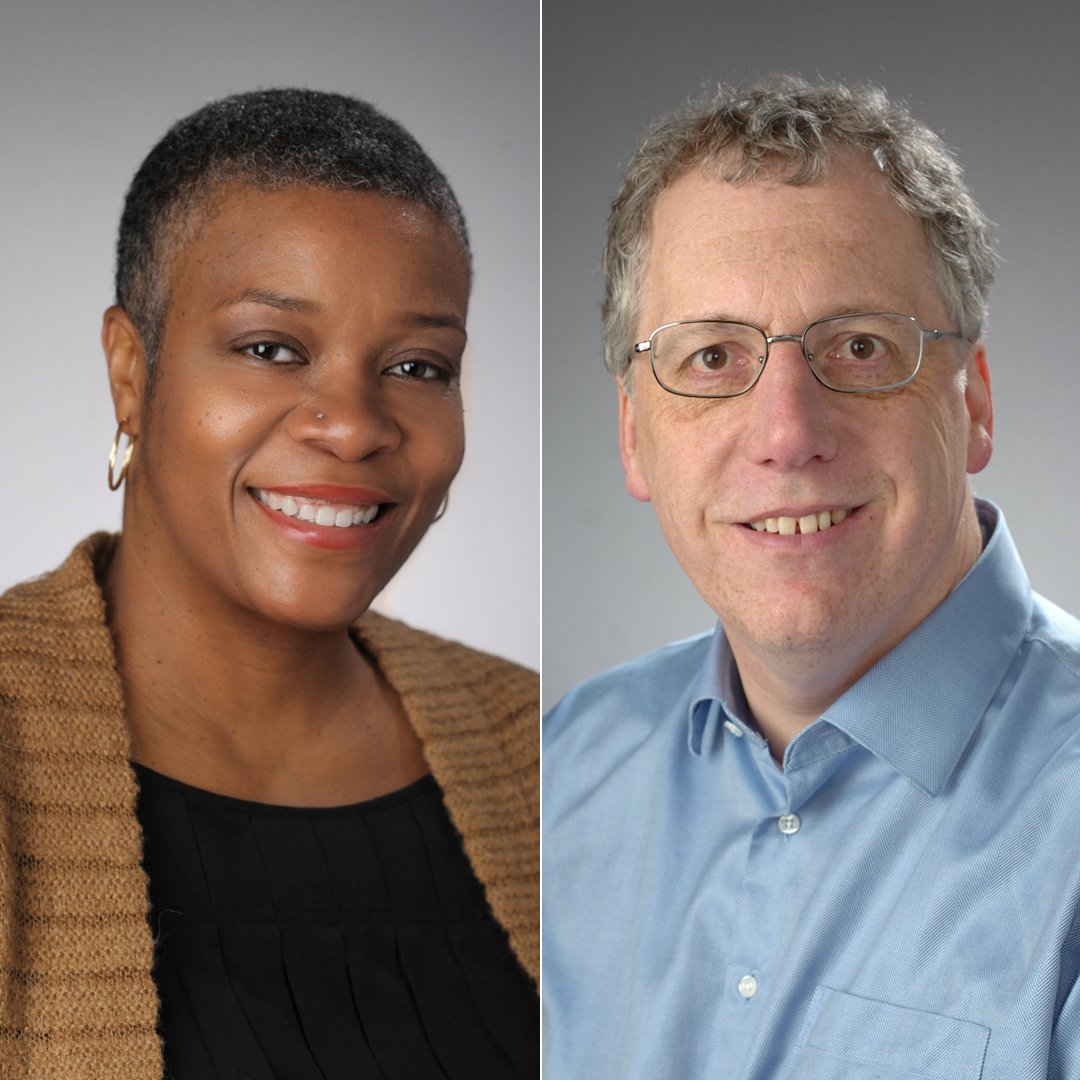 A welcoming community where students of varying backgrounds thrive. An infrastructure that nurtures top-tier research and academics. These are two cornerstones of the College of Arts and Sciences (A&S) experience. Over the past six years, A&S has shown important strides in these areas, and that success can be attributed largely to the efforts of associate deans Kishi Animashaun Ducre and Alan Middleton, who are returning to the faculty this fall.
According to Behzad Mortazavi, Dean of the College of Arts and Sciences, Ducre and Middleton were forward-thinking leaders focused on elevating the standing of the College.
"I applaud Professor Middleton and Professor Ducre on their thoughtfulness and dedication to the College," says Mortazavi. "Alan's steadfast commitment to advancing research has been key to raising the profile of the College and the University. Likewise, Kishi's work as A&S' inaugural associate dean for diversity, equity and inclusion (DEI) has strengthened the College's reputation and improved the experience for our faculty, staff and students."
Ducre, a leading scholar in gender, race and environmental justice, joined the African American Studies faculty at Syracuse in 2005. She is an environmental sociologist examining the intersection of the geographies of race and gender within the field of environmental justice, from a Black feminist perspective. Her work has appeared in edited books and journals, including Environmental Sociology. Ducre is also author of "A Place We Call Home: Gender, Race and Justice in Syracuse" (Syracuse University Press, 2013) and co-editor of "Addressing Environmental and Food Justice toward Dismantling the School-to-Prison Pipeline Poisoning and Imprisoning Youth" (Palgrave Macmillan, 2016).
Ducre led several key initiatives during her time as associate dean of DEI for A&S. She successfully campaigned for the establishment of the A&S | Maxwell Diversity Council written as an amendment to the College's by-laws and led a robust series of professional development workshops on unconscious bias within the promotion and tenure review process; bystander intervention; and best practices in inclusive hiring. She also organized the Chauvin Trial Virtual Teach-In, created to help viewers consider the factors and implications surrounding the May 2020 killing of George Floyd — and the subsequent trial of police officer Derek Chauvin in spring 2021.
A testament to her work with social justice initiatives, last year Ducre was appointed to the 400 Years of African American History Commission by New York State Governor Kathy Hochul. Through research, events and activities, the commission is charged with sparking community dialogue about the history of racism in America and will recognize and highlight the resilience and contributions of African Americans since 1619.
Vlad Dima, professor and chair of African American Studies, is excited for Ducre to rejoin the department full time following her term as associate dean.
"The department would like to extend their gratitude to Professor Ducre for her inspired leadership over the last five years, and we cannot wait to see her in Sims Hall again," says Dima. "This fall, Professor Ducre will be teaching AAS 112 (Introduction to African American Studies) and a special topics seminar, AAS 400/600 (Black Feminist Geographies), which stems from her main area of expertise, environmental justice. The faculty, students and staff of AAS are looking forward to Professor Ducre's return."
Alan Middleton has been a faculty member in the Department of Physics since 1995. He was promoted to full professor in 2008 and served as chair of physics from 2013 to 2017. He also served as the director of undergraduate studies for physics from 2000 to 2007 and was a core faculty member of the Renee Crown Honors Program from 2009 to 2015.
An expert in the application of advanced algorithms to the study of structurally disordered materials, Middleton is interested in developing best teaching practices and innovative coursework. His popular class, "Seeing Light," explores theories of light and vision from Lucretius through Einstein, using hands-on experiments to learn about optics and color theory. During his time at Syracuse, he has been principal investigator (PI) or co-PI on National Science Foundation grants totaling over $3 million and has authored or co-authored nearly 50 research publications. He is also a Fellow of the American Association for the Advancement of Science, the American Physical Society and the Alfred P. Sloan Foundation.
As associate dean of research, he helped lead the College through significant gains in funding and research output, a key contributor to the University's R1 Carnegie Classification, the top tier signifying high research activity levels. During his tenure, Middleton oversaw the hiring of two inaugural directors of proposal development: one in the sciences and mathematics and another in the humanities. Each of those new positions helped advance the research mission of the College as they worked with faculty to increase the volume, scope and success of grant proposals.
Under Middleton's leadership, A&S had a record $23.4 million in research awards in 2022. Over the past year, the College also set a new record for funded research with $19.7 million in expenditures, which is the amount spent on research in A&S.
Jennifer Ross, professor and department chair of physics, is thrilled to have Middleton rejoin the physics department full time where he will help advance its teaching and research missions.
"I have known Alan Middleton for many years, and I have always enjoyed our discussions of best practices and gaining efficiencies in academic administration," Ross says. "Alan's research in statistical mechanics is highly versatile and will be a welcome addition to many subfields in physics, including my own. I am also excited to have Alan's experience as an educator back on the faculty as we implement new courses to enhance student experiential learning."
Ducre and Middleton helped create a strong foundation for the College, Mortazavi notes. "As they return to their respective departments, I am honored to help celebrate their exemplary service, for which I am profoundly grateful. Thank you, Kishi and Alan!"
As the College finalizes its Academic Strategic Plan, Dean Mortazavi will identify ways to continue the work of these outstanding faculty members.