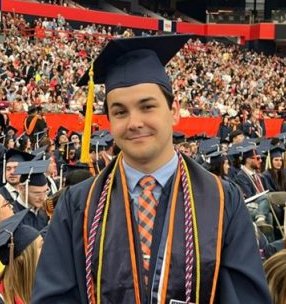 Congratulations to Anthony Ruscitto '22, who was named the Hometown Hero during the Syracuse Orange football game on September 3. Ruscitto, who received undergraduate degrees in forensic science and psychology from the College of Arts and Sciences, enlisted in the United States Marine Corps in 2013 at the age of 17 and would serve a total of five years on active duty. A Syracuse, NY native, he earned the rank of Sergeant in 2017 and conducted more than 300 combat missions, flew more than 1,000 flight hours, and trained nearly 20 naval aircrewmen, and several flight instructors.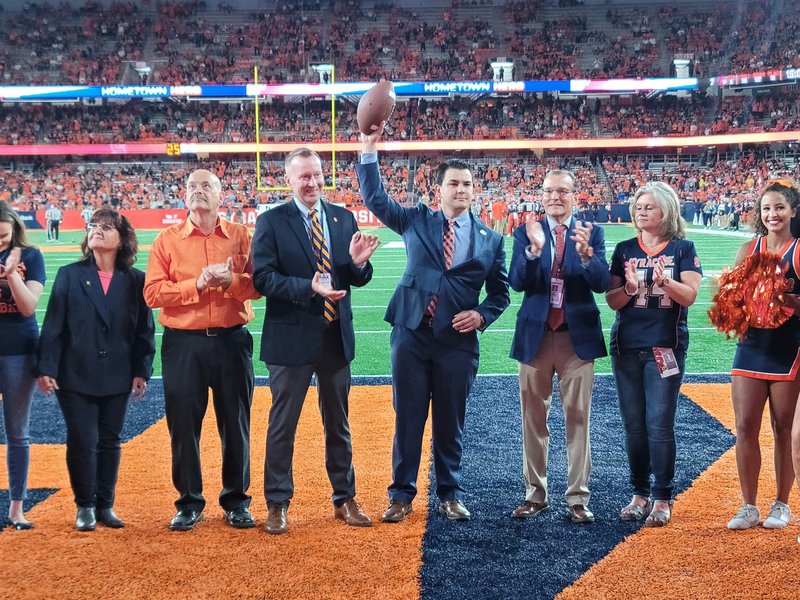 Anthony Ruscitto '22 (center) accepting the Hometown Hero award.
Ruscitto is currently a graduate student at the Maxwell School of Citizenship and Public Affairs, Vice President of the Student Veteran Organization at Syracuse University, a graduate researcher at the D'Aniello Institute for Veterans and Military Families and a volunteer EMT-B at Syracuse University Ambulance. Read more about Ruscitto's Hometown Hero honor.