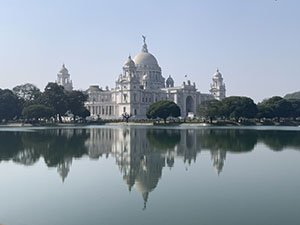 Romita Ray, Associate Professor of Art History in the Department of Art & Music Histories at Syracuse University, is collaborating with Tim Barringer, Paul Mellon Professor of the History of Art at Yale University, to convene Taj of the Raj: The Victoria Memorial Hall, Kolkata (an international conference at Yale University), scheduled to take place September 15 – 17, 2023 at Loria 351, 190 York Street, New Haven, CT.
This conference draws together leading scholars from India, the UK and USA to offer new critical perspectives on the history, architecture, and collections of the Victoria Memorial Hall (Kolkata, India). Histories of empire, the future of museum collections and the international role of South Asia are today topics of urgent import, and the VMH offers a unique case study. It embodies the fraught relationships between museums, imperial histories, and post-Independence India. The conference will offer a new critical analysis of the institution informed by contemporary theoretical concerns.
Dedicated to the memory of Queen Victoria, the VMH is housed in an imposing marble building designed by the architect William Emerson, amidst 64 acres of spectacular gardens laid out by David Prain and Lord Redesdale. Martin and Company, the engineering firm founded by Rajendra Nath Mookerjee and Thomas Martin, built the museum. The elaborate gardens offer an important case study in horticulture and urban ecology. The collections, forming a visual legacy of the British Raj, include European paintings; colonial sculpture; historic photographs; musical instruments; Mughal, Rajput, and Bengal School paintings. Remarkably, these objects can be traced back to Indian, British, and American collectors, making the VMH a vibrant node of transnational histories.
Convenors: Romita Ray, Syracuse University * Tim Barringer, Yale University
Taj of the Raj is made possible by the National Endowment for the Humanities, The Edward J. and Dorothy Clarke Kempf Memorial Fund and The Whitney and Betty MacMillan Center for International and Area Studies, Yale University, and Syracuse University.
Taj of the Raj: The Victoria Memorial Hall, Kolkata * Yale University
Friday, September 15
Symposium Day 1: 2.00PM – 5.30PM. Loria 351, open to the public

---
2.00PM Welcome
Romita Ray, Syracuse University
2.05PM Opening Remarks
"In the Shadow of Empire: Calcutta's Victoria Memorial and its Moving Statues"
Tapati Guha-Thakurta, Centre for Studies in Social Sciences, Calcutta
Panel 1: Architecture and Urbanism in Colony and Post-Colony
"Mise-en-scène of Empire and Beyond"
Swati Chattopadhyay, University of California, Santa Barbara
"Visualizing the Empire: Telescoping the Process, Power, and Contingency"
Anshuman Dasgupta, Visva Bharati University
"An unprecedented undertaking: Building Victoria's Memorial in Calcutta"
Nilina Deb Lal, Independent Researcher & Heritage Consultant, Kolkata &
Alex Bremner, The University of Edinburgh (in absentia)
3.30PM – 4.00PM Discussion: Tim Barringer (moderator)
4.00PM – 4.15PM Tea Break
Panel 2: Sculpture and Urbanism in Colony and Post-Colony
"A memorial fit for a Queen, and Curzon, too"
Durba Ghosh, Cornell University
"Imperial Bones, Native Flesh: The Sculpture Armature of the Victoria Memorial Hall"
Michael Hatt, University of Warwick
5.00PM – 5.30PM Discussion: Romita Ray (moderator)
Saturday, September 16
Symposium Day 2: 10.00AM – 5.00PM. Loria 351, open to the public

---
10.00AM Welcome
Tim Barringer, Yale University
Panel 1: Landscape, Ecology and Society I
"Mangroves and Monsoons: Visual Methodologies and the Environmental and Climate History of India"
Vinita Damodaran, University of Sussex
"The Lion, the Tiger, and the Queen: Animal Subjects on Victoria's Throne"
Annu Jalais, Krea University
10.45AM – 11.15AM Discussion: Romita Ray (moderator)
11.15AM – 11.30AM Tea Break
Panel 2: Landscape, Ecology and Society II
" 'A joy and delight': The Victoria Memorial Garden"
Caroline Cornish, Royal Botanic Gardens, Kew
"Influence of Landscape, Ecology and Society on the Development of the Victoria Memorial Garden"
Manas Bhaumik, Botanical Survey of India, Kolkata
12.00PM – 12.30PM Discussion: Tim Barringer (moderator)
12.30PM – 1.30PM Lunch
Panel 3: Collections and Narratives ~ A Museum of the Raj I
"Women, Zoffany and East India Company Power"
Margot Finn, University College, London
"Curzon's Caskets: Reconstructing an Imperial Reputation"
Edward Cooke, Yale University
"Victoria Memorialized: Frank O. Salisbury and the Paradoxes of late Colonial History Painting"
Tim Barringer, Yale University
2.30PM – 3.00PM Discussion: Romita Ray (moderator)
3.00PM – 3.15PM Tea Break
Panel 4: Collections and Narratives ~ A Museum of the Raj II
"The Victoria Memorial Hall and Early Engagement with the British royal family"
Joanna Marschner, Historic Royal Palaces, UK
"In the Footsteps of Joanna de Silva: Exhibiting an Anglo-Indian Portrait at The Met"
Adam Eaker, The Metropolitan Museum of Art
4.00PM – 4.30PM Discussion: Tim Barringer (moderator)
4.30 – 4.40PM Tapati Guha-Thakurta introduces Vivan Sundaram's Structures of Memory (2000)
4.40 – 5.15PM Film screening: Vivan Sundaram (1943-2023), Structures of Memory (2000), 28 minutes
Courtesy: Sher-Gil Sundaram Arts Foundation (SSAF)
5.15 – 5.30PM Discussion: Tim Barringer (moderator)
Sunday, September 17
Symposium Day 3: 9.30AM – 1.00PM. Loria 351, open to the public

---
9.30AM Welcome
Tim Barringer, Yale University
Panel 1: Collections and Narratives ~ Post-Colonial Readings I
"Masking statues, unmasking policies: 'Decolonizing' the Victoria Memorial Hall"
Jayanta Sengupta, Alipore Museum
"Thinking through a Company 'Kalam' or Style in early 20th-Century Calcutta"
Holly Shaffer, Brown University & Yuthika Sharma, Northwestern University
10.15AM – 10.45AM Discussion: Romita Ray (moderator)
10.45AM – 11.00AM Tea Break
Panel 2: Collections and Narratives ~ Post-Colonial Readings II
"Of Ripples and Footfall"
Rimli Bhattacharya, Delhi University
"Tea and a 'Modern' Monument for the 'City on the Hugli' "
Romita Ray, Syracuse University
11.45AM – 12.15PM Discussion: Tim Barringer (moderator)
12.20PM Concluding Response
Sumathi Ramaswamy, Duke University
12.50PM Closing Remarks & Thanks
Tim Barringer, Yale University
Romita Ray, Syracuse University
Jayanta Sengupta, Alipore Museum