M.A. in Art History, Florence Program in Italian Renaissance Art
Since 1964, Syracuse University has offered a unique master's program devoted to the study of Italian Renaissance art. This is the oldest M.A. art history program accredited in the United States where most of the study—two of three semesters—is conducted in Italy.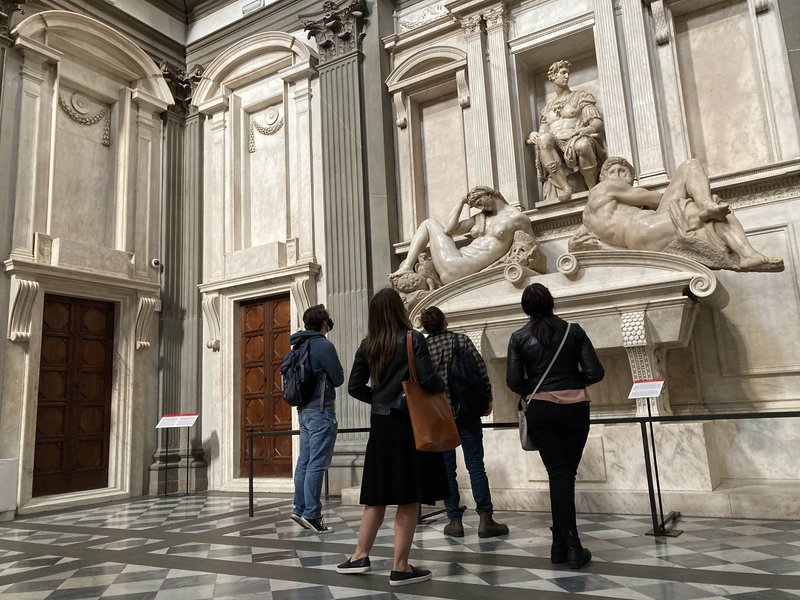 Although the Florence M.A. Program's focus is early modern Italian art, students are encouraged to think broadly about the period and the discipline of art history. Via seminars that are led by internationally recognized scholars and conservators, students carefully analyze artistic styles and techniques, consider issues related to original audiences and settings, and closely study original documents and texts. In addition, they engage with the history and practice of art conservation; art historical theories, methods, and historiography; the collection and display of art; the digital humanities, and the ways in which the visual culture of the period relates to larger Mediterranean and global historical and artistic contexts.
The small size of the Program (approximately six participants per year) ensures that professors work closely with each student to create a rigorous and dynamic intellectual experience. It culminates in a public symposium at which students present their original research.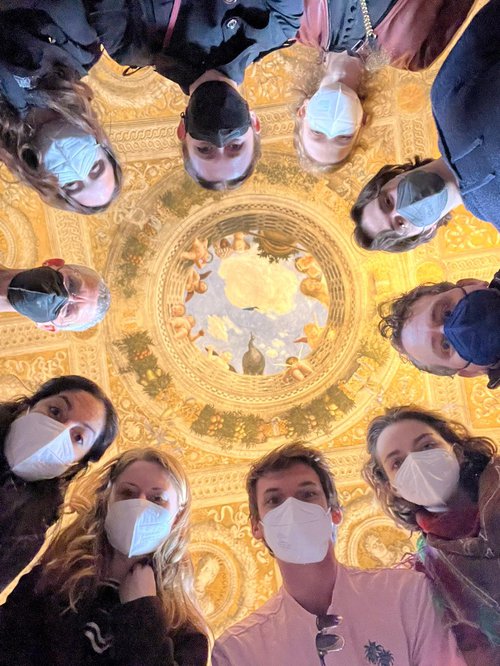 Program participants typically have pursued undergraduate studies in cultural history with an emphasis on the visual arts and ideally have a working knowledge of Italian or a background in another Romance language. Students accepted to the program who have not had the opportunity to study Italian are encouraged to begin to do so prior to their first semester of graduate study through programs such as the summer Italian School offered by Middlebury College or Wellesley College's online AP® Italian Language and Culture course.
The deadline to apply is January 10.
We are pleased to offer various levels of financial support that consist of:
Florence Fellowships (full tuition and a generous stipend)
Kress-Florence Legacy Fellowships (partial tuition and a substantial stipend)
Partial tuition scholarships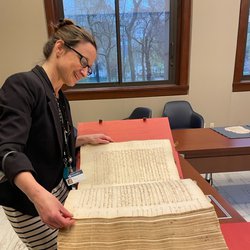 Lia Markey G'01
Director of the Center for Renaissance Studies
Newberry Library
Chicago
"The Syracuse M.A. in Italian Renaissance Art in Florence instilled me with a passion for archival research that has inspired years of research. Training in the social history of art, conservation studies, museum studies, and paleography prepared me for a varied career as an interdisciplinary art historian, while the process of writing and presenting the symposium paper provided essential skills for lecturing and for teaching."
Study in Florence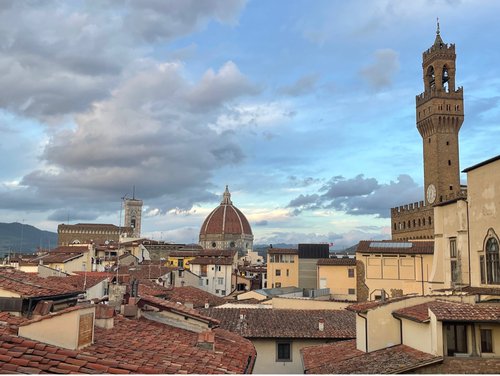 The Syracuse Florence (SF) campus is a short walk from Florence's historic center (centro storico). It is one of the oldest and largest U.S. university campuses in Italy and is fully up-to-date in terms of its computing facilities and wireless network. Florence art history graduate students have their own study in the SF library, and all graduate seminars are held either in smart classrooms or on site in museums, churches, palaces, archives, and restoration labs. The library is specialized in art history and has over 12,000 volumes. In addition to SU Libraries' extensive print and online resources, students have access to some of the finest libraries in the world for the study of Italian Renaissance art and history, including those at the Kunsthistorisches Institut, the Berenson Library at Harvard University's I Tatti, the Istituto Nazionale di Studi sul Rinascimento at Palazzo Strozzi, and the Biblioteca Nazionale.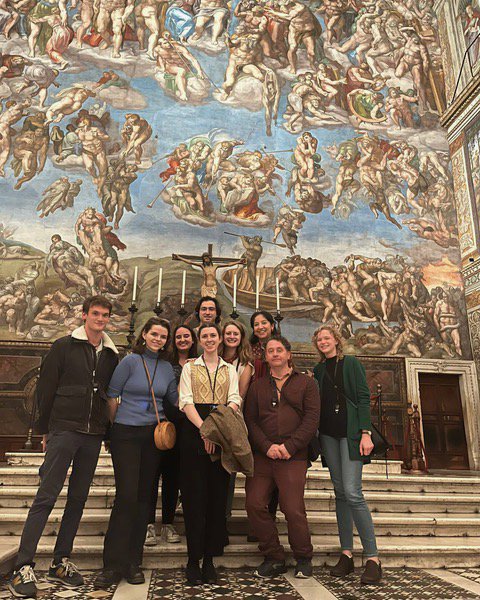 Conducting research at these and other institutions and attending lectures, conferences, and other events held in Florence, provide students with an unparalleled opportunity to meet members of the international scholarly community and participate in and contribute to the lively intellectual life of the city.
The first semester of coursework is taken on Syracuse University's home campus in Syracuse, New York. The following two semesters of coursework are taken at Syracuse University's campus in Florence. All graduate seminars require critical readings of both primary and secondary sources, oral presentations, independent research, and written work.
The courses listed below are subject to change, depending on staffing. For official requirements, please consult the Course Catalog.
1. First Semester (fall), Syracuse University in New York
HOA 620, Seminar: Renaissance Art, 3 credit hours, taught by Prof. Sally J. Cornelison. Topic for fall 2024: Proseminar in Italian Renaissance Art.
HST 735, Readings and Research in European History, Renaissance Italy: Culture, Conflict, & Connection I, 3 credit hours, taught by Prof. Brian Brege.
HOA 656, The Literature of Art Criticism, 3 credit hours, taught by Prof. Margaret Innes .
If necessary, students also audit Italian classes to achieve an appropriate level of language proficiency.
2. Second Semester (spring), Syracuse Florence
HOA 621, Seminar in Florentine Art: Florentine Monuments, Contexts, and Audiences, 1300-1600, 3 credit hours, taught by Professor Molly Bourne.
HST 735.2, Readings and Research in European History, Renaissance Italy: Culture, Conflict, & Connection II, 3 credit hours, taught by Professor Matteo Duni.
HOA 620, Seminar: Renaissance Art, Mapping a Global Renaissance, 3 credit hours, taught by Prof. Sean Nelson.
HOA 622, Seminar in Renaissance Arts and Ideas, 3 credit hours, taught by Profs. Molly Bourne and Jonathan Nelson. In this "flex long" course, which lasts into the summer, students are introduced to the rich research resources available in Florence and identify and begin to work on their capstone research projects.
3. Late Spring and Summer
At the conclusion of the spring semester, students are required to take a non-credit course that introduces them to the basics of archival research and paleography. The course, taught by a renowned archivist, lasts two weeks and includes visits to the Florentine State Archives.
In addition, students continue to work on their individual research projects for HOA 622 and submit the first version of their capstone papers at the end of July. Students are encouraged, but not required, to remain in Florence for the summer.
4. Third Semester (fall), Syracuse Florence
HOA 620, Seminar: Renaissance Art, Botticelli and Filippino: Renaissance Contexts & Modern Approaches, 3 credit hours, taught by Prof. Jonathan Nelson.
HOA 645, Seminar in the History of Art Conservation, 3 credit hours, taught by Profs. Ezio Buzzegoli and Diane Kunzelman .
HOA 622, Seminar in Renaissance Arts and Ideas, taught by Profs. Molly Bourne and Jonathan Nelson. This seminar is a continuation of the previous section of HOA 622 in which students complete their capstone papers and develop and rehearse the scripts for the presentations they deliver at the Program's annual symposium.
For more information, contact Prof. Sally Cornelison, Director of the Florence Graduate Program in Italian Renaissance Art.