History of the Art and Music Histories Department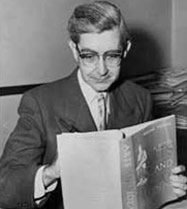 The Department of Art & Music Histories has a long, storied history at Syracuse University. The department can trace its origins to William C. Fleming (left), a noted concert pianist who came to SU in 1945 from Pomona College in California. Convinced that the existing fine arts program did not sufficiently serve the humanities at SU, he established the Department of Fine Arts in 1947 in what was then the College of Liberal Arts.
During his 22 years as chair, Fleming published his landmark book, "Arts and Ideas" (Wadsworth Publishing, 1955); molded the department into a national leader in interdisciplinary studies of the arts; and launched the only accredited American master's degree program in art history, in which a majority of coursework was done in Italy. Fleming's impact is still felt through "Arts and Ideas," which, in its 10th edition, is a vital part of the curricula of more than a thousand institutions worldwide. The book has also achieved wider recognition for spurring on the interdisciplinary humanities movement.
In 2009, almost 40 years to the month after Fleming's retirement, the Department of Fine Arts rechristened itself as the Department of Art & Music Histories, a name change that reflected the growing emphasis on interdisciplinarity at SU. As one of The College's signature departments, Art & Music Histories fosters a rich cultural and historical understanding of art and music among its students, and prepares them for a range of fields. In doing so, the department often partners with sister schools and colleges, notably the College of Visual and Performing Arts, which, broadly speaking, promotes the practice of art and music.