Theta Chi Beta Honor Society
THETA CHI BETA ΘΧΒ was established as an independent honor society at Syracuse University in 1915 with the establishment of this Aleph (or first) chapter. In 1991 we voted to become a chapter in Theta Alpha Kappa ΘΑΚ, the national honor society in religious studies and theology, and they have assigned "Theta Chi Beta ΘΧΒ" as our chapter name in special recognition of our long and venerable tradition. Our chapter record book contains the signatures of 1) many of the students on this campus who through the years have won recognition for distinctive work in religion; 2) almost all of the professors of religion who served as members of the Department through the decades; 3) many other members of the wider academic and non-academic community in Syracuse and beyond. Through our affiliation with Theta Alpha Kappa we are now linked with more than 100 other chapters devoted to similar purposes in institutions of higher learning across North America.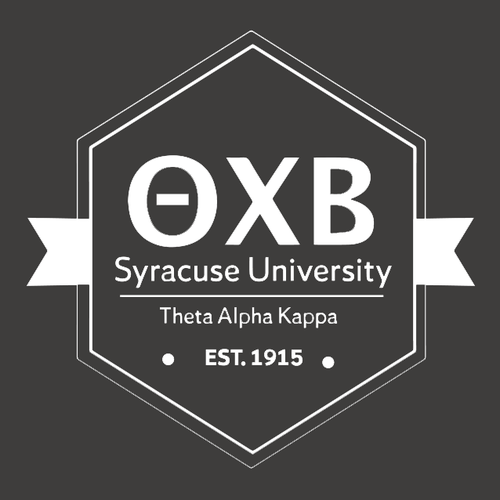 Undergraduate students are eligible for membership in THETA CHI BETA ΘΧΒ by earning no fewer than 12 credit hours in the study of religion with a 3.5 GPA, and no less than a 3.0 GPA in their total program of study. Graduate students must be full-time students beyond their first year of residency and must have a 3.5 GPA in their graduate work to date. In addition, those who are chosen for membership embody the potential and promise of future distinction in their life's work. Honorary members are chosen because their professional pursuits reflect an exemplary regard for, and sensitivity to, the study of religion and to the religious life itself.