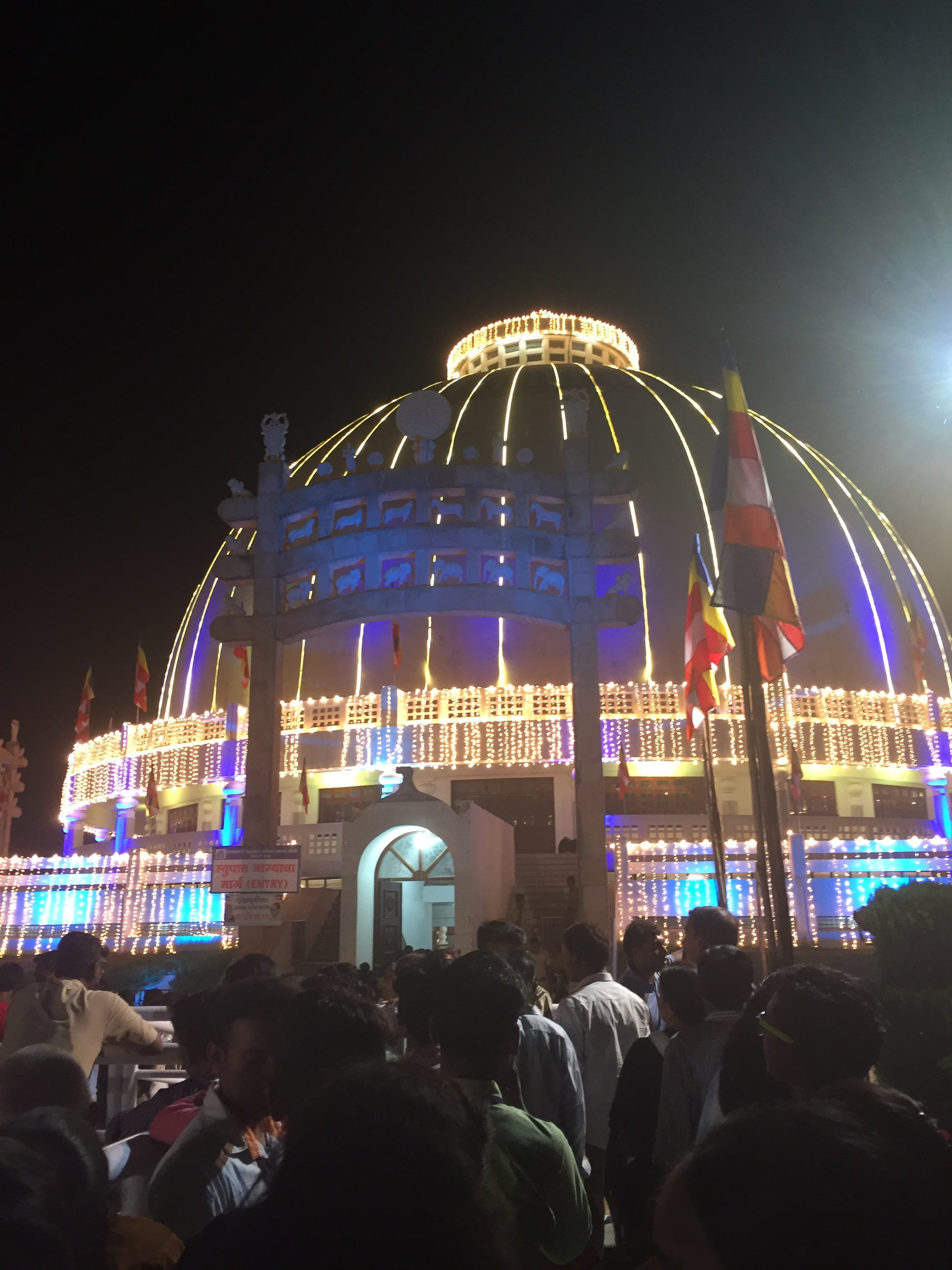 Whenever I read the writing of B.R. Ambedkar, I feel a spark of inspiration. This spark is what drove me to pursue my current project about the lives and practices of the people who chose to follow his lead when he took 22 vows to embrace Buddhism and reject Hinduism in 1956. Every year at Dikshabhoomi in Nagpur, the place where Ambedkar took these vows, hundreds of thousands of people gather to commemorate this momentous occasion. This year, I had the opportunity to visit Dikshabhoomi with a group of young Ambedkarite Buddhists on September 30. It was an experience that I will forever be inspired by and grateful to have had. While ostensibly the journey to Dikshabhoomi consists of pushing through crowds to quickly enter and exit the commemorative stupa (without even removing our shoes!), the time spent being shepherded through the stupa to pass our eyes over the Buddha statue was not what makes this event so special. Witnessing the vast numbers of visitors to Dikshabhoomi who Ambedkar continues to inspire, and feeling the energy and joy that his memory evokes is what makes this event so remarkable.
I visited Dikshabhoomi with the students of Nagarjuna Training Institute (NTI) at Nagaloka Center. These students have come from all over India to learn about Buddhism and Dr. Ambedkar. Like Ambedkar, these students come from disadvantaged communities classified as Scheduled Caste (SC) and Scheduled Tribe (ST) by the government. Despite the fact that Ambedkar is such an important national figure as the author of the Indian constitution and leader of the Dalit movement, before coming to NTI many of these students only had a very cursory knowledge of who Ambedkar was if they learned about him in school at all. Following Ambedkar's example, many of these students have fought all the odds – the expectations of their families and communities, gender discrimination, poverty, language and culture barriers – to continue pursuing their education at NTI. To visit Diskhabhoomi with them and chant "Jai Bhim!" (Victory to Ambedkar!) with them evoked feelings in me that are difficult to describe.
What I have learned from my experience with this community so far that I most wish to share with all of you back in our Religion Department is that we can never forget the revolutionary power of education. The mandate for everyone to do whatever it takes to get educated is one of Ambedkar's most important legacies. It is so easy to become jaded to the idea that the things we say and do in the classroom can create big changes in our students. I admit, that after meeting a particularly brilliant student here who would sneak out to buy books on revolutionaries with pocket money even though her father opposed girls' education, I was feeling more than a little despondent about the problems we face motivating our students back home. As teachers, we can often feel discouraged by our students' underdeveloped knowledge consumption skills, but I think sometimes this may distract us from the need to inculcate a desire in our students to be knowledge producers. Of course, especially in today's world where informational authority is more tenuous than ever, developing the skills to understand an argument and think critically are crucial, but we must also remember that the main objective of the primary and secondary education that many of our students receive is to train them to merely accept dominant, hegemonic social narratives. Even for those students who conceive of their own lives as easily fitting into this narrative, this kind of education dulls their motivation to learn in order to create rather than learn in order to consume.
The students with whom I celebrated Dr. Ambedkar's life and legacy at Dikshabhoomi have so much vision for their futures and the future of their society, country, and world. Ambedkar's legacy as a prodigious voice who contributed to numerous disciplines, producing work that shows the world from an underrepresented perspective lives on through these students' dreams. If we want change in our society, we need to live in the legacy of people like Ambedkar. We cannot jealously guard our status as knowledge producers. We must do our best to share and spread the joy and empowerment we feel as knowledge producers with our students.
As a final note, if you have an interest to learn more about Dikshabhoomi and Ambedkar's conversion, I would recommend reading Dr. Ambedkar's speech at Nagpur on the day of his conversion and, if you have more time, his classic undelivered speech Annihilation of Caste. In addition to the students of NTI, I also want to give credit to the program that ran at Nagaloka Centre on October 3, 2017 on the topic of Prabuddh Bharat, especially to Dr. Bodhi from Tata Institute of Social Science in Mumbai for his talk on education, which very much inspired me to write this piece.
---------------------------------------------
Contact Information
Mallory Hennigar