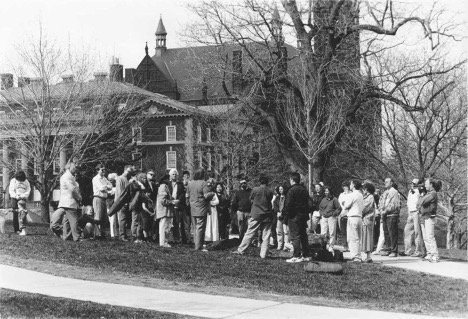 Twenty-five years ago, as the newest faculty member of the religion department, I was enlisted to create an event celebrating its 100th anniversary by the chair James Wiggins. My wife Sandy Bigtree and I contacted the late Akwesasne Mohawk Chief Jake Swamp to conduct the ceremony. The Mohawk word for Chief is "Royaner," which translates to "Good mind," and Jake was certainly someone who embodied that title. He was known around the world for planting trees and spreading the message of the Peacemaker who came to the five warring nations of the Haudenosaunee over 1,000 years ago and established the Great Law of Peace here at Onondaga Lake.
The Peacemaker's message was rooted by the great White Pine that is now the symbol of the Haudenosaunee confederacy. Jake's Tree of Peace Society has inspired planting millions of trees around the world. You can learn more about the legacy of the Peacemaker and the Haudenosaunee influence on American culture at the Skä·noñh—Great Law of Peace Center at Onondaga Lake Park.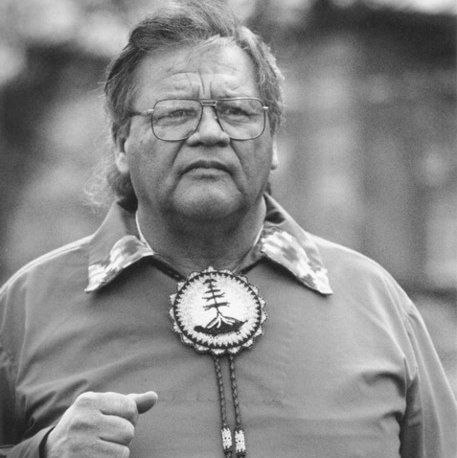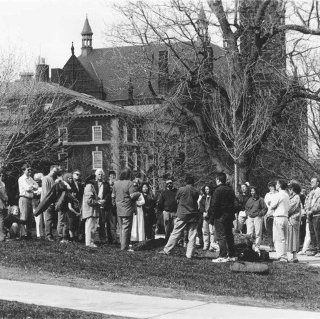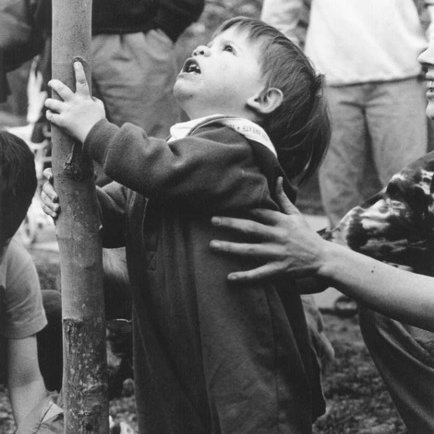 The accompanying photos were taken by Anna Schein and can be found in a book co-edited by Ann Gold and me titled, Sacred Landscapes and Cultural Politics: Planting a Tree. One message from Jake will always stay with me. You can visit this tree (located on the northwest lawn in front of the Hall of Languages) and if you are feeling low, for whatever reason, grip it tight with your hands for strength—just like our son Clay.
Anna reminded me recently of this 25th anniversary and that a similar peace tree had been planted by Jake Swamp at her institution, Western Virginia University. Every year there is a celebration on campus around that tree. Perhaps we can start a new tradition.
Jake and Judy Swamp's legacy lives on with their granddaughter, who is now a student here at SU on the Haudenosaunee Promise Scholarship. Our twin sons, Clay (Falk) and Kroy (A&S), who helped plant this tree and are Bear Clan of the Oneida Nation of Wisconsin, will graduate this year.