Call for Proposals to Host the Kashi and Kameshwar C. Wali Lecture in the Sciences and Humanities at Syracuse University
Born from the love of both science and the humanities and arts that Professors Kashi and Kameshwar Wali both expressed, the "Wali Lecture" has been an annual time to learn together as a community of scholars for the past decade. The speakers have been diverse in topic, field of scholarship, and identity, yet that all united us in learning during their visit to Syracuse University.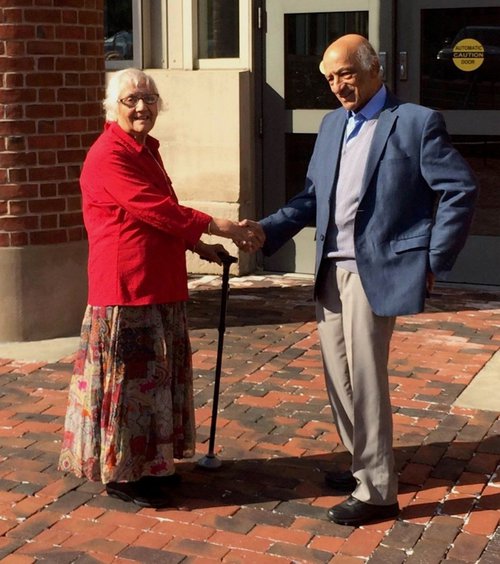 For 2024, we would like to continue to the work of bringing the community together by launching an open call for proposals to host the lecture. We welcome teams of faculty, staff, and students from across the university will submit proposals to bring in a speaker of their choosing. We encourage the teams to be interdisciplinary, bridging traditionally siloed disciplines between the sciences and humanities and arts. Disciplinary speakers are also welcome as long as they are accessible to a broad audience. The lecture is endowed by the Wali Family, and the chosen proposal team will be able to use the funds from the endowment to host the speaker. See below for more information on the requirements for the application.


Past Wali Lecture Speakers


2008 – Lynn Margulis
2009 – Janna Levin
2010 – George Packer
2011 – Ian Shipsey
2013 (spring) – Arthur Zajonc
2013 (fall) – Diane Ackerman
2014 – Mark Trodden
2015 – Noshir Contractor
2016 – Carla Shatz
2017 – Priyamvida Natarajan
2018 – Frank von Hippel
2019 – Robin Kimmerer
2020 – none (COVID pandemic)
2021 – Krithi Karanth
2022 – Kamesh and Kashi Wali memorial
2023 – Mary Schmidt Campbell


Timeline for 2024 Wali Lecture


Proposals due Monday December 18
Team selected March 1
Wali Lecture Fall semester 2024


Requirements for proposals to the Wali Lecture 2024


Team leadership and members including names, affiliations, and status (faculty, staff, graduate and undergraduate students)
Proposed speaker (Name, affiliation, expected topic)
Justification for the speaker and topic (Speaker choice, key accomplishments, rationale for general audience appeal, interdisciplinary elements, why is this person exciting to a broad group of faculty, staff, and students?) 1000 words max
Budget for event (Speaker honorarium, hotel, transportation, venue on campus)
Expected funds including co-sponsoring units (departments, programs, and offices)


Apply


The application is not yet live, please visit again soon.