LLL Professor Awarded Honorary Doctorate for Contributions to Linguistic Theory and Turkish Linguistics
The honor was conferred to Professor Jaklin Kornfilt by the University of Cyprus.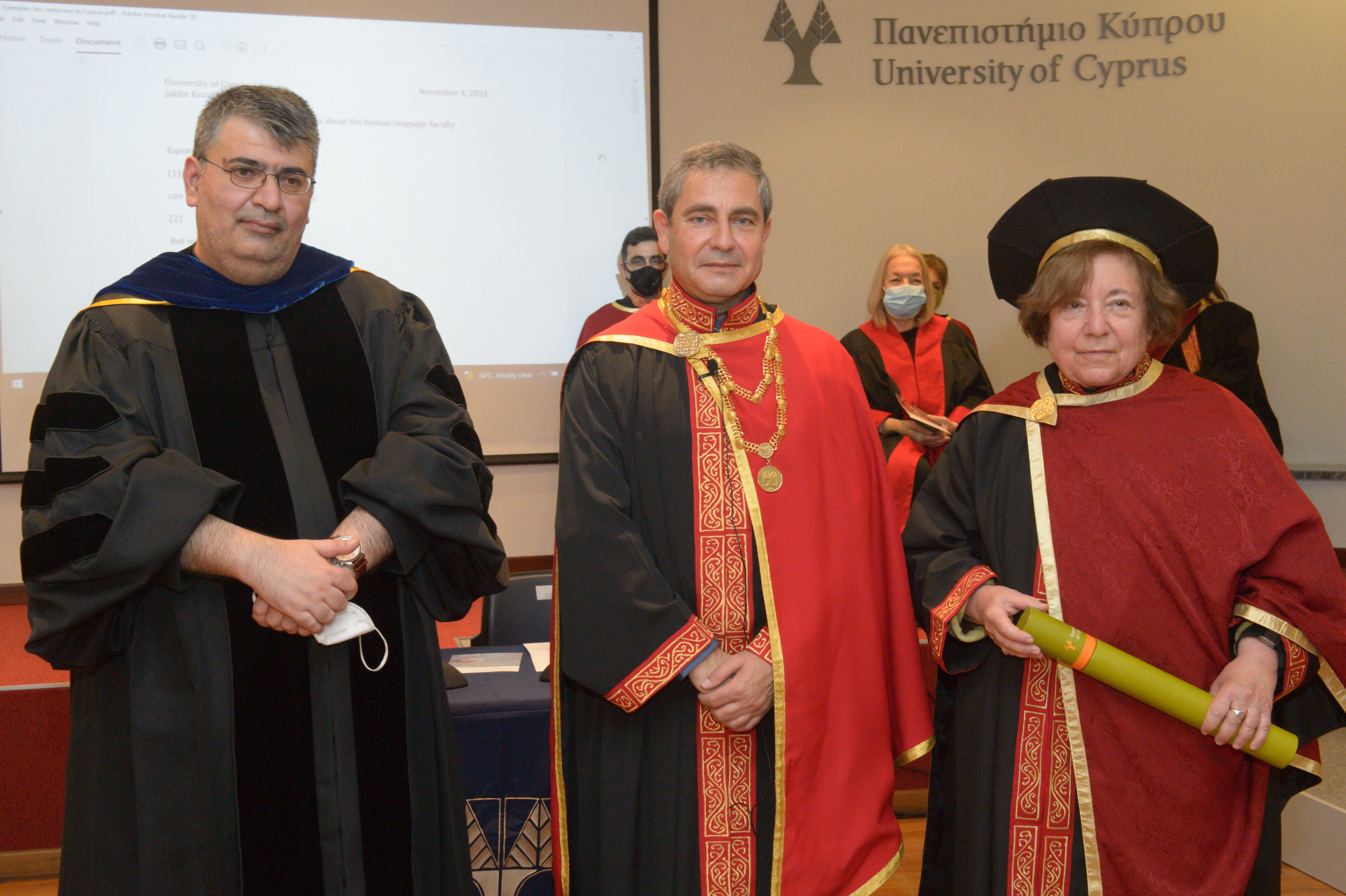 Jaklin Kornfilt, professor in the Department of Languages, Literatures and Linguistics (LLL), has been awarded an honorary doctorate by the University of Cyprus for her contributions to theoretical and Turkish linguistics. The honorary doctorate is the highest honor conferred by the university located in Nicosia, the capital of the Republic of Cyprus.
Kornfilt joins a short list of Cyprus honorary degree recipients, including world-renowned linguist, activist and author Noam Chomsky, who was awarded the doctorate in 2006, and leading feminist writer and psychoanalyst Julia Kristeva, who received the honor in 2007.
Kornfilt has taught linguistics at Syracuse University's College of Arts and Sciences since 1983. Her research is on syntactic theory, with a focus on Turkish and Turkic languages (a group of related languages spoken in different parts of Eastern Europe and Central and North Asia). Known in the field of theoretical linguistics as a pioneer of Turkish linguistics, her research involves (but is not limited to) studying the core structural properties of Turkish and the other Turkic languages.
A native speaker of Turkish and German, Kornfilt grew up in Istanbul. While studying theoretical linguistics in college, she was surprised by the lack of theoretical work that existed about the Turkish language. This knowledge gap motivated her to devote most of her academic pursuits to Turkish linguistics and she has since contributed an academic grammar of Turkish as well as close to 100 papers, mostly on Turkish and Turkic linguistics, advancing scholars' understanding of that subject.
Kornfilt defines theoretical linguistics as a scientific approach to the study of language where researchers observe, describe and explain linguistic data. Similar to the natural sciences, which seek to understand phenomena of nature, theoretical linguistics addresses phenomena of language and the uniquely human capacity to understand and form linguistic utterances. "Theoretical linguistics teaches us what is common across languages and thus has to be innate as a capacity of the human brain, as well as what is different across languages," Kornfilt says.
Her research focuses on the syntax (structure of sentences) and the morphology (structure of words) in Turkish and other Turkic languages and the relationships between those two components. While the English language separates many morphemes (meaning-bearing items) into free words on their own in a sentence, morphemes in Turkish are often part of a larger word. For example, the Turkish translation of I will be able to sleep, is uyuyabileceğim, a single word. Within that word, uyu corresponds to sleep, -yabil corresponds to able, -eceğ corresponds to will be, and -im corresponds to I. This property of Turkish and of other Turkic languages poses a challenge to syntactic theory as well as morphology theory: Are such complex words built in the syntactic or the morphological component of the grammar, or via a collaboration of those components?
Kornfilt is currently working on a book on Turkish syntax and recently co-authored two peer-reviewed articles on Turkish syntax. One is a journal article on heritage speakers of Turkish in Germany and the United States, and the other is an article on so-called partitive constructions in Turkish (words or phrases that indicate the quantity of something, like two slices of the cake or two of the books). The latter will be part of an anthology on similar constructions in a large number of languages. Kornfilt also co-authored a peer-reviewed article to appear in an edition of the journal Cognition on the acquisition of German by children.
Kornfilt, who accepted the honorary doctorate at a ceremony at the University of Cypress in November 2021, was introduced by renowned linguist Phoevos Panagiotidis, a Greek syntactician on the faculty of the English Department at the university. In his introductory speech, he praised Kornfilt for her innovative work in Turkish linguistics.
"I am proud to be a colleague of Professor Kornfilt," Panagiotidis said in his speech. He continued, "Professor Kornfilt [has] contributed more than most scholars to our understanding of the Turkish language."
M. Emma Ticio Quesada, associate professor and chair of LLL, says "This is a great honor for our colleague, our department and the humanities at the College of Arts and Sciences."
A&S Senior Associate Dean for Academic Affairs Gerry Greenberg echoes that sentiment, saying "It's not surprising to hear Jaklin has received such a prestigious award in the humanities for her work on Turkish linguistics, especially one that was previously awarded to Noam Chomsky. For everything she has done for the study of linguistics, and especially the study of Turkish and Turkic languages, she is in a class by herself."
Featured
Jaklin Kornfilt Professor, Linguistics and Turkish Program Coordinator
Media Contact