Lawrence Mouillé to Join Mathematics Department as National Science Foundation Postdoctoral Fellow
The appointment represents the first NSF Mathematical Sciences Postdoctoral Research Fellowship for the department.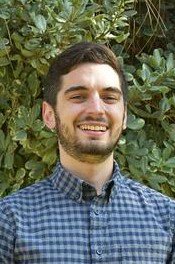 Lawrence Mouillé will join the College of Arts and Sciences' (A&S') mathematics department in July 2022 for a three-year appointment as a National Science Foundation-funded postdoctoral fellow. The Mathematical Sciences Postdoctoral Research Fellowships (MSPRF—pronounced "mouseproof") is among the most prestigious awards in the math community, created by the NSF to "support future leaders in mathematics and statistics by facilitating their participation in postdoctoral research environments that will have maximal impact on their future scientific development." Approximately 30 MSPRFs are granted annually across all areas of mathematics, and this is the first for the Syracuse mathematics department.
Currently, Mouillé is a G.C. Evans Instructor in the Department of Mathematics at Rice University; he earned a Ph.D. in 2020 from the University of California, Riverside. His areas of interest include Riemannian geometry, metric geometry and mathematics education.
The MSPRF is granted via a process in which a candidate presents a project with the support of a senior scientist with whom they wish to work; Mouillé chose Lee Kennard, assistant professor of mathematics in A&S, as his host and mentor. Both specialize in geometry and topology. "We study how curvature influences the global shape of a manifold," explains Mouillé. "Kennard is expert on that. [Working together] will prove to be beneficial to both of us."
Professor Kennard echoes that sentiment, and explains that the pair have been pondering a collaboration since 2019, when Mouillé visited Syracuse at Kennard's invitation, to speak at a geometry and topology seminar. "I'm excited he's coming here, and we will be able to work closely," says Kennard. "Being in the same place—to talk, write on paper or a whiteboard—for math research, is so important and effective. That's something we've really been missing during the pandemic."
"Postdocs are an essential ingredient to a modern research department in mathematics," says Graham Leuschke, professor and department chair of mathematics. "They bring vigor, new ideas, and fresh perspectives, while enhancing the research of the tenure-track faculty…as well as the reputation of the department as a center for excellence in research."
And, he explains, the fact that Mouillé applied to work with Kennard is a testament to the strength of department's faculty. "[Professor Kennard] was recently awarded an NSF grant to support his research," Leuschke notes. "This MSPRF, awarded through a national competition, further indicates the high regard in which his work is held, and that he is seen as a potential leader in his field."
Indeed, this appointment is just the latest in a string of notable accomplishments within the Syracuse math department. Of the ten current faculty hired since 2011, six have current NSF grants, including two, awarded to Professors William Wylie and Minghao Rostami, CAREER grants—five-year grants that are among NSF's most distinguished and competitive.
That reputation and stellar faculty is part of what drew Mouillé to Syracuse. "When I visited in 2019, [both] Professor Kennard and Professor Wylie suggested directions for my research program that have proven to be fruitful. My hope is that we can continue to work synergistically to make further advances in differential geometry."
Two versions of the MSPRF are offered to awardees: research fellowships and research instructorships. Mouillé chose the research instructorship and as such will be teaching several courses during the second two of his three years at Syracuse. "Teaching is a very valuable part of my experience," he explains. "I really appreciate the time I get to spend with undergraduates, helping them to understand mathematics and how it fits in to their studies in other areas."