Cool Class: Social Justice in Early Modern Literature
Students' digital projects connecting centuries-old stories to the present were featured at an international festival in Spain.
While students today take to digital and social media for social justice issues such as #BlackLivesMatter and #MeToo, how did people hundreds of years ago advocate for equity? Plays, poems and literature were the Twitter and Facebook of that era.
In Professor Ana L. Méndez-Oliver's course, "Social Justice in Early Modern Literature," offered through the Department of Languages, Literatures, and Linguistics' Spanish program, students examine Early Modern (roughly 1500-1700) socio-historical context and literature to explore how people approached social justice in the era between the Early Modern period and modern times. The students then connect lessons from each story to today by evaluating how those messages are still relevant and present them in modern media.
In this installment of A&S Cool Classes, we profile Méndez-Oliver's popular course and highlight a selection of student work that received international honors.
About the Class: Students in Social Justice in Early Modern Literature examine plays, novellas (work of fiction that is shorter than a full-length novel but longer than a short story), poems and other texts from that era, studying how social justice topics are represented and/or questioned. Using those culturally important stories from the past, they make connections with current social justice causes, such as the #Metoo, #NiunaMas/NiunaMenos and #BlackLivesMatter.
Who Should Enroll: The course welcomes students from a range of different majors including film and editing, journalism, political science, women's and gender studies, drama and Spanish language, literature and culture.
Digital Storytelling: Students create a digital story for their final project which connects the Early Modern world and the present. They both conceptualize their digital projects and create a script in Spanish that is tied to an Early Modern text.
Examples of Student Work: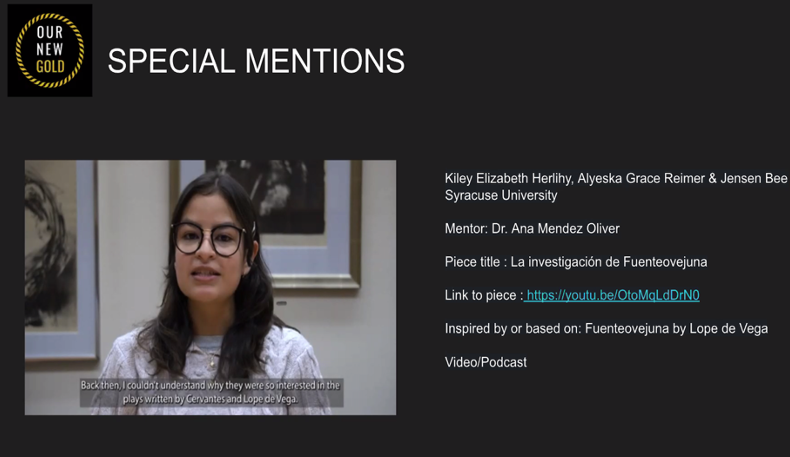 "La investigación de Fuenteovejuna" received a "special mention" at Our New Gold's international digital storytelling festival.
"La investigación de Fuenteovejuna" (The Investigation of Fuenteovejuna), by Kiley Elizabeth Herlihy, Alyeska Grace Reimer and Jensen Bee, is a modern take on Spanish playwright Lope de Vega's famous play, Fuenteovejuna. The original play centers around a Commander who used his position of power over the town to terrorize its inhabitants and take advantage of women. "La investigación de Fuenteovejuna" is a documentary-style reinterpretation of the play, following a 21st century woman on her quest to search for ancestral answers regarding her lineage.
Bryan Nicholas Fletcher's project "Mujeres sin voces" (Women Without a Voice), adapted Miguel de Cervantes' novella "La fuerza de la sangre" into a modern context and setting. The original novella follows the story of the main character, Leocadia, who is a victim of an assault. In Fletcher's reimagined story, he drew from his journalism experience to create a modern magazine design featuring a cover and text information to display this story in a modern context.
Beyond the Classroom: Students from the Fall 2021 class had their work showcased at the international festival, Our New Gold: Digital Storytelling. "La investigación de Fuenteovejuna" and "Mujeres sin voces" were both awarded special distinctions at the Our New Gold Festival and subsequently broadcast at the International Festival of Classical Theater in Almagro, Spain.
Featured
Ana Mendez-Oliver Assistant Professor, Spanish, Hispanic Literatures and Cultures
Media Contact