Ana Mendez-Oliver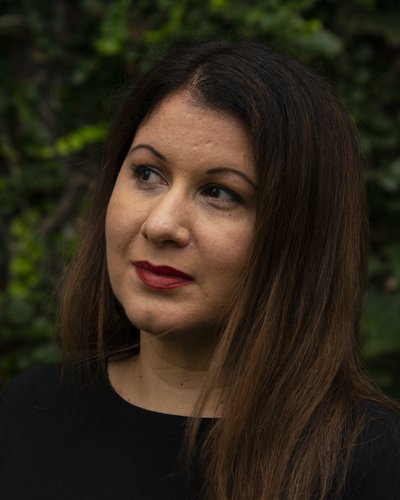 Ana Mendez-Oliver
Assistant Professor, Spanish, Hispanic Literatures and Cultures

CONTACT
Languages, Literatures, and Linguistics
309 HB Crouse Hall
Email: amendezo@syr.edu
Office: 315.443.5378

PROGRAM AFFILIATIONS
Medieval and Renaissance Studies
Spanish Language Literature and Culture

Degrees
Ph.D. in Latin American and Iberian Cultures, Columbia University
M.Phil. in Latin American and Iberian Cultures, Columbia University
M.A. in Comparative Literatures, University of Puerto Rico
M.A. Spanish, Columbia University
B.A. in Modern Languages, University of Puerto Rico
Courses Taught
SPA 301: Approaches to Reading Texts in Spanish
SPA 321: Introduction to Spanish Literature
SPA 322: Introduction to Latin American Literature
SPA 400: Bandits, Captives, and Pirates
SPA 400: Exile and Errancy in the Iberian Worlds
SPA 400: Travel Narratives in the New Worlds
SPA 400: Social Justice in Early Modern Literature
SPA 600: Iberian Literature: Re-imagining the Past in Early Modern Spain
SPA 600: Transatlantic Literature: New Identities/Mis-identities in the Early Modern World
Ana Méndez-Oliver specializes in medieval and early modern Transatlantic Spanish literature and cultures. Her research examines the representations of hybridity, in word and image, of those inhabitants in the Iberian Peninsula that were conceived and considered frontier or liminal identities (Jewish, Muslim, converso or Jewish converts, morisco or Spanish Muslim converts, and mestizos) at the eve of Spain's national hegemonic project and throughout the sixteenth century. She also studies the emergence and elaboration of the term race in order to categorize these groups. Other research interests include the study of female agency in history and literature of exiled Iberian women in the Mediterranean and the Americas during the early modern period, such as influential Sephardic women in the Ottoman Empire or a cross-dressing militant nun in New Spain. In addition, for the past eight years, Prof. Méndez-Oliver has also worked as the principal Spanish translator for The Metropolitan Opera House and The Met: Live in HD Series. At The Met, she translates and adapts operas' libretti from English, French and Italian to Spanish in their current productions.
Research and Teaching Interests
Prof. Méndez-Oliver is an Assistant Professor of Spanish at Syracuse University. She specializes in Medieval and Early Modern Transatlantic literature and cultural productions. Her research focuses on the role of identity and the creation of race on the eve of Spain's national project and during its later period of imperial expansion. It explores the images, frontiers, spaces and counter-spaces that come to light in texts and illustrations representing Jews, conversos (Jewish converts) and Muslims in the Spanish kingdoms during the second half of the fifteenth century. It also traces the ways in which these images and ideas were recirculated and rearticulated in the sixteenth and early seventeenth centuries as representations of moriscos (Muslim converts) and mestizos (Spanish-Indigenous descendants).
Her other interests include: Experiential Learning, Digital Humanities, Translation Studies, and Theater and Performance. In the past years, she has especially delved into the challenges of translating race and ethnicity in performing arts. For the past eleven years, she has been the principal Spanish Translator for The Metropolitan Opera House in New York City. Her most recent translations include, Gershwin's Porgy and Bess, Blanchard's Fire Shut Up My Bones, Verdi's Don Carlos, and Dean's Hamlet, among others.
Before joining Syracuse University, Prof. Méndez-Oliver taught at Barnard College, College of Mount Saint Vincent, and Fordham University in New York City.
Journal articles:
"The dog as the faithful Christian/Castilian in Alfonso de Espina's Fortalitium fidei." Animals and Humans on the Move. Spec. issue of Viator: Medieval and Renaissance Study 52:1 (2021): 61-74.
"'Translating' the Origins of the Spanish Nation in Miguel de Luna's Verdadera historia del Rey don Rodrigo." Pseudo-translation and cultural identity. Spec. issue of Canadian Review of Comparative Literature 44:4 (2017): 735-754.
"Chaotic, effeminate, and promiscuous 'bodies' in John Huyghen van Linschoten's Itinerario." Religion and otherness in early-modern overseas Iberian world. Spec. issue of Anais de História de Além-Mar 17 (2016): 337-357.
"Orbecche y los tratados neo-clásicos de Giambattista Giraldi Cinthio."
Ficciones legales. Ensayos sobre ley, retórica y narración. Ed. Carmen Rabell. Maitén III, 2007. 63-79.
"El metadiscurso forense en La fuerza de la sangre de Miguel de
Cervantes." Ficciones legales. Ensayos sobre ley, retórica y narración.
Ed. Carmen Rabell. Maitén III, 2007. 187-98.
Anthology and Digital Collaborations:
"Influential Women in the Ottoman Empire: The Life and Portrayal of Roxelana, and Miguel de Cervantes' The Great Sultana: Lesson Plan" in Studying and Teaching the Mediterranean, 2018. https://studyingteachingthemediterranean.wordpress.com
"Giambattista Giraldi Cinthio" in Literary Criticism from 1400 to 1800. Columbia: Layman Poupard Publishers, 2013.