A Home-Grown Path for Future Physicists
Syracuse City School District students get a taste for college-level research alongside A&S faculty through the Syracuse University Research in Physics (SURPh) paid internship.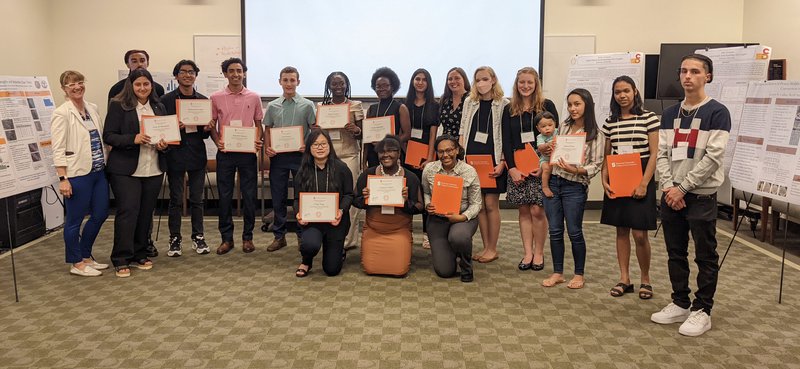 Current students and recent graduates from the Syracuse City School District participated in a six-week paid internship over the summer with faculty from the College of Arts and Sciences' Department of Physics. (Photo by Yudaisy Salomon Sargenton)
Many Syracuse-area youth dream of one day following in the footsteps of their Syracuse University athletic heroes like Carmelo Anthony, Donovan McNabb, and current 'Cuse women's basketball coach Felisha Legette-Jack. Ruell Branch grew up with a different source of inspiration. During his years at Henninger High School in Syracuse, NY, a passion for science set his sights on studying physics at Syracuse University. Branch wanted to be part of the monumental and life-changing discoveries taking place within the department, such as cutting-edge gravitational wave research exploring the origins of the universe and technological breakthroughs paving the way for quantum computers of the future.
Motivated by pride in both his high school alma mater and his current university, Branch, a rising junior majoring in physics in the College of Arts and Sciences (A&S), pitched an idea to bring local high school scientists to campus to conduct research in biophysics, computational physics and astrophysics. Through faculty mentoring and training in advanced lab techniques, the program would act as a recruiting tool to attract Central New York scholars to the University.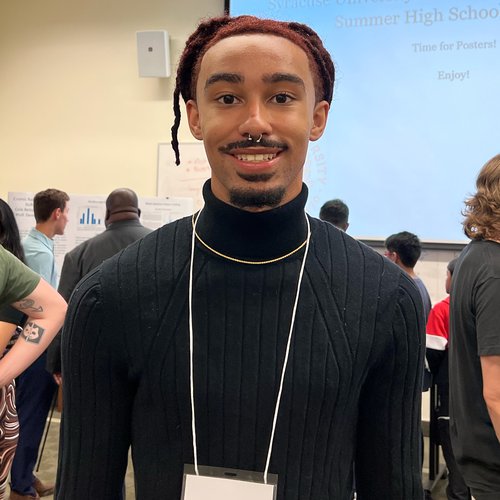 "I wanted local Syracuse city high school students who have interests in physics to see what it's like to work as a paid scientist," says Branch. "I think it's extremely important for students to get experience conducting research in an actual science lab."
With the help of physics professor and chair Jenny Ross, Henninger High School science teacher Melanie Pelcher, and fellow Syracuse student and Henninger High School graduate Devon Lamanna, they started the Syracuse University Research in Physics (SURPh) internship as a collaboration between the A&S physics department and the Syracuse City School District (SCSD) science department. Thanks in part to funding from the National Science Foundation, SCSD students and recent graduates participated in a six-week paid internship over the summer.
During the program, students collaborated with physics professors Jenny Ross, Denver Whittington, Eric Coughlin and Alison Patteson on a variety of physics projects. The first two weeks consisted of science bootcamps where all students engaged in an array of lab work. They learned the basics of analyzing and testing biological samples and conducted computational mathematical research on a range of astrophysics topics. As the summer went on, students took part in more focused research based on their scholarly interests.
Bacteria
Students in the Patteson lab used optical equipment and image analysis software to investigate how physical features on surfaces (substrates) where bacteria grow affect the growth of four different bacterial species. The students conducted their own experiments, prepared growth substrates, and evaluated how bacteria colonies grew on the substrates over time.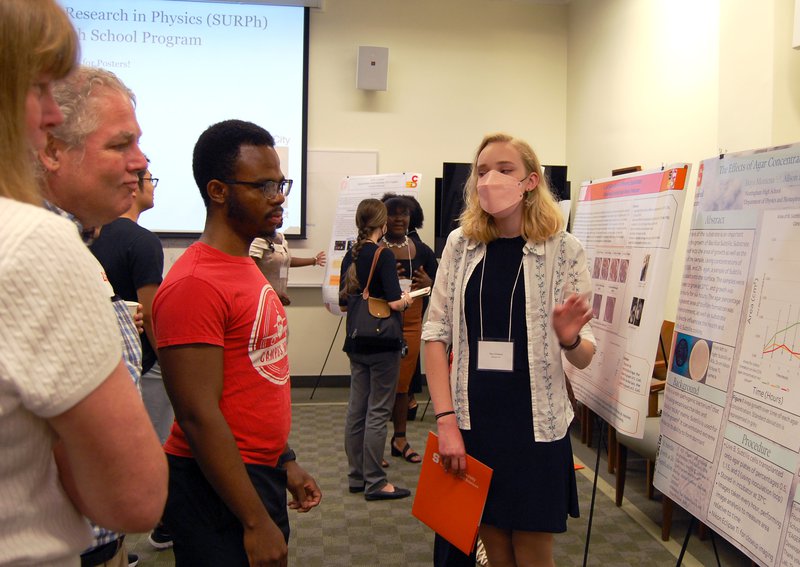 Nottingham High School student Maya Montena (right) explaining her research on bacteria growth. (Photo by Michaela Marino)
Cell Structure
Students in the Ross Lab explored different elements of biophysics, learning about self-organization of microtubules, which are a major component of a cell's cytoskeleton and help it maintain strength, shape and integrity. Students used fluorescence microscopes to directly image microtubules as they formed their organizations and utilized an image analysis program called ImageJ to quantify their data.
Cosmic Rays
Students in the Whittington group investigated energetic subatomic particles called muons, which are produced by cosmic ray interactions in the upper atmosphere. Cosmic rays are atom fragments that constantly pass through Earth. While harmless to humans or any other life on the planet, researchers have been unable to locate their source. Students worked with Whittington to develop and evaluate a prototype cosmic ray detector, helping to fabricate detector elements and compare different detector materials using signals from cosmic ray muons.
Stars
Two students worked with the Coughlin group on a theoretical astrophysics project related to the destruction of stars by supermassive black holes, known as tidal disruption events. Students measured the rate at which these tidally destroyed stars feed supermassive black holes and illuminate distant galaxies. Their work used computational methods to evolve stars from birth to death to determine time-dependent properties (e.g., the density, temperature and chemical profiles) of 27 stars that differ in their initial mass. Their results demonstrated that the properties of the destroyed star have profound effects on this feeding rate, highlighting the need for sophisticated and detailed theoretical models.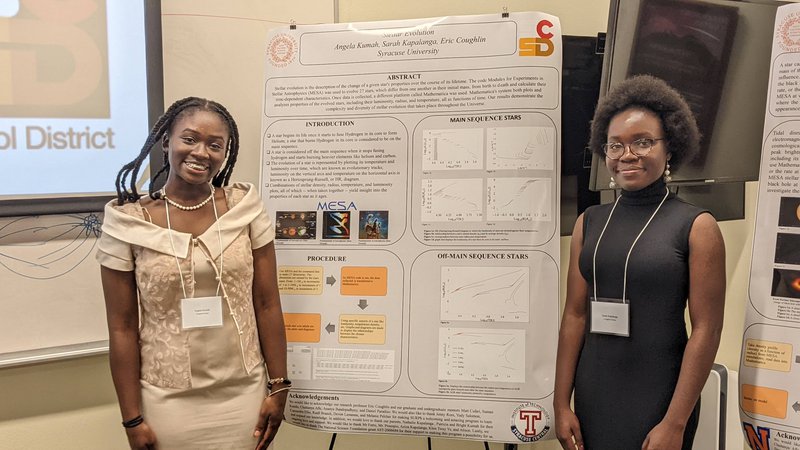 SCSD students Angela Kumah (left) and Sarah Kapalanga presented their findings on stellar evolution at the SURPh poster presentation. (Photo by Yudaisy Salomon Sargenton)
The program wrapped up with a poster session where students presented their research to their peers, faculty and families in the Physics Building on the Syracuse University campus.
"I am hopeful that the students had a positive experience with physics and science research in general," Ross says. "I also hope the program piqued their interest and got them thinking that science, especially physics, is for them and that they can see themselves here. We anticipate that many of this year's participants will continue to work in our labs and will serve as ambassadors to recruit students for summer 2023. This experience has opened a doorway to more interactions with the Syracuse community for physics, the college and the university."