Syracuse University Authors Celebrated at the Annual Books in the Humanities Showcase
The in-person reception featured nearly 50 books by SU authors spotlighting a range of cutting-edge research across campus.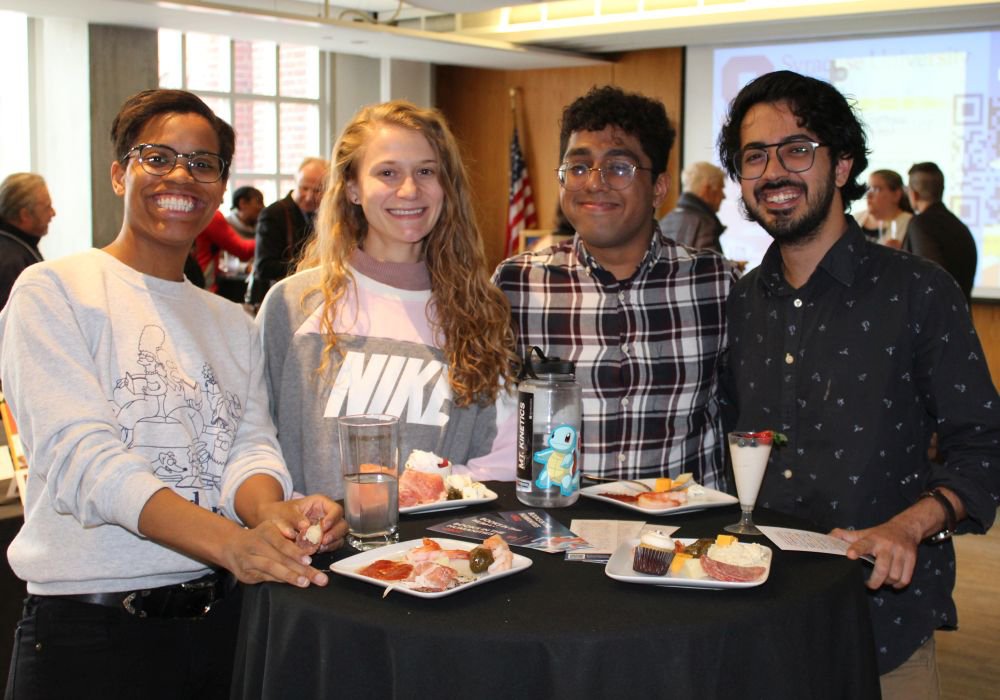 Article originally posted March 31, updated May 11.
The Syracuse University community came together to explore a diverse range of books authored and/or edited by Syracuse University scholars in copyright year 2022 at the Books in the Humanities (BITH) reception on May 3. Celebrating its eighth year, BITH showcases works in the humanities, broadly conceived, by faculty, staff and student authors. This annual initiative is made possible by support from the Office of Research, Syracuse University Libraries and the College of Arts and Sciences (A&S).
This year's books crossed disciplinary, historical and geographic boundaries, touching on pedagogy, religion, literature, film and media studies, disability studies, political philosophy and governance, performance, rhetoric and narrative. Contemporary questions of racialized humor, climate change, and school segregation were highlighted, as were historical matters, from the political rhetoric of the 1824 presidential election, to studies of freedom warriors like Harriet Tubman, to explorations of Shakespeare's uses of comedy. Several memoirs and novels rounded out the mix, including works of fiction by authors from the English department's acclaimed creative writing program: George Saunders' Liberation Day and Jonathan Dee's Sugar Street.
Hosted by the Syracuse University Humanities Center ­– whose home is in A&S – the eighth annual BITH reception was held in Eggers Hall's Strasser Legacy Room. The interdisciplinary showcase featured 45 © 2022 works by 44 authors and editors from seven different schools and colleges across the University. Featured books were discovered through self-submissions – via the book survey at the Humanities Center website – and other campus resources and referrals.
A Look at This Year's BITH Reception
Explore some of the sights from the 2023 Books in the Humanities showcase, held in Eggers Hall's Strasser Legacy Room.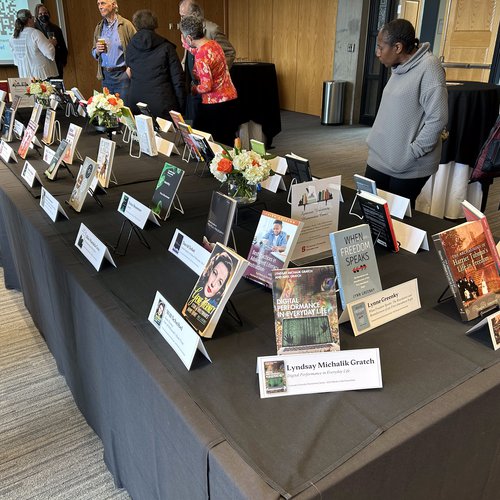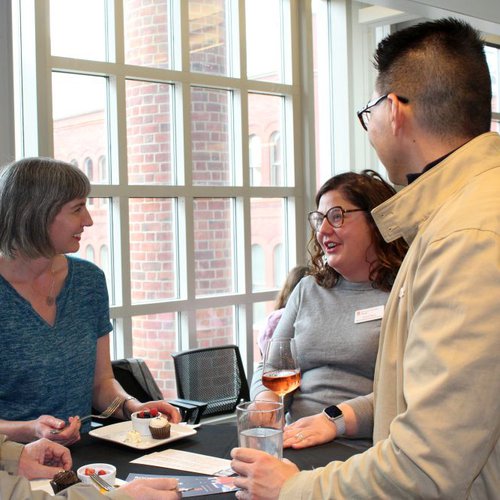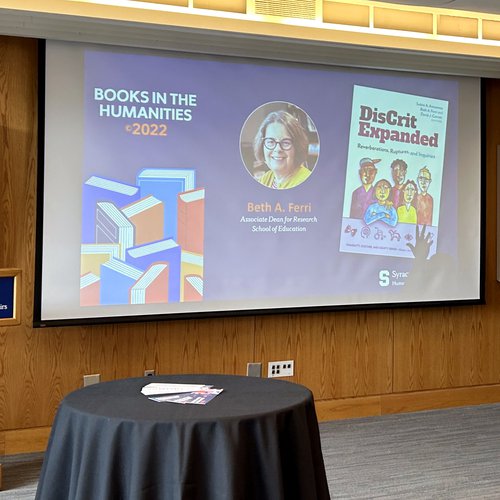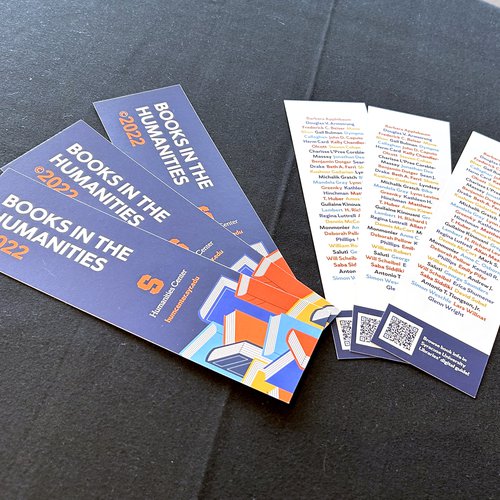 While the springtime reception serves as a social celebration, this year's showcase was also digitally archived in an online research guide by Rachel Fox Von Swearingen, collections lead librarian with the Syracuse University Libraries, with assistance from McKenzie Rybka, M.M. vocal performance, College of Visual and Performing Arts. Visitors to the online guide can also explore hundreds of titles from each of the past seven years' BITH events. In addition, the SU Libraries have a digital slide show on display on the first floor of Bird Library near the New Books area through May 31, along with physical copies of BITH books.
Vivian May, director of the Humanities Center and the Central New York Humanities Corridor, says this year's range of works exemplified the diversity of humanities scholarship happening across the University.
"We were delighted to welcome colleagues from across campus to celebrate the breadth and depth of scholarship via this initiative," says May, who developed this University-wide celebration early in her directorship at the Center. "The diversity of scholarly foci and genres underscore the impressive degree of creativity, innovation and cutting-edge research taking place across the humanities at Syracuse University."
Featured books are part of a permanent display in the Humanities Center's Sainsbury Library, on the 3rd floor of the Tolley Humanities Building. Additionally, BITH partners at the SU Libraries and the Campus Store are always happy to help guests borrow or buy any titles of interest.
Syracuse University authors who have a humanities-related book coming out in © 2023 are encouraged to share their work via the Humanities Center's annual book survey for potential inclusion in next year's guide.