Reflecting on the Past, Offering Hope for the Future
Native American students at Syracuse University help curate an exhibition of works by contemporary Haudenosaunee artist Peter B. Jones, illuminating Indigenous culture and history.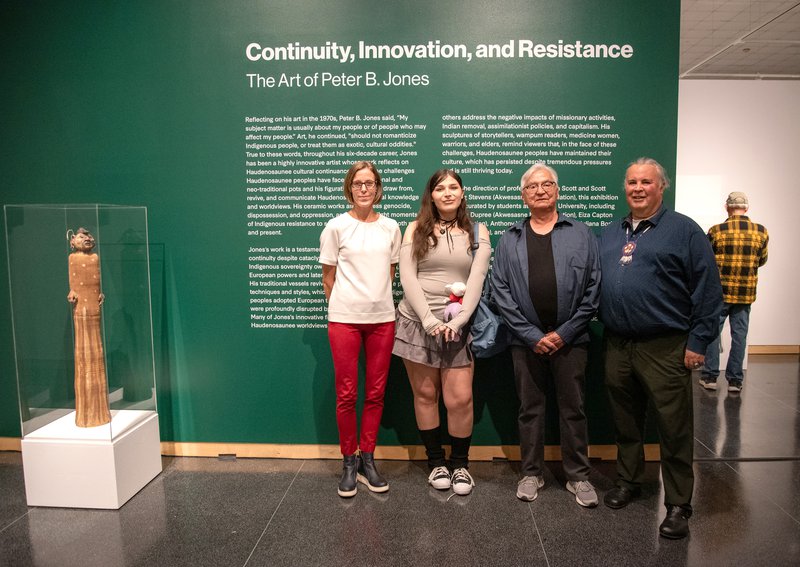 A&S professors Sascha Scott (left) and Scott Manning Stevens (right) with student curator Eiza Capton (center, left) and artist Peter B. Jones (center, right) at the opening of Continuity, Innovation and Resistance. (Credit: Lily LaGrange)
Situated in the heart of the ancestral lands of the Onondaga Nation, Syracuse University is committed to supporting and facilitating Native American and Indigenous scholarship. Within the College of Arts and Sciences (A&S), a recent collaboration between faculty and students has provided a platform for amplifying Indigenous innovation and cultural heritage preservation.
A team of students, including two lead curators who are from the Haudenosaunee community, recently had the opportunity to educate the campus and local community about Native American culture and history. Under the guidance of Sascha Scott, associate professor of art history, and Scott Manning Stevens, citizen of the Akwesasne Mohawk Nation and associate professor of English and director of both the Native American and Indigenous Studies program and Center for Global Indigenous Cultures and Environmental Justice, students curated the current exhibit, Continuity, Innovation and Resistance: The Art of Peter B. Jones. The exhibition is running through December 15 at the SU Art Museum.
Two undergraduate student curators who helped lead this effort were Eiza Capton (Cayuga Nation), who is pursuing a bachelor's in illustration in the College of Visual and Performing Arts, and Charlotte Dupree (Akwesasne Mohawk Nation), who is pursuing a bachelor's in art history in A&S. Capton and Dupree played key roles in selecting works for the exhibit, conducting research and writing many of the wall texts.
According to Scott, Capton and Dupree were instrumental in steering the design of this powerful exhibition.
"Their research and writing illuminate complex histories and amplify Indigenous innovation, resistance and resilience," says Scott. "We couldn't have done this project without the support of the SOURCE program and the Engaged Humanities Network, which provide financial support for the students as they conducted research and writing over the course of fourteen months. We are also grateful to the SU Art Museum for their unwavering support of the exhibition and students."
Watch the following video to learn more about what working on the exhibit meant to Capton and Dupree.
The collection of ceramic works by artist Peter B. Jones, who is a member of the Beaver Clan of the Onondaga Nation, emphasizes the impact of colonialism on Haudenosaunee communities. The exhibit features a diverse collection of Jones' acclaimed sculptures, which are held by prestigious museums including the Metropolitan Museum of Art and the National Museum of the American Indian.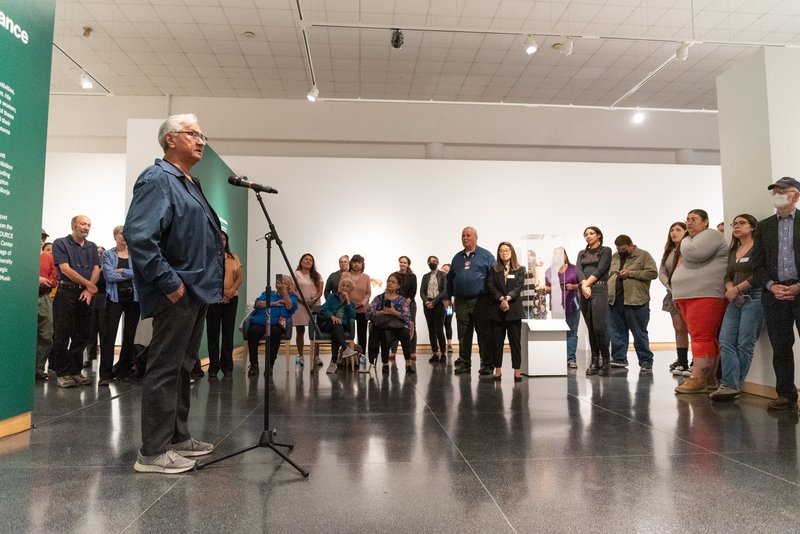 Artist Peter Jones speaking at the opening of the exhibit. (Credit: Lily LaGrange)
The student research team was involved in every step of the curatorial process from the selection of artworks to the thematic design. They also interviewed Peter Jones and wrote wall texts accompanying the ceramic works. According to Stevens and Scott, this experience teaches students, who will be among the next generation of museum curators and directors, about equitable and inclusive museum practices. With Stevens working to create a new Certificate in Indigenous Cultural Competencies for Museum and Arts Professionals, he hopes to see more student-engaged projects highlighting Indigenous art on campus in the future.
"This exhibition has provided a unique opportunity for undergraduate and graduate students to create public scholarship and engage with new museum practices focused on collaboration, community engagement, equity and inclusion," says Stevens. "Professor Scott and I are proud of their efforts throughout the past year and urge everyone on campus to stop by the museum to view and reflect upon this wonderful collection of artworks by Peter Jones."
Dupree says this project has opened her eyes to the potential of working as a museum curator, something she never considered when she first arrived on campus.
"Throughout this whole experience, I realized that there are opportunities in art history, especially within Indigenous art. When I graduate, I hope to work with other contemporary Indigenous artists to expand on our culture and open more opportunities for the Indigenous community," says Dupree. "This project exposed me to a different history that is not often taught in schools, and I feel more informed about my culture."
Sculptures from the Peter B. Jones Exhibition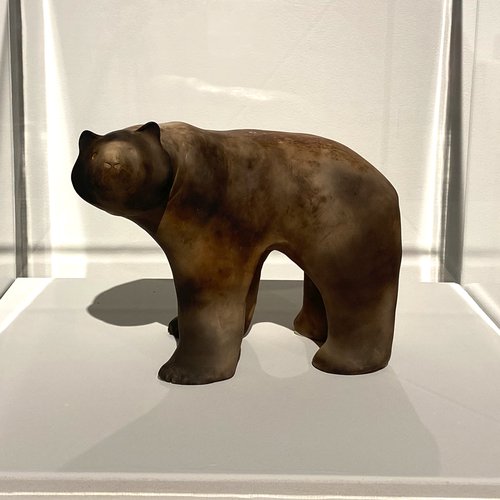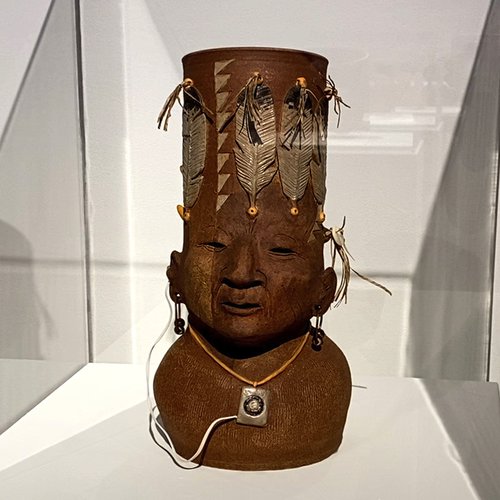 For Capton, who is an artist herself, working on this exhibition affirmed how art can be a powerful vehicle in storytelling.
"A large part of colonialism relates to a removal of Indigenous identity and presence in an area, and this exhibition actively combats that through the presentation of Indigenous stories and art," says Capton. "Being a part of this project, curating it with other Indigenous students on campus and collaborating with Peter was incredibly inspiring as a Haudenosaunee artist myself."
The exhibition is on view at the SU Art Museum during regular hours Tuesday through Sunday.
In addition to Capton and Dupree, the curatorial team also included Anthony V. Ornelaz (Diné, pursuing an M.F.A. in creative writing in A&S), Ana Borja Armas (Quechua, pursuing a Ph.D. in cultural foundations of education in the School of Education) and Jaden N. Dagenais (pursuing a master's in art history in A&S and a master's in library and information studies in the iSchool). Armas and Scott have also been working with the museum's education team to bring public school students to the exhibition, including students from the Onondaga Nation School, who met with Jones during their visit.
Continuity, Innovation and Resistance was made possible by support from a Humanities New York Action Grant, a mini-grant from the Engaged Humanities Network (EHN), and Syracuse University SOURCE grants, as well as by co-sponsorship from the Humanities Center (Syracuse Symposium), College of Arts and Sciences, College of Visual and Performing Arts, Hendricks Chapel, Office of Diversity and Inclusion, Office of Multicultural Affairs, Department of Art and Music Histories, and the Native American and Indigenous Studies Program.
Featured
Sascha Scott Associate Professor
Scott Stevens Associate Professor, Director, Native American and Indigenous Studies
Media Contact