'My Poetry is a Record of What Happened'
Mosab Abu Toha finds mentors, refines his craft in A&S' Creative Writing Program.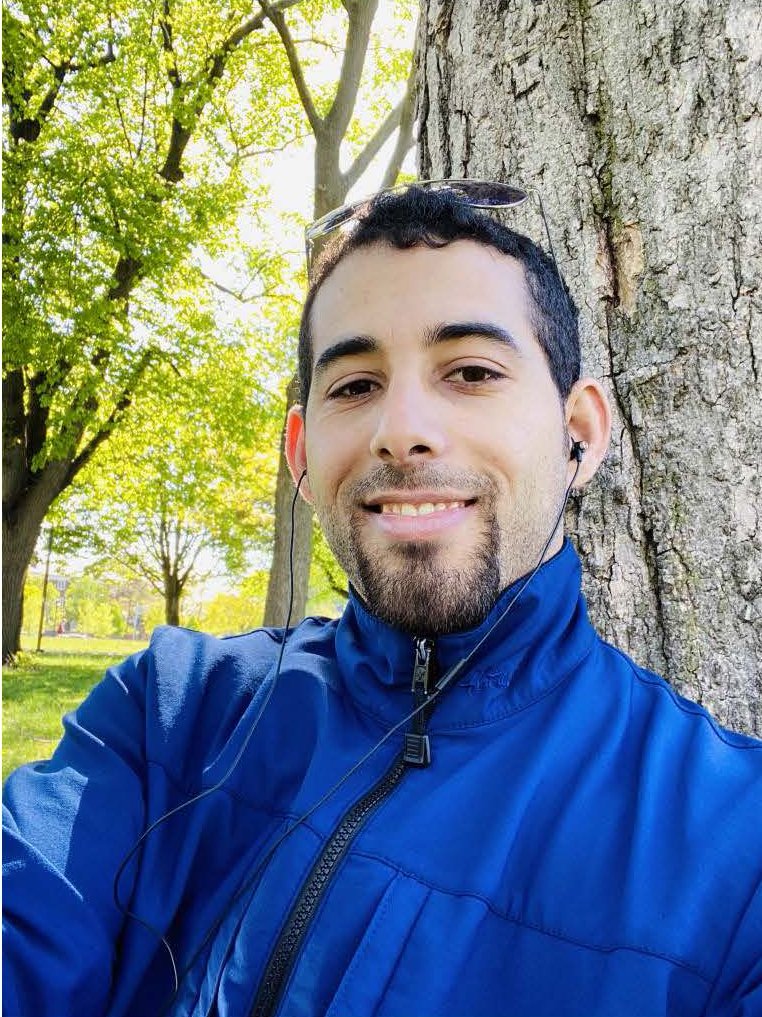 The title poem in Mosab Abu Toha's G'23 debut poetry collection begins with a plea that the surgeon repairing his punctured eardrum save the things he cherishes: his mother's voice, songs in Arabic, poems in English, chirping birds. "When you stitch the cut, don't forget to put all these back in my ear," he writes.
As for the sounds of drones, F-16s, bombs or rockets, "Rid my tiny ear canal of them all," Abu Toha, a student in the creative writing M.F.A. program, writes. The book, Things You May Find Hidden in My Ear (City Lights, 2022), is a finalist in the sought-after National Book Critics Circle Awards, which recognize the best books written in English in the United States in six categories.
The collection also won in the Creative Awards category of the 2022 Palestine Book Awards. Sponsored by the news outlet Middle East Monitor, the awards recognize books for contributing to the diversity of submissions and genres featuring the Palestinian narrative.
Palestinian writer Abu Toha previously was a visiting poet and scholar at Harvard University and a visiting librarian-in-residence at Harvard's Houghton Library. His writing has appeared in outlets that include Poetry, The Nation and Arrowsmith. Drawn from firsthand experience living under Israeli restrictions and attacks, his poetry is characterized by close attention to intimate details amid political violence and personal loss.
"We are so honored to have Mosab in our midst at Syracuse University," says Coran Klaver, associate professor of English and department chair. "He is a brilliant poet whose gift for creating imagery subtly draws the reader into the experiences and scenes he describes, often leaving them riven between feelings of wonder and horror."
In February, he gave a well-received reading at Syracuse's Downtown Writer's Center. "When I read my poems to people aloud, I feel what I'm reading as if it's happening again," he said. "It is a great experience to read to people and see how they react to your poems."
When he finishes his studies at Syracuse in August, he will return home to Gaza to his wife and their children, ages 3, 6 and 7, and to his job teaching English in an elementary school and continuing to write in English and Arabic.
In this Q&A, Abu Toha describes how poetry helps him understand his life in Gaza.
Tell me about your title poem.
I wrote the poem just a few days after the surgery. I wrote the first part and sent it to my doctor. I found her to be gentle to ears. My ear is my memory of everything I heard in Gaza.
How does your life in Gaza influence your poetry?
I can define myself as someone born in a cage. Gaza is 141 square miles. I never left Gaza until 2019. I was 27, a grownup. I had no preconceived notion of how big the world is, to fly in a plane, to sail in the sea. People in Gaza are not only being bombed, they are deprived of enjoying their landscape.
What emotions does your poetry express and what do you think readers get from it?
I write for myself. In Gaza, there are voiceless people, because they do not have the skill to express what they want. Other voices are silent because they were killed and they could not tell us what happened to them when the bomb hit their house.
My poetry is a record of what happened. I will not forget what happens to me. I do not want people who come after me to forget what happened.
Why use poetry to tell these stories?
I'm not trying only to record what was happening around me. I want to control the pacing. I am very sensitive to details, like the kettle on the stove, the father typing on a keyboard, the neighbors' radio.
It's also about reliving the moment. When I write poetry, I'm trying to understand myself. I am trying to understand my psychological status, sometimes healing myself.
Who are your mentors?
When I started collecting books for a public library in Gaza, I received an email from Naomi Shishaim Nyi, who was the Poetry Foundation's Young People's Poet Laureate. She is someone I used to send my early poems to.
Here at Syracuse, I have great mentors, like Mary Karr, Bruce Smith, Brooks Haxton and Christopher Kennedy.
In Gaza I had no mentor. Not many people write in English. The people I could form a literary relationship with are outside Gaza. I send them my poems for feedback and recognition that I am a poet.
Why did you come to Syracuse's creative writing program?
While I was on fellowship at Harvard, a number of writer friends, including Askold Melnyczuk and Katha Pollitt, recommended that I apply for Syracuse's M.F.A. program because it is one of the best programs in the country. It's a program that every poet should aspire to join. Not only because the faculty are some of the best living writers and professors, but also because of the nature of courses offered every semester.
How has the program affected your work?
Exchanging work is a very helpful experience, and getting feedback from published authors was a life-changing experience for me. I would get feedback about the structure of the poem and the pacing of the poem and even the title of the poem. It has given me a lot of things to think about. I'm having more confidence in myself to try different styles.
What would you like people to know about Gaza?
I want people to know there are many creative people in Gaza. These people have not yet got their chance to speak out. We do not have literary magazines. We do not have publishers. This is kind of silencing people in Gaza. I hope literary magazines and book publishers can reach out to people in Gaza.