Chemistry Professor Recipient of NSF CAREER and NIH Grants
With grants from the National Institutes of Health and National Science Foundation, Olga Makhlynets is researching next-generation hydrogels and protein design.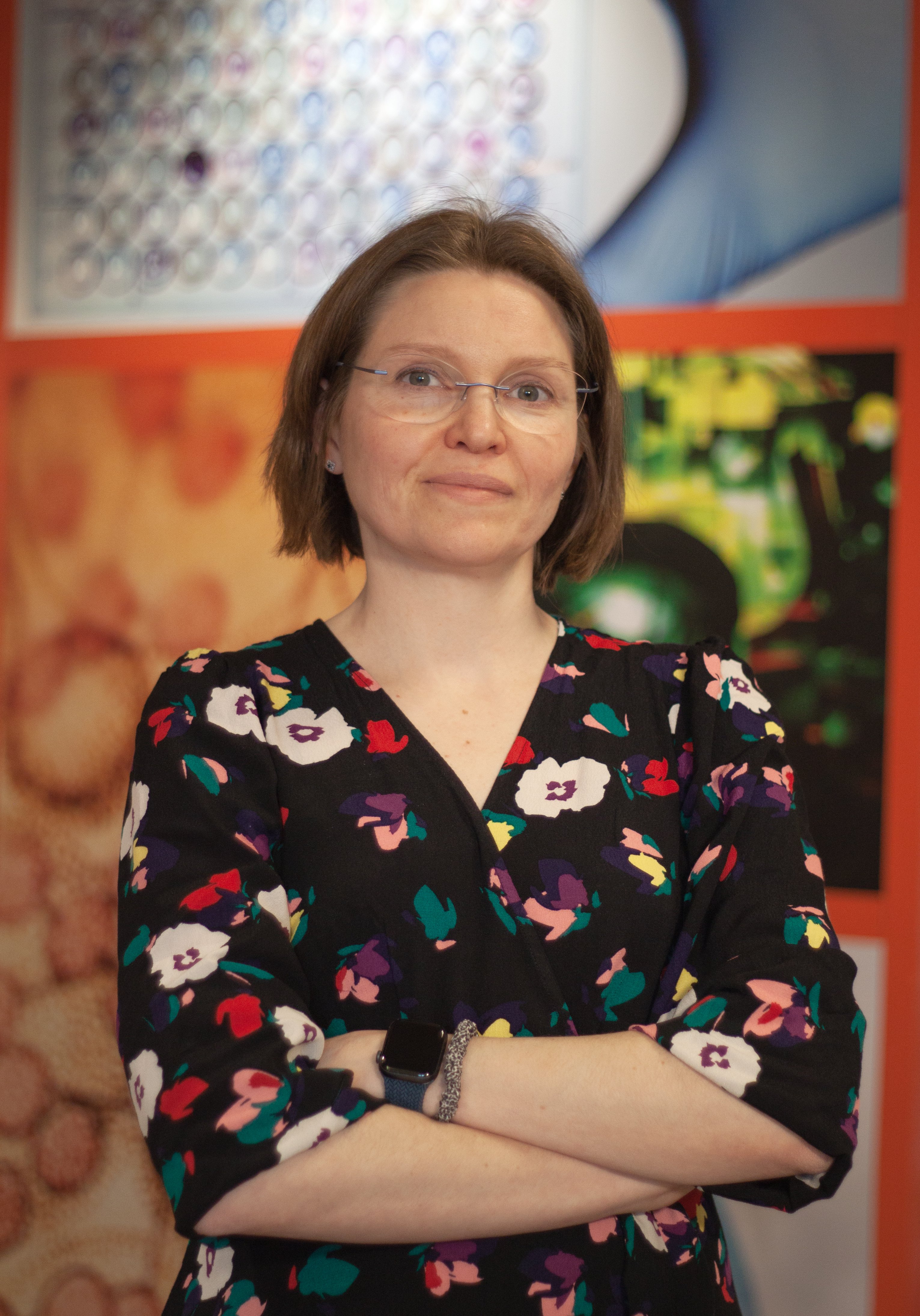 From diversifying STEM through educational outreach to addressing global health challenges with innovative research, chemistry professor Olga Makhlynets has made significant contributions both in the classroom and the lab as a member of the College of Arts and Sciences' Department of Chemistry. A leading expert in protein design, Makhlynets recently teamed up with chemistry Professor Ivan Korendovych and graduate student Sagar Bhattacharya to co-author a study published in the journal Nature detailing the fastest artificial enzyme ever reported thanks to a novel method of protein engineering.
Makhlynets is also leading cutting-edge research to develop antimicrobial hydrogels, which are gelatinous liquids that can be administered to wounds to prevent infection and improve healing time. In support of her research in protein and hydrogel design and development, Makhlynets recently received significant grants from the National Institutes of Health (NIH) and the National Science Foundation (NSF) totaling nearly $1 million.
Better Wound Healing
We've all experienced the annoyance of a skinned knee while rollerblading or a paper cut while opening mail. While some cuts are easy to treat, the healing process is more difficult when a wound becomes infected or when an individual has poor circulation. To help address those challenges, Makhlynets was awarded a five-year CAREER grant from the NSF for her project, "Stimuli-responsive biomaterials for wound healing and drug delivery."
She and her team will harness the power of antimicrobial peptides, which are short chains of amino acids that play a crucial role in helping the body fight against bacteria and viruses. They will specifically create stimuli-responsive hydrogel materials for wound healing and drug delivery. These "smart" hydrogels, which can respond to their environment and change their stiffness, will be developed for removable wound dressings and arthritis treatment.
In alignment with Syracuse University's longstanding commitment to supporting veterans and active members of the military, the grant will enable Makhlynets to design a research training program for ROTC undergraduate students at Syracuse University and the SUNY College of Environmental Science and Forestry. In close collaboration with the ROTC office at Syracuse, she will develop a research program with military training requirements in mind, similar to the existing Research Experience for Undergraduates program sponsored by NSF. Makhlynets says this opportunity would be a great way for our ROTC students to get relevant research experience and build their accessions portfolio prior to commissioning.
An additional aspect of the project's educational component includes a summer chemistry enrichment experience for Syracuse City School District (SCSD) high school students which aims to diversify the STEM workforce. The six-week preparatory program will enhance underrepresented students' chemistry skills and teach them about the college research experience. Makhlynets was part of a similar program in 2019, where she welcomed SCSD students to her lab on campus to gain insight into research and academic life and carve a pathway for them to pursue a future in STEM. Makhlynets will also design lectures and an exhibition at the Milton J. Rubenstein Museum of Science & Technology (MOST) in Syracuse to teach school children about biomaterials and peptide self-assembly.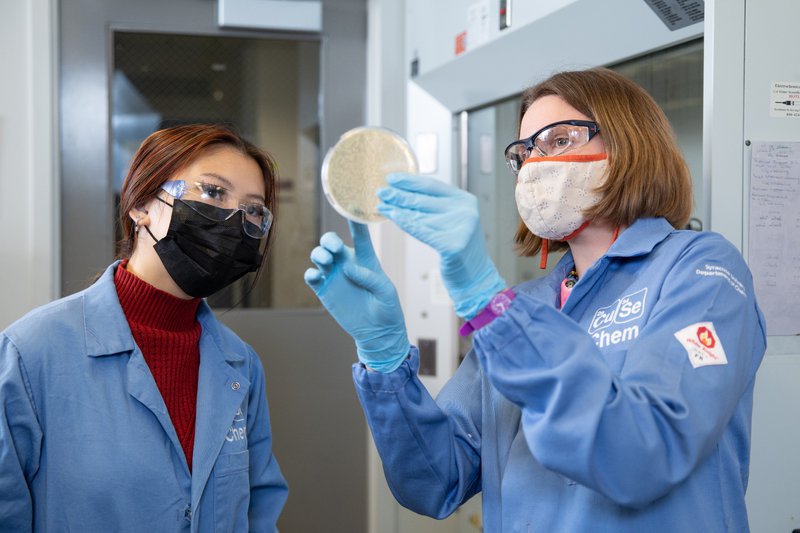 "Through interdisciplinary research integrated with educational efforts, this project will help us train the next generation of scientists and engineers in the biomaterial field," says Makhlynets. "Educational programs will not only provide a training ground for the students, but will also generate valuable results to advance the research field. Exhibitions and presentations at the MOST are designed to spark and retain interest in the field of biomaterials from an early age."
CAREER grants are the NSF's most competitive award in support of early-career faculty who have the potential to serve as academic role models in research and education. The five-year awards empower faculty members to integrate research into instruction and encourage awardees to think creatively about how their research will impact their teaching goals and, conversely, how their instructional activities will feed back into their research.
Evolving the Protein Landscape
Enzymes play a critical role in facilitating and regulating myriad biochemical reactions in the human body ranging from digestion to cell regulation to DNA replication. In the case of digestion, enzymes catalyze, or speed up, the chemical reactions inside the body to help break down nutrient molecules such as carbohydrates and fats into smaller molecules. To successfully catalyze certain reactions, enzymes depend on cofactors, which are non-protein chemical compounds or metallic ions that act as "helper molecules" to assist with biological activities.
While enzyme proteins containing metal ions (metalloenzymes) are capable of efficiently tuning the properties of a metal ion to catalyze very difficult chemical transformations, Makhlynets says there is little understanding as to what guides the evolution of protein function. With a grant from the NIH, Makhlynets and her team are exploring the molecular detail of the relationship between protein scaffolds and metal cofactors that ultimately determine changes in protein function.
"The current lack of understanding of the subtle detail of interactions that determine enzymatic function limits our ability to rationally design catalysts," says Makhlynets. "This NIH grant will allow us to test why the same family of enzymes use different metallocofactors."
In the lab, her team will use stable and simple protein models to bind various metal ions to generate catalysts for practical and useful reactions. This work could uncover simple, inexpensive and biocompatible protein catalysts that can be employed for pesticide removal and chemical weapons remediation in the environment. Their research could also reveal metal ion preference in enzymes that play a role in disease, allowing researchers to develop drugs that could target essential enzymes in human pathogens.