A&S Music History Professor Receives Carnegie Grant to Study Women's Music in West Africa
AMH Professor Ruth Opara will travel to Nigeria in May to explore music performance practices and develop a scholarly exchange program between students in Nigeria and Syracuse.
From improving mood to reducing anxiety, research has shown that music and dance can offer many health benefits. For cultures in West Africa, the power of music and dance extends far beyond boosting physical and mental well-being. According to Ruth Opara, assistant professor in the Department of Art and Music Histories in the College of Arts and Sciences, music and dance performance in places like Nigeria encompasses identity formation, storytelling, cultural and educational transmission, religion and healing, protest, and even international relations.
"Music in West Africa is with people from the cradle to the grave," explains Opara. "It has been the fabric of community and nation-building from pre-colonial times until the present."
Opara, whose research and teaching centers on music in Africa and the production of knowledge, was recently awarded a Carnegie African Diaspora Fellowship supporting her ongoing research on music and motherhood in West Africa. Opara will travel to Nsukka, Nigeria, in May where she will collaborate with Professor Christian Onyeji from the University of Nigeria to establish an educational exchange program. Opara will also conduct interviews, record live performances, and take part in archival research to investigate how Nigeria's evolving ecological, demographic, agricultural and economic history has affected music performance practices.
The research will contribute toward Opara's forthcoming book, Music, Motherhood, and Transnationalism: A West African Perspective.
Research Rooted in Personal History
Originally from West Africa, Opara received a bachelor's degree in music education at the University of Nigeria (AICE campus), an M.A. in Pan African studies at the University of Louisville and a Ph.D. in musicology at the University of Colorado Boulder. Her experience as both a student and educator in Africa and the United States have motivated her interest in understanding how women utilize music to negotiate changing gender roles and navigate motherhood.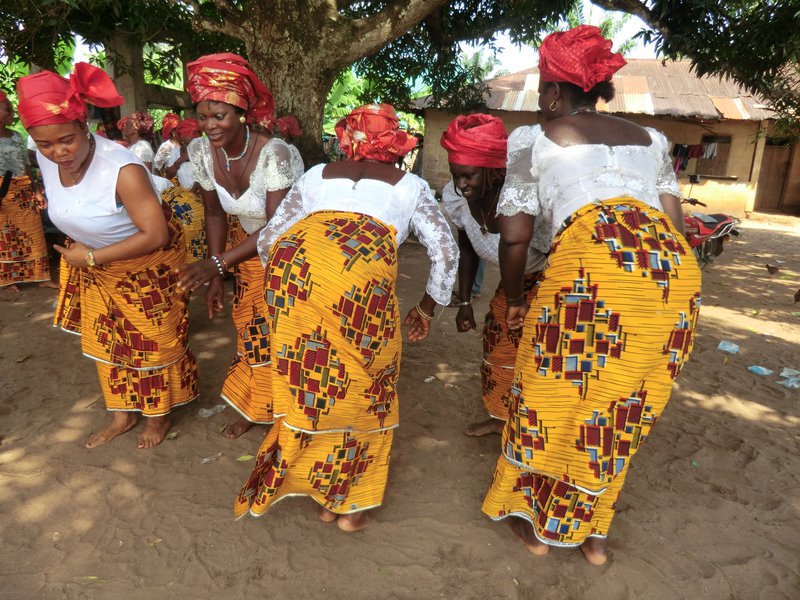 A group of women participating in a dance performance in Imo State, southeastern Nigeria. (Photo by Ruth Opara)
Traditionally a patriarchal society, Opara notes that gender equality is beginning to trend more toward the center in Nigeria, with women countering the narrative that certain jobs and duties are reserved for men. For example, it is becoming more common for women to play drums, a role that used to be primarily held by men. Additionally, men are now participating in music performances which used to be exclusively for women.
With music and dance being a vehicle for storytelling, Opara's research will explore these topics of gender and class that are characterized through music-making among women in West African culture. She will specifically focus her research on dance groups in Ihiagwa and Uratta, two towns in Imo State, southeastern Nigeria, conducting ethnographic studies to analyze song, dance, instrumentation, costume, dramatization, and their social functions.
The following video shows Obiwuruotu women performing at a funeral ceremony, where music and dance console the bereaved. In Opara's forthcoming book, she analyzes how the performance site is also a site for resistance and negotiating societal gender norms. (Video by Ruth Opara)
Collaborative Exchange
Opara will establish a mentorship workshop in Nigeria titled "Building Your Research Network." This program will teach students from the University of Nigeria Nsukka about research methods and the importance of establishing and fostering academic relationships.
"Having lived in Nigeria, I understand the resources available and limited to many Nigerian students. This fellowship will allow me to mentor students toward academic and professional success." notes Opara. "The exchange of ideas and purpose will also benefit the students and myself as we work together to inspire each other while finding scholarships and mentors in the diaspora."
Opara will also facilitate connections between students in Nigeria and Syracuse University to forge academic relationships and open an outlet of information sharing through virtual platforms. Students from both institutions will benefit by learning stylistic features of various types of musical performance and analysis.
"They will see firsthand and understand the cultural context in which music develops, think critically about the meaning of music, and appreciate the unity and diversity of musical performance styles in the global context," says Opara. "These experiences will allow scholars and students to better understand the musical worlds around them."
About the Carnegie African Diaspora Fellowship Program
The Carnegie African Diaspora Fellowship Program (CADFP), funded by a grant from the Carnegie Corporation of New York, is a scholar fellowship for educational projects at African higher education institutions. Over 500 African Diaspora Fellowships have been awarded for scholars to travel to Africa since the program's inception in 2013. Projects are selected by the CADFP Advisory Council, which is comprised of academic leaders from Africa and the African diaspora who offer strategic vision and approve projects.