Annual Lecture Honoring Physics Professor Kameshwar C. Wali to be Held on October 5
This year will feature distinguished speaker and alumna, Mary Schmidt Campbell G'73, G'82, H'21: "Towards a Model of Equity in Graduate Education".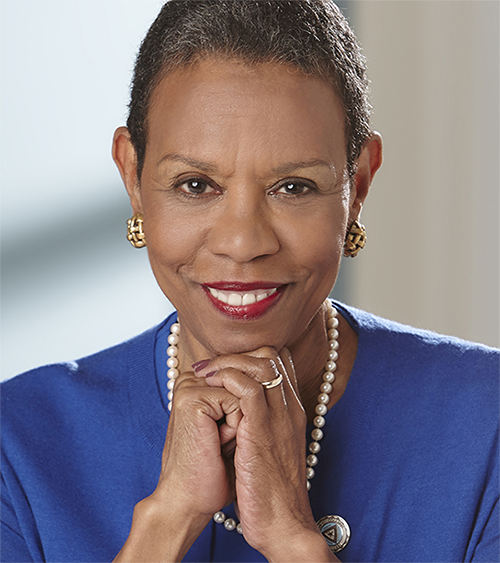 The Wali Lecture is an annual event where the sciences and humanities converge, fostering dialogue and new perspectives on current topics for all who attend. The 2023 Kashi and Kameshwar C. Wali Lecture on Thursday, October 5, will honor the life, work and legacies of Professor Emeritus Kameshwar C. Wali and his wife Kashi. The program will begin at 5:30 p.m. in the Watson Theater, featuring distinguished alumna Mary Schmidt Campbell G'73, G'87, H'21 as speaker.
Schmidt Campbell's lecture, 'Towards a Model of Equity in Graduate Education' considers the expectations, assumptions and practices that she and her husband, George Campbell G'77, encountered at Syracuse University influencing their academic success.
"The Kashi and Kameshwar C. Wali Lecture in the Sciences and Humanities is a unique and truly interdisciplinary event that represents the spirit of the teacher-scholar model we seek to embody in the Syracuse University physics department," says Jennifer Ross, professor and chair of the Department of Physics. "We are excited to welcome Dr. Mary Schmidt Campbell and highly anticipate her talk, which will be especially informative given recent changes in the higher education landscape."
Mary Schmidt Campbell was the tenth president of Spelman College from 2015 to 2022. She received a B.A. in English literature from Swarthmore College and earned her master's in art history, as well as her Ph.D. in humanities, from Syracuse University. She was also a curator at the Everson Museum of Art in Syracuse and an art editor at the Syracuse New Times. She holds numerous honorary degrees, including one from her alma mater, Swarthmore College in Pennsylvania. Schmidt Campbell is a fellow of the American Academy of Arts and Sciences and was elected to the Unity Technologies Board in September 2020. She served as a member of the Alfred P. Sloan Board from 2008-2020, and she currently sits on the boards of the J. Paul Getty Trust, the Doris Duke Charitable Foundation, and the High Museum of Art in Atlanta, as well as on the Advisory Boards of the Bonner Foundation and the Association of Governing Boards of Universities and Colleges.
Notably, Schmidt Campbell is an expert on Afro-American artist Romare Bearden, known for his large-scale public murals depicting the black experience in America. In the 70's Bearden mentored her as she entered the art world at the Studio Museum in Harlem, which during her time there she nurtured from a struggling organization into one of the nation's premier black fine-arts museums. She went on to write about him in both her doctoral dissertation at Syracuse University, and a book, An American Odyssey: The Life and Work of Romare Bearden (Oxford University Press, 2018).
Vivian May, director of the Syracuse University Humanities Center explained how Schmidt Campbell's scholarship on Bearden is one of the many accomplishments that influenced the selection of her as speaker. "Through her multifaceted contributions, as a renowned scholar of Romare Bearden, as a visionary leader in higher education, and as a tireless advocate for the arts and humanities as core to any pursuit of justice and equity, she has transformed a range of educational, cultural, and institutional landscapes to be more inclusive and equitable for all," says May. "We are so delighted to partner with physics and the Wali family to welcome Mary Schmidt Campbell back to campus. Her participation directly supports the Humanities Center's mission to advance humanities research, showcase the humanities as a public good and enhance scholarly community by bringing people together to confront some of the most pressing issues of our time."
Schmidt Campbell is a contributor to several publications including Artistic Citizenship: Artistry, Social Responsibility, and Ethical Praxis; New York Reimagined: Artists, Art Organizations, and the Rebirth of a City (Oxford University Press, 2016); and many others.
Kameshwar C. Wali was the Steele Professor of Physics Emeritus in the College of Arts and Sciences (A&S). He was internationally recognized as a theorist for his research on the symmetry properties of fundamental particles and their interactions and as an author. One of his books, Cremona Violins: A Physicist's Quest for the Secrets of Stradivari (World Scientific, 2010) examined the world's most valued violins through the lens of physics to discover how and why they produce their treasured sound - an example of his work at the nexus of the sciences and humanities.
Wali became a Syracuse faculty member in 1969. He had previously held positions at Harvard and Northwestern, the University of Chicago, Ben-Gurion University of the Negev in Israel, Institut des Hautes Études Scientifiques in France and the International Center for Theoretical Physics in Italy. He is a fellow of the American Physical Society, whose India Chapter named him Scientist of the Year in 2022, along with receiving Syracuse's Chancellor's Citation for exceptional academic achievement. He was one of the founding members of the University Lecture Series.
The Wali Lecture was established by his daughters, Alaka, Achala and Monona, to commemorate his vision and leadership and as an expression of admiration and gratitude for their parents' dedication and contributions to the University and the greater community. The lecture began in 2008 and has been held annually, except in 2020.
This lecture is produced by the Department of Physics in partnership with the Syracuse University Humanities Center. Generous support is provided by the Wali Endowment Fund, with additional support from the Syracuse University Offices of Academic Affairs, Division of Equity and Inclusion, the College of Arts and Sciences | the Maxwell School, including the departments of African American Studies, Art and Music Histories, English, History, the Syracuse University Art Museum and the Syracuse University Libraries.
To honor the late professor, donations can be made to the Wali Endowment Fund at Syracuse University through an online form or mailed to: the Office of Advancement and External Affairs, 640 Skytop Road, 2nd Floor Syracuse, New York 13244.