A&S Announces Tolley Professorships
Frieden, Pough to collaborate on issues of diversity, inclusion, and social justice in the Humanities.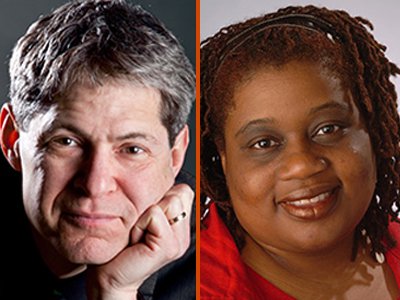 Syracuse University's College of Arts and Sciences is pleased to announce the consecutive appointments of two highly regarded and esteemed faculty members to the title of William P. Tolley Distinguished Teaching Professor in the Humanities. Ken Frieden will hold the appointment for the 2018-2020 term, while fellow A&S colleague, Gwendolyn Pough will step into the two-year professorship beginning in 2020.
"The selections of professors Frieden and Pough to represent the highest levels of teaching in the humanities truly speaks to both their commitment to educational excellence, innovative research, and discovery," remarked Karin Ruhlandt, Dean of the College of Arts and Sciences. "The importance of robust scholarship in the humanities cannot be understated when it comes to preparing students to live in a world of diverse languages, histories and cultures."
Ken Frieden, professor of Religion, English, and Languages, Literatures and Linguistics (LLL), is a renowned expert in the study of European and American Judaic literature. Most recently, his research has focused on the cultural impact of Yiddish and Hebrew narratives through the lens of emerging modern literature and travel narratives in the eighteenth century. His latest book, Travels in Translation: Sea Tales at the Source of Jewish Fiction (Syracuse University Press, 2016), was the recipient of the Faculty Outstanding Research Achievement Award in the department of Languages, Literatures and Linguistics this past year. Additionally, Frieden has served as the B.G. Rudolph Professor of Judaic Studies at Syracuse University since his arrival on campus in 1993.
As a launch to the academic year, Frieden plans to use the professorship initially to bring in a series of speakers that fit the theme of TRAVEL/TRANSLATION/NARRATIVE, inspired in part by his recent book. Frieden also has his sights on programing that might bolster mentoring relationships between younger and more seasoned faculty members throughout the College.
"I am delighted and honored to be chosen as a William P. Tolley Distinguished Teaching Professor in the Humanities," says Frieden. "I am looking forward to meeting the challenge of scheduling events that will be stimulating for professors at every academic level in every area of the humanities and beyond."
Gwendolyn Pough, will succeed Frieden, taking the helm of the Tolley Professorship in 2020. Pough is currently professor and Chair of the Women's and Gender Studies Department and Dean's Professor of the Humanities. A renowned scholar of hip-hop studies, black feminism and black popular culture, she envisions using the Tolley Professorship platform to help faculty become more cognizant of the challenges involved in teaching in the age of social media; and how that impacts classrooms dealing with issues of diversity, inclusion, social justice and activism.
"People may not know that I am a bit of a pedagogy geek. I love to talk about, think about and theorize about teaching. And it is the one thing that we as professors do not get to do a lot of because we are often too busy teaching and doing our scholarly work," explains Pough, who arrived at Syracuse in 2004. "To be selected to help shape a conversation about teaching and best practices in the humanities classroom, and to join this group of distinguished SU professors is an honor. To be the first black women to hold this position is also an honor."
Pough's research positions at the apex of feminist theory, African American rhetoric, women's studies, and hip-hop culture—and has published extensively in these areas. In addition to her scholarly accolades, she has been repeatedly recognized for her outstanding teaching skills and ability to create learning environments in which students are fully engaged while building critical thinking skills. Equally celebrated is her willingness and adroitness in mentoring junior faculty members as they navigate academic spaces through the early stages of their university careers.
As the Syracuse community turns the page on a fresh academic year, Frieden and Pough have already begun discussions of a possible collaboration within the span of the Tolley appointments—by way of exploring how issues of diversity, inclusion, race, ethnicity and social justice play vital roles in the study of the humanities.
"Professors Pough and Frieden exemplify the central objectives of a liberal arts education by their substantial contributions to humanities scholarship at Syracuse University," says Gerald Greenberg, Senior Associate Dean for Academic Affairs; Humanities; Curriculum, Instruction, and Programs. "I am looking forward to the advancements they will help lead for our faculty, staff and students in the college."
The Tolley Professorship was established in 1995 to support the enhancement of pedagogical experience at Syracuse and to maximize effectiveness in the classroom. Underwritten by private donors and the National Endowment for the Humanities, the professorship has benefited hundreds of tenured and nontenured faculty members. The two-year appointment was named to honor Chancellor Emeritus William P. Tolley, who served as chancellor of Syracuse university from 1942 until 1969.