Art Historian Lectures on Dutch Genre Painting in the Hague
Wayne Franits shared his expertise in 17th-century Dutch art this past December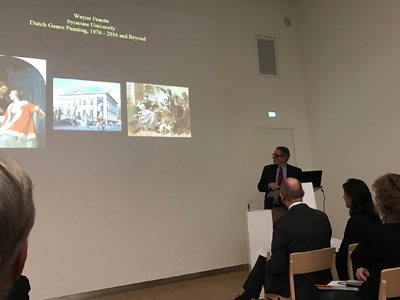 Art historian Wayne Franits recently delivered the keynote lecture celebrating the publication of a catalog of Dutch genre paintings at the Mauritshuis in The Hague, Netherlands. His Dec. 15 talk, "Dutch Genre Painting, 1976-2016 and Beyond," drew on his expertise in 17th-century Dutch art. The Mauritshuis houses the Royal Cabinet of Paintings, which includes works by Johannes Vermeer, Rembrandt van Rijn, Jan Steen and others. The museum is the former home of a 17th-century Dutch prince. "It's a generally outstanding collection of high-end works of art. It's a very important collection," he says, adding, "Vermeer's 'Girl with the Pearl Earring' is there."
"It was very flattering, as an American art historian, to be invited to deliver this lecture," says Franits, professor of art history and interim chair of the Art & Music Histories Department in the College of Arts & Sciences. About 100 people, including curators, art historians and museum donors, attended his talk. "My lecture addressed the historiography of Dutch genre painting, that is, the history of scholarship as it relates to this topic." Franits says.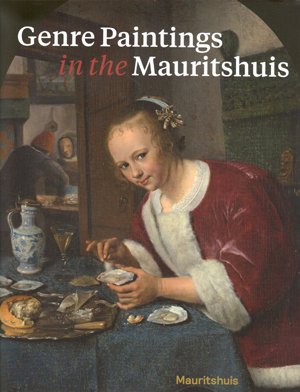 Genre paintings are scenes of everyday life. "You find them going back to the late 15th century," Franits explains. "There are domestic scenes, peasants, soldiers, prostitutes, courting couples, you name it. These are contrived, fictitious scenes adapted from direct observation as well as from pictorial traditions. They were created for various purposes, mostly to entertain and occasionally edify contemporary viewers. But what they are not is documentary."
The new catalog, "Genre Painting in the Mauritshuis," is "a new standard reference work on Dutch and Flemish genre painting," the museum says in a press release.
Franits has written extensively on 17th-century Dutch genre painting, including a widely read survey published by Yale University Press in 2004. Additionally, he has published books on, among others, the 17th-century Dutch painters Hendrick ter Brugghen (2007; co-authored with Leonard J. Slatkes), Dirck van Baburen (2013) and Johannes Vermeer (2015). And he is currently completing a book on the London years of yet another 17th-century Dutch painter, Godefridus Schalcken.
Three weeks prior to the Mauritshuis event, Franits traveled to London to give a lecture at "Beyond Caravaggio," a two-day international conference about the 17th century Italian painter Caravaggio and his legacy. He presented "Hendrick ter Brugghen's Paintings of the Crucifixion in New York and Turin, and the Problem of his Early Chronology" on Nov. 17 at London's National Gallery.
Featured
Wayne Franits Distinguished Professor and Chair
Media Contact