Research Is Her Cup of Tea
With NEH awards, Romita Ray dips into history and visual culture of Indian tea industry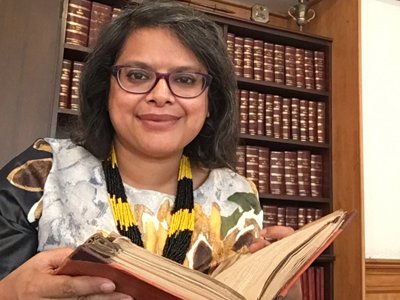 Romita Ray's background is steeped in India's place in the history of tea production. She grew up in Kolkata (also known as Calcutta), a descendent of one of the pioneering Indian tea planter families in Bengal. Her expertise as an art historian and her family legacy mingle together in her current research project: an academic book that analyzes the visual cultures of the Indian tea industry anchored by the colonial and contemporary histories of India.
Ray has received two prestigious National Endowment for the Humanities (NEH) awards to support research for the book, tentatively titled "From Two Leaves and a Bud: Visualizing Tea in Colonial and Modern India." A 2014 Summer Stipend Award allowed her to do research in the United Kingdom; a yearlong award in 2016 took her to India and Sri Lanka, and back to the UK.
In the last five years, NEH received an average of 1,178 applications per year and funded only 80 awards a year.
"I wanted to write a book that spans the history of Indian tea, going back to the 18th century when the British first came up with the idea of planting tea in India," says Ray, associate professor of art history and chair of the Department of Art and Music Histories. "In India, the contemporary era still resonates with colonial traditions."
Over cups of peppermint tea, she explained how tea made its way from China to India and how an indigenous variety of tea was found in Assam in northeast India. In the 18th century, the East India Co. started the Canton tea trade. In order to break China's monopoly on the desirable commodity, the British started growing tea in India.
"You see how colonial history is inseparable from today's tea industry and how complex the modern-day tea industry has become as it balances globalizing trends like fair trade and organic tea production with scientific research, changing climactic conditions and India's labor laws," Ray says. "How does this living history straddle both past and present? That is one of the key questions I am researching."
Ray has conducted research in tea plantations, museums and herbaria, and combed through the archival holdings of tea companies, tea brokers, private planters, botanical gardens and numerous archives in the UK, India and Sri Lanka. She has also consulted with planters, botanists and tea industry organizations, including the Tea Research Association, Indian Tea Association and the Indian Tea Board.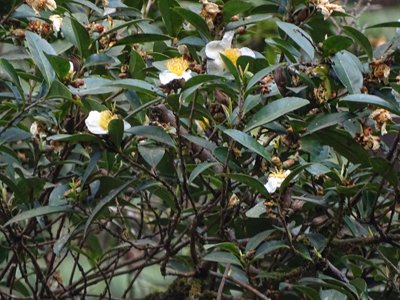 Ray's book begins with the tea plant itself. Tea plants can grow 20 feet and higher, she explains. "What you see on plantations are the plants pruned down to bushes." She learned that "for the botanist, the flower is important. For the planter, if the plant is flowering, it's in distress."
Botanical illustrations chart both the scientific and artistic history of tea, she notes. "Even the technologies of transporting tea plants in boxes are historically important, she says, "because tea has also been a very valuable commodity."
With the eye of an architecture and landscape design expert, Ray considered how plantations are organized and designed. "The bungalows on plantations follow a very specific form of architecture that synchronizes with their surroundings," she says. "The plantation is a tapestry of multiple landscapes."
She also sought details about the planters—a task more challenging in India than in the United Kingdom. "I had to pry out records," she says. "It requires a tremendous amount of time and patience." But her Indian background helped. "I speak multiple languages. This helps break the ice. All the people I met across the board were very receptive to my project, so my research progressed at a steady pace."
Depending on the tea growing area, historically, laborers were brought in from other states and from the neighboring country of Nepal. "Descendants still work on plantations," Ray says. "Indian-owned plantations become places to claim both Indian and regional identities."
Her great-grandfather, Tarini Prosad Ray, was founder and chairman of the Indian Tea Planters Association in British India. "I grew up on a very steady diet of stories about him," she says, so returning to his first plantation "was very nostalgic."
After the Times of India, a major national newspaper in India, published a story about her research, Teabox, which sells Indian and Nepali tea online, invited Ray to contribute to the company's blog. In "An Homage to a Box of Tea," Ray describes her visit to the East India Docks along the Thames where "ships that operated under charter or license to the East India Co., sailed with their precious cargo of tea and porcelain from eastern shores."
As she concludes our interview, Ray apologizes for the grocery store tea she served. "Real tea connoisseurs drink loose leaf tea," she says. "People who know tea can tell where it came from," like a wine expert knows the grapes' origins. "When you're drinking something beautiful, of course you know."
She confesses to drinking more coffee than tea when in the United States. Still, "I think tea is best served in fine porcelain cups," she says. "It's not a drink that can be rushed. You need to sip your tea. It invites a pause."
Featured
Romita Ray Associate Professor and Director of Undergraduate Studies in Art History
Media Contact