NSF Awards Chemistry REU Program $297,000 Grant
$297,000 grant to fund 33 summer researchers over three years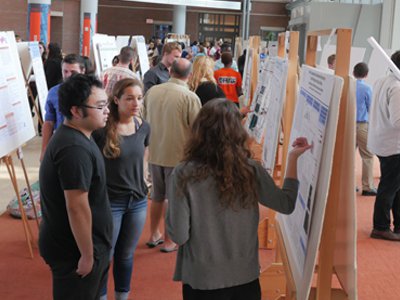 For more than 15 years, Syracuse University's Department of Chemistry has welcomed summer undergraduate researchers. Thanks to a new three-year, $297,000 grant from the National Science Foundation (NSF) to chemistry professors Michael Sponsler and Bruce Hudson, the immersive program will continue. The Research Experience for Undergraduates (REU) program will support 11 young scholars for the summer in each of the next three years.
"Having a large group of young researchers in the summer brings a lot of energy to the department and is widely recognized as a benefit to everyone," says Sponsler, the grant's principal investigator.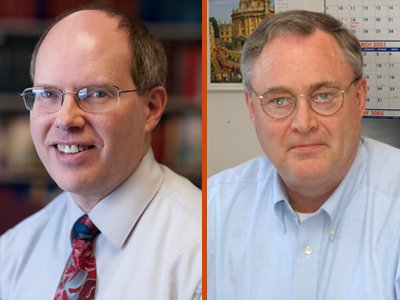 This will be Sponsler's first year overseeing the program. He has managed day-to-day activities and served as co-principal investigator with Karin Ruhlandt, distinguished professor of chemistry and dean of the College of Arts and Sciences, since 2003.
"We started the Chemistry REU program to give students hands-on research experience and to support young STEM scholars from diverse backgrounds," Ruhlandt says. "By giving students a taste of academic research we fulfill two goals: enriching the STEM undergraduate experience and helping students decide, risk free, if grad school could be a good fit."
Each year, hundreds of students from across the country apply for a spot in the highly competitive REU program, which is "harder to get into than med school," Sponsler says. Participants are joined by two local high school teachers; a half dozen students from the Graz University of Technology in Austria; and Syracuse undergrads, whose research is funded by other mechanisms.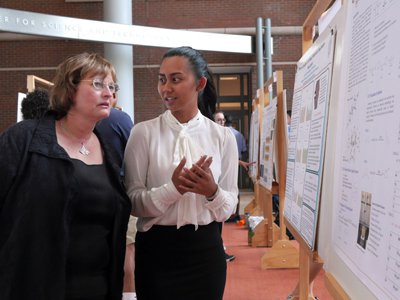 REU students are fully immersed in the research process from designing and conducting experiments under faculty mentorship to communicating their results. Participants hone communication skills during a summer research poster session and often present their work again at regional or national conferences, for which they are partially reimbursed by the REU grant.
Aside from gaining their research "sea legs," all summer research students are included in social opportunities to build their networks and take a break from the grind. These include research presentation luncheons, a day trip to Niagara Falls, and the ever-popular glassblowing class presented by veteran artistic and scientific glassblower Sally Prasch.
Sponsler and collaborators focus recruitment efforts on underrepresented groups, including veterans, to enrich all participants' experience.
"Veterans, even those who took science courses a few years before, tend to shy away from science when getting back into school, " Sponsler says. "The REU program is a great way for veterans to immerse themselves in a supportive scientific environment and demonstrate that they can succeed in science."
Most participants come from liberal arts colleges, including local students from Le Moyne College. After the summer's end, local students often continue their research at Syracuse, like Le Moyne senior, Brian Wilson whose work in the Ruhlandt lab began during the 2014 summer REU program.
"I have learned so much and have been greatly prepared for graduate school," Wilson says. "I am forever grateful to Dr. Ruhlandt for allowing me to work in her lab and to everyone in the lab for teaching me so much.
"I'll be pursuing a Ph.D. in chemical engineering at Northwestern University in the fall," Wilson says. "I hope to one day become a professor and mentor students as I have been mentored at Syracuse University during the REU program and beyond."