Karin Ruhlandt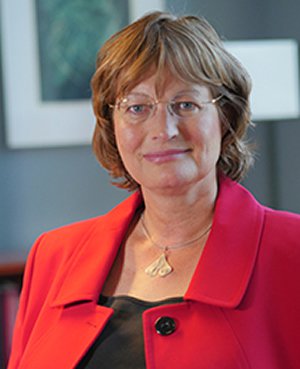 Karin Ruhlandt
Distinguished Professor

CONTACT
Chemistry

Email: kruhland@syr.edu

PROGRAM AFFILIATIONS
Biochemistry

Degrees
Vordiplom, 1986, Philipps-Universität-Marburg, Germany
Dr. rer. nat., 1991, Philipps-Universität-Marburg, Germany
Postdoctoral Fellow, 1990-1991, University of California, Davis
Courses Taught
CHE 109/119: General Chemistry, Honors & Majors
CHE 129/139: General Chemistry Laboratory, Honors & Majors
CHE 411/611: Inorganic Chemistry
CHE 422/622: Inorganic Laboratory Techniques
CHE 600: Inorganic Chemistry of Main Group Elements
Inorganic chemistry; organometallic chemistry; crystallography
Karin Ruhlandt is a renowned inorganic chemist and crystallographer, with more than 150 papers, book chapters, and reviews to her credit. Her research specialty is the chemistry of highly reactive metals and their applications in areas such as computer memory and bone therapeutics.
She earned a Dr. rer. nat. (Ph.D. equivalent) in chemistry from Philips University Marburg in her native Germany, after studying at the University of California, Davis. In 1991, following postdoctoral work at UC Davis, she was appointed assistant professor of chemistry at Syracuse University. In 2009, Ruhlandt was appointed Distinguished Professor—the only female on campus to receive such an honor in the sciences—and chair of the Department of Chemistry, the latter of which she held until 2014. Named dean in 2015, Ruhlandt led Syracuse University's largest college until 2022.
At Syracuse University, she has trained more than 20 Ph.D. students and dozens of master's students, has worked one-on-one with nearly a hundred undergraduate students, and has overseen more than 10 Honors capstone theses. Her former students are employed all over the world, as leaders of industry and academia. As a principal or co-principal investigator (PI), she has brought more than $10 million in sponsored research to Syracuse University.
Ruhlandt is committed to excellence in undergraduate teaching and research. She has served as director and PI of the Research Experiences for Undergraduates (REU) Program, sponsored by the National Sciences Foundation (NSF). Ruhlandt also oversees an undergraduate exchange program in chemistry between Syracuse University and the Graz University of Technology. She is currently developing similar programs for undergraduates in technology, engineering and mathematics.
Ruhlandt is co-author, co-principal investigator, and an executive board member of Syracuse University ADVANCE, a $4 million NSF program that seeks to increase the number of females in the STEM disciplines. She also is co-PI of Syracuse University's first Integrative Graduate Education and Research Traineeship (IGERT) program, an interdisciplinary NSF-funded graduate training program in the sciences and engineering.
She is especially proud of her work as dean to improve opportunities for traditionally underrepresented students and faculty, particularly through programs that include SUSTAIN, ACS-SEED, ADVANCE, WISE and others.
Among Ruhlandt's many other achievements leading A&S, some of the most notable include:
increased funding for undergraduate research and the reorganization of how funds are distributed to ensure equity across all disciplines;
the reorganization of the Syracuse University Humanities Center to enhance programming and support faculty scholarship;
collaborative relationships with leaders of the College of Engineering and Computer Science, the Maxwell School of Citizenship and Public Affairs and the School of Education to develop a number of new interdisciplinary programs;
the development of a unique student advising paradigm that connects academic and career advising to optimize student retention and career preparedness; and,
launching an ambitious communications strategy that improved editorial coverage of faculty, student and alumni accomplishments.
At the heart of Ruhlandt's efforts is a deep commitment to providing an excellent student experience that prepares graduates to be lifetime explorers—people who are professionally and personally adaptable, ethical and compassionate, and fearless in their pursuits. She is a passionate advocate for experiential learning, including study abroad and research across the disciplines. She is also unflagging in her belief that the best education is one that blends and balances the humanities, sciences, and mathematics. Says Ruhlandt, "Only when one has a strong ethical and intellectual foundation born of the liberal arts can one truly think freely, act ethically and live decisively."
The Ruhlandt group's research focus is the chemistry of the heavy alkali and alkaline earth and selected rare earth metals. Particular research interests lie in the preparation of novel compounds with applications in polymerization and synthetic chemistry, the development of novel source materials for MOCVD applications, and the preparation of biomimetic calcium phosphonates to be used in bone cements and as bone scaffolding material.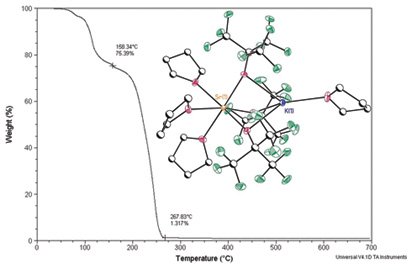 Despite exciting applications in synthetic and polymer chemistry, the organometallic chemistry of the heavy alkaline earth metals remains poorly understood; major breakthroughs are only now emerging. Further progress critically depends on the development of reliable and facile synthetic regimen and the introduction of novel ligand systems to achieve improved understanding and utility of the many applications. Due to the similarities of divalent rare earth metal compounds and calcium and strontium due to similar size charge ratios, principles developed for the rare earth metal may be modified and used for the lesser developed alkaline earth metals. In the last few years, our group has developed synthetic methodologies and prepared several families of alkaline earth organometallics, leading to an increased understanding of the organometallics while opening new applications. Current work is extending this group of compounds and testing the novel materials in synthetic, medicinal and polymer applications.

Our second major research focus is the preparation of novel precursor materials for MOCVD leading to alkaline earth metal containing solid-state materials. Solid-state materials containing group 2 elements range from insulators to high temperature superconductors. Widely recognized are capacitance-based devices such as dynamic random access memory (DRAM) circuits. These require materials with a high dielectric performance, as displayed by alkaline earth metal titanates MTiO3 (M= Sr, Ba or mixtures thereof). Other applications include high temperature superconductors such as YBa2Cu3O7-δ, Bi2Sr2CaCu2O8-δ and Tl2Ba2Ca2Cu3O8 with a Tc as high as 134 K. Alkaline earth metals are also essential in flat panel displays based on electroluminesce technology. These contain a doped dielectric layer, typically a binary metal sulfide where the metal is either Ca, Sr, or Zn. Electroluminescent displays are not shock sensitive like liquid crystal displays, and do not require backlighting, cross polarizers or filters. Moreover, the displays are brighter than the more common LCD counterparts and display higher contrast. The preparation of the MOCVD precursors requires thermally stable, highly volatile precursor materials to enable the deposition of thin films. With a continuing need for optimal precursors, our work is geared towards the development of facile synthetic routes and the introduction of novel ligand systems. Research methods in the laboratory include inert gas chemistry both on a Schlenk line and in the glove box, low temperature crystallography, various NMR spectroscopic methods, IR spectroscopy, thermogravimetrical analysis, and more.
Fulbright Fellowship, 2013
Visiting Professor, Technical University of Graz, Austria, 2013
Chancellor's Citation for Excellence, 2012
NSF Career Award
Karcher Lectureship, University of Oklahoma
Visiting Professor, Monash University, Australia, 2003
Visiting Professor, University of Auckland, New Zealand, 2003
Deacon, G. B.; Junk, P. C.; Moxey, G. J.; Ruhlandt-Senge, K.; St. Prix, C.; Zuniga, M. F. Charge-Separated and Molecular Heterobimetallic Rare Earth - Rare Earth and Alkaline Earth - Rare Earth Aryloxo Complexes Featuring Intramolecular Metal-π-arene Interactions. Chem., Eur. J. 2009, 5503-5519.
Gillett-Kunnath, M. M.; MacLellan, J. G.; Forsyth, C. M.; Andrews, P. C., Deacon, G. B.; Ruhlandt-Senge, K. BiPh3 – A convenient synthon for heavy alkaline earth metal amides. Chem. Commun. 2008, 4490-4492.
Guino-o, M. A.; Campana, C. F.; Ruhlandt-Senge, K. A unique heterobimetallic calcium benzylate - an organometallic mixed metal species involving a heavy alkaline earth metal. Chem. Commun. 2008, 1692-1694.
Alexander, J. S.; Teng, W.; Allis, D. G.; Ruhlandt-Senge, K. Alkali metal diphenylmethanides: synthetic, calculations and structural studies. Chem., Eur. J. 2007, 13, 9899-9911.
Zuniga, M. F.; Deacon. G. B.; Ruhlandt-Senge, K. New structural features in heavy alkaline earth metal chemistry- molecular heterobimetallic Group I/Ba complexes. Chem., Eur. J. 2007, 13, 1921-1928.