A Spot of Tea
Syracuse professor awarded prestigious fellowship; continues work on forthcoming book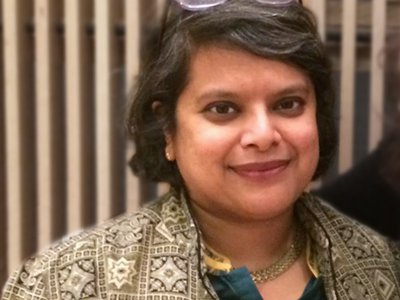 Invite Romita Ray for a cup of tea, and you will undoubtedly want to share a second cup —although you may be waiting a while for it.
An associate professor of art history in Syracuse University's College of Arts and Sciences, Ray is the recipient of a National Endowment for the Humanities (NEH) Fellowship for 2016. Her one-year grant award will support travel and research for an upcoming book, tentatively titled Two Leaves and a Bud: The Visual Cultures of Tea Consumption in Colonial and Modern India.
Spanning more than two centuries of strongly brewed history, Two Leaves and a Bud traces the origins of the tea industry in India from the late 1700s onwards; follows it during the British Raj from 1858 to 1947; and brings it forward into Post-Independent India where tea is widely recognized as a national drink.
Ray will spend most of 2016 traveling through India, the United Kingdom, and Sri Lanka exploring various archives, libraries, herbaria, museum collections, tea plantations, and private collections to gather her research.
"It will be a great detective hunt," says Ray, who has been pre-occupied with this topic for more than a decade. "While lots of books have been written about the history of tea in India, no one has studied the visual histories that have sprung up around the tea plant, the tea plantation, and the teacup. I am particularly excited to meet with a wide array of experts on the subject. My conversations with them will, no doubt, be inspiring and as eye-opening as my archival research."
Ray comes by the subject naturally. As the great-granddaughter of one of the first Indian tea planters in a British dominated industry in pre-Independence India, she says the idea for the book began budding years ago, during visits to her family's tea estates in North Bengal, an area known for its unique leaf production in the foothills of Darjeeling. However her art historical study of the subject began to crystallize in earnest when she was finishing her Ph.D. thesis at Yale University, and she presented some initial thoughts in her book, Under the Banyan Tree: Relocating the Picturesque in British India published by Yale University Press in 2013.
Ray has been fascinated by the visual and contextual representations of tea that has evolved in India over the past 3 centuries. Many of these involve silver and porcelain utensils, furniture, painted portraits and landscape views, photographs, postcards, advertisements, commercial packaging, and the landscape architecture of tea plantations.
"Professor Ray's fellowship is a great tribute to the imaginative and highly original nature of her scholarship," says Theo Cateforis, associate professor and chair of AMH. "NEH's support plays a vital role in expanding our knowledge of the past, ourselves, and our world. They also enable professors such as Romita to engage in crucial research that ultimately pays huge dividends for her and her students."
One of the largest funders of humanities research in the United States, the NEH awards grants to only seven percent of those whom apply.
"NEH provides support for projects across America that preserve our heritage, promote scholarly discoveries, and make the best of America's humanities ideas available to all Americans," said NEH Chairman William D. Adams. "We are proud to announce this latest group of grantees who, through their projects and research, will bring valuable lessons of history and culture to Americans." Ray learned about her award in December 2015, when NEH was celebrating its fiftieth anniversary (1965-2015).
"I am humbled, delighted, and eager to fulfill the expectations that come with receiving this highly competitive fellowship," says Ray who would like to develop an art history seminar around tea and possibly a digital humanities project down the road. "I look forward to the experiences that await me—and to drinking lots of tea."
-
Any views, findings, conclusions, or recommendations expressed in this article do not necessarily represent those of the National Endowment for the Humanities.
Featured
Romita Ray Associate Professor and Director of Undergraduate Studies in Art History
Media Contact