Once Upon a Crime
Forensic analysis is nothing like it appears on TV, says Syracuse scientist Michael Marciano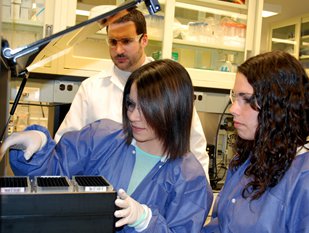 Danielle Lindgren '14 has a love-hate relationship with TV crime shows—especially ones with venturous forensic investigators, such as
Bones, CSI
, and
NCIS
.
On one hand, their soaring popularity is one of the reasons she became interested in forensics. (
NCIS
, in fact, is the world's most-watched TV drama.) On the other hand, such shows often employ techniques that would make even TV shyster Saul Goodman cringe with embarrassment.
"One of my favorite shows used to be
CSI: Las Vegas
, but, when I started studying forensics at Syracuse, I realized that almost everything they showed was wrong," says Lindgren, a first-year master's student in Syracuse University's
Forensic and National Security Sciences Institute
(FNSSI). "For instance, the speed at which evidence is identified—sometimes within a few hours—is completely unrealistic. Nothing ever happens that fast in real life."
And that's just the beginning, says Lindgren, who, in addition to earning a degree in chemistry, was one of the first to complete the
Integrated Learning Major (ILM) in Forensic Science
in Syracuse's College of Arts and Sciences. She rattles off a host of other grievances—from the preponderance of forensic gadgets and futuristic technologies; to pistol-waving CSIs racing around in Hummers; to so-called "scientists," who seem to know a lot about everything.
"The reality is that most people who work in forensic labs are civilians, not law-enforcement officers," she says. "Forensic scientists specialize in one or two areas; many have backgrounds in biology or chemistry. Rarely do they arrest or interrogate suspects."
Lindgren's instructor,
, nods his head in agreement. During a recent afternoon on the fourth floor of Lyman Hall, he, Lindgren, and chemistry major Victoria Czabafy '15 hold court in FNSSI's new state-of-the-art laboratory suite. Much myth-debunking is had, especially where matters of forensic analysis are concerned.
Marciano—a senior scientist at FNSSI, specializing in bioforensics—knows a thing or two about lab work. Having recently been promoted to full-time status, he came to Syracuse in 2013, after major stints at Onondaga County's Wallie Howard Jr. Center for Forensic Sciences and the Bioforensics Group at SRC Inc. He has one word for TV crime shows: "entertainment."
"You can't take them too seriously," says Marciano, whose expertise lies at the intersection of genetic identity, DNA analysis, and national security issues. "What Hollywood doesn't show you is just how backed up crime labs really are—the waiting list can be months, sometimes years long—and how much paperwork is involved. The whole process can be laborious."
That hasn't dissuaded Marciano from becoming one of the area's top forensic scientists. Presently, he is heading up two federally funded research projects at Syracuse: one involving the Combatting Terrorism Technical Support Office; the other, the National Institute of Justice (NIJ). Other projects include a recent collaboration with the U.S. Department of Homeland Security and U.S. Customs and Border Protection.
Unlike his TV counterparts, Marciano remains fairly tight-lipped about his work for security reasons. Nevertheless, his excitement is palpable. As FNSSI's bioforensics lab supervisor, he oversees everything from operations and personnel to budgets and effort-tasking. But the real fun, Marciano says, lies in the science, where he designs experiments focusing on the "exploitation of biologicals" (e.g., DNA) to aid in the tagging, tracking, and locating of targets of interest.
"I develop projects and procedures for various governmental agencies," says Marciano, who earned a master's degree in forensic molecular biology from the University at Albany. "This way, my students get hands-on training in experimental design, while learning how to deal with government and corporate partners."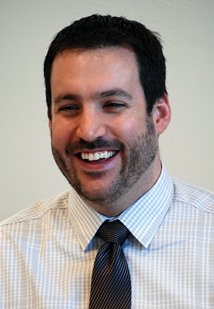 Marciano is proud of his professional collaborations, which are beginning to pay off for the University. They include the aforementioned Onondaga County Center for Forensic Sciences and New York City's Office of the Chief Medical Examiner (OCME), both of which are known for their high professional standards and scientific rigor. They also enable students to participate in research that impacts public safety, while enhancing their professional development.
"There's no doubt that our partnerships with OCME and the Onondaga County lab helped us land the NIJ grant," says Marciano, referring to a recent $213,000 grant award, supporting the study of DNA mixtures. The award is based on work he developed with Jonathan Adelman, a FNSSI consultant and former co-worker of his at SRC who also is a master's student in computer science at Syracuse. "We've also filed a provisional patent application, which could mature into an issued patent."
Another FNSSI partnership is with Promega Corporation, one of the nation's largest suppliers of products for DNA forensic analysis. Last summer, the Wisconsin-based company sent a trio of scientists to FNSSI, requesting R&D assistance with various products and methods. Several of Marciano's students leaped at the opportunity, which could benefit them later on, professionally speaking.
"I'm already on a first-name basis with people at Promega," Czabafy says. "For the past few months, I've been validating some of their products with a battery of tests. I'm learning a lot about STR [short-tandem repeat] analysis, which helps in cell and tissue authentication and in human identification."
Marciano is quick to praise his students' moxie, including that of Anna Moss '14, who, along with Lindgren and Czabafy, has been helping out on the Promega project. "Anna expressed interest in FNSSI, while she was a chemistry major," he says. "After joining our graduate program, Anna became immersed in a project involving PowerPlex 21 System, a DNA amplification kit. Her work with Danielle and Victoria has led to increased visibility within the forensic DNA community and has helped solidify our collaboration with Promega."
No doubt that FNSSI's family-like atmosphere, augmented by the latest in laboratory design and technology, is partly responsible for the institute's success. The labs' organic space assignments are enough to break down barriers between disciplines, not to mention students and faculty. Hallway meetings have a way of happening spontaneously, and, if someone has a question or problem, help is a shout away.
"What's amazing is that we have expertise in almost every forensic discipline," Lindgren says. "It's not uncommon to strike up a conversation with a latent print examiner, a firearm examiner, a drug chemist, or a trace analyst—sometimes individually, sometimes all at once. This kind of environment helps us determine the best approach for studying evidence."
James T. Spencer, FNSSI executive director and Meredith Professor of Chemistry, says Marciano exemplifies the kind of expertise for which the institute is known. "What sets us apart from other programs, curricula notwithstanding, is that our talent pool is deep," he says. "Mike Marciano is one of several FNSSI members with extensive knowledge and experience, particularly in DNA analysis. That he has established a wide array of professional connections and has amassed considerable intellectual property makes him even more indispensable."
Marciano: "I've had the opportunity to participate in and assume leadership roles on several projects whose focus has been public safety and national security. I'm particularly interested in developing analytical procedures to address unique problem sets that are used in the field today."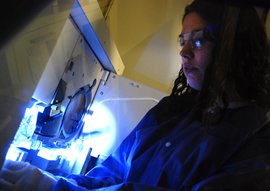 A quick tour of FNSSI's 2,500-square-foot bioforensics suite, valued at more than $2 million, reveals no shortage of top-notch gear. Considerable space is taken up by a large DNA analysis facility, where millions of copies of DNA are made from a single sample of genetic material. This process, known as amplification, enables detection of small amounts of DNA, a process that's not uncommon in most criminal investigations.
Marciano points out some of his "toys," including several thermocyclers, a 16-capillary electrophoresis genetic analyzer, multiple robotic platforms, and a next-generation DNA sequencing unit.
"Like most forensic DNA analysis labs, ours has two parts: a Pre-PCR Lab, where we prepare samples; and a Post-PCR Lab, where most of the analysis takes place," he says, comparing the facility to a "big XEROX machine." "Most of our instruments are no different from those down the street, used by the county at the Center for Forensic Sciences."
Although forensic science has been taught and researched at Syracuse for more than a decade, FNSSI didn't become a reality until 2011. Since then, it has responded to demand by offering an array of graduate and undergraduate opportunities in general and advanced forensics, nuclear and biomedical forensics, medicolegal death investigation, ballistics, and forensic law.
Spencer says it's in the area of bioforensics that FNSSI's timing couldn't be better. "There's a vital need for methodologies involving bioterrorism threats, chemical detection and analysis, and sample provenance and origin," he says. "Syracuse is the first university in the country to focus on the scientific interface between forensic and national security science."
Marciano echoes his sentiments. "Bioforensics is a strong science because it involves DNA, the building block of life," he says, citing growing interest in and understanding of the human genome and forensic DNA analysis. "Yet DNA is only one part of the systematic search for evidence. Despite what Hollywood tells you, my job isn't determining someone's guilt or innocence; it's letting the science speak for itself."
Featured
Michael Marciano Professor of Practice and Director for Forensics Research
Media Contact
Ron Enslin