Current Engaged Humanities Undergraduate Research Projects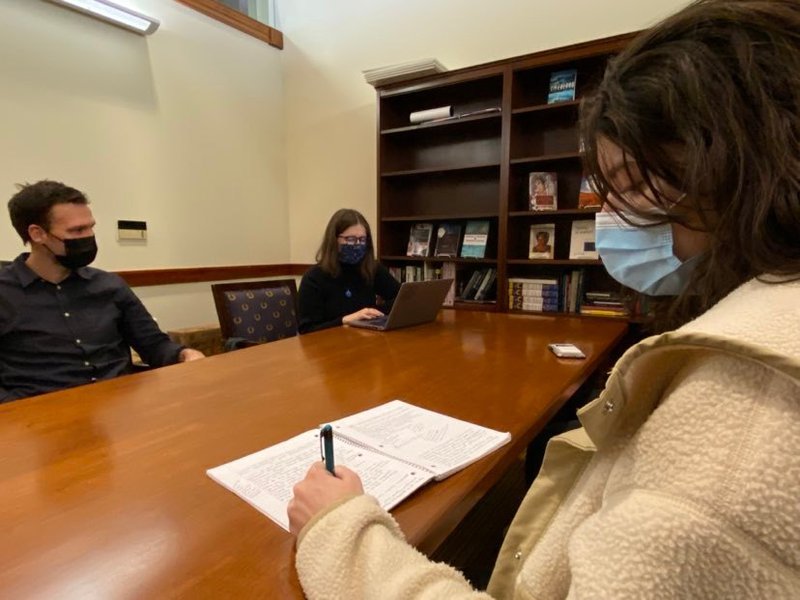 2021-2022 EHN Undergraduate Research Team
Community-based Participatory Assessment in the Engaged Humanities
The 2021-2022 EHN Undergraduate Research Team's project begins with questions generated from the work of the inaugural (2020-21) Engaged Humanities undergraduate research cohort formed in collaboration with SU's Shaw Center and the Maxwell School's Citizenship and Civic Engagement program. 1.) How does Syracuse University as an institution value and evaluate community engagement? How can we understand and assess SU's community engagement efforts in ways valuable to SU and also center community collaborators' perspectives and experiences in the development, implementation, and revision of community-engaged projects and programs?
To pursue these questions, five EHN undergraduate researchers are working across scales of assessment. Maggie Sardino is working on the institutional scale with the Office of Institutional Effectiveness and Assessment and on the national scale through reviews of academic community-engagement offices and programs across the country. Sardino is integrating project-level findings into the University's shared competencies framework, particularly the competency of Global and Civic Responsibility. Our team's four SOURCE-funded RAs are each embedded as participant observers in different community-engaged humanities projects running over the course of the year. Lizmarie Montemayor is working on La Casita's Echoes project; Katherine Miles is working with Spanish in Action; Tighe Gugerty is leading the launch of Philosophy Lab, a critical thinking and dialogue program for Syracuse youth; and Sophia Stokoe is co-faciliating a Write Out group at the North Side Learning Center in Syracuse. Montemayor, Miles, Gugerty, and Stokoe are participating in the design and facilitation of their respective projects and are also documenting these projects from the perspectives of diverse participants through interviews, artifact collection, photo and video documentation, and autoethnographic reflection.
Over the course of the year, this team is pursuing the following deliverables: 1.) A holistic assessment toolkit adaptable for use across community-engaged humanities and arts projects. 2.) Research presentations at the SOURCE Spring Symposium and at the 2022 A&S Student Research Fair. 3.) A co-authored article comparing findings across projects and articulations of these with institutional assessment models.