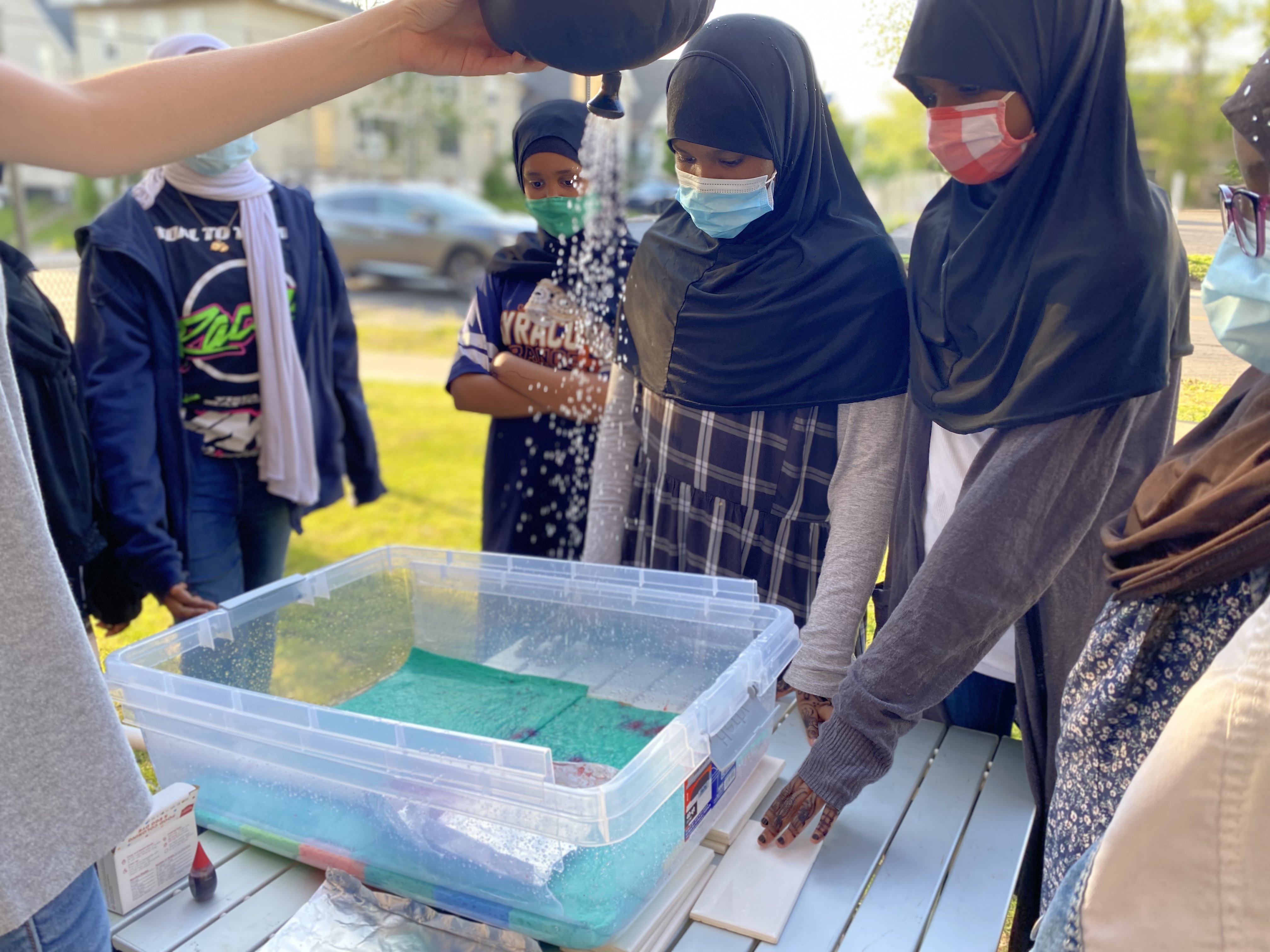 Through a new course offered in the College of Arts and Sciences' Department of Biology, students engaged local communities in discussions about science. The class, titled Science Outreach in Biology, was piloted by Katie Becklin, assistant professor of biology, in Spring 2021. During the semester students shared scientific discovery with diverse audiences through outreach lessons that covered a wide range of topics from climate change to genetics.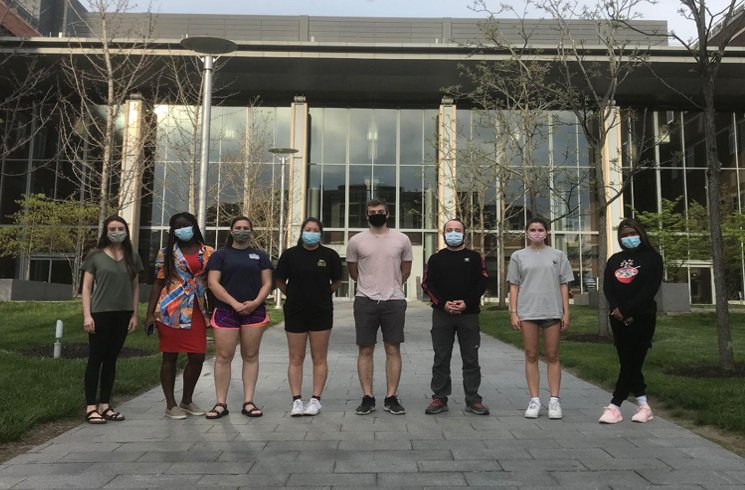 The eight students who participated in the Science Outreach in Biology course were (from left): Eliza Hurst, Favour Ononiwu, Bethanie Viele, Maya Bolger-Chen, Eli Schuchert, Burak Cilhoroz, Sarah Schulman and Osato Onaghinor.
Becklin recently reflected on the class's experience. The following has been lightly edited for length and clarity.
Tell me and I forget. Teach me and I remember. Involve me and I learn.
Eight intrepid students made it their goal to involve the Syracuse community in science. The students, who came from multiple departments in the College of Arts and Sciences and Falk College, were united in having common interests in science communication, developing positive relationships with the public and promoting a more inclusive science community. These students designed and implemented outreach programs that engaged people from across Syracuse in talking and learning about science.
"Growing up, I never thought science was for me," shared Eliza Hurst, a graduate student in the Department of Earth and Environmental Sciences (EES). This is a common experience for many young students who do not see themselves represented in the science community or who lack opportunities to engage with science.
For Bethanie Viele, joining a research lab and working with poplar trees during her freshman year at Syracuse University changed her perspective on plant biology. "I learned about the awesome things trees can accomplish," Viele says. "Now I'm motivated to spend my life connecting others to science and breaking down the barriers people may have experienced early in life."
Wanting to share the "magic of discovery" with the local community is part of what prompted Bethanie, Eliza, and six other students to sign up for a class on science outreach.
Leaders in science education and outreach were featured in the course as guest speakers, offering their insights to help guide the class.
Dr. Nalini Nadkarni, a world-renowned forest biologist who pioneered bringing science education to the incarcerated through the Sustainability in Prison Program, shared her experiences with the class.
"Every opportunity to engage someone in science, even if only with one person, counts," said Dr. Nadkarni. She went on to explain how she uses shared identities and interests to engage non-traditional communities, like incarcerated men and women, in learning about the importance of trees. The personal connection to science expressed by Dr. Nadkarni resonated with students in the class.
For Maya Bolger-Chen, colorful images of cells produced by confocal microscopes is what first excited her to learn more about cell biology and eventually inspired her science outreach project. As she explained, "Nature and science have an inherent beauty that can be emphasized through art. I want people to feel inspired and try their hand at creating art as a representation of science."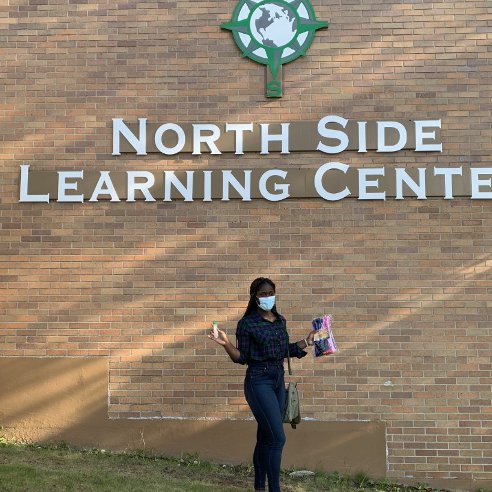 Throughout the semester, students developed outreach projects to engage the Syracuse community in a science dialogue. These projects involved diverse audiences, including other students on campus, local school board members, and young students participating in after school programs at a local community center. Topics ranged from discussions about science as art to climate change and even the basics of DNA replication. No two projects were alike, supporting the class's overall goal to engage people of all ages and backgrounds with science. One participant from a project on biofuels said, "This program gave me an opportunity to look at energy sources in a new way." Another young student at North Side Learning Center (NSLC) exclaimed, "This is not science! I do science in school, and it is not like this at all!" after an activity to extract DNA from plants.
As ambassadors for science, the students learned how outreach can facilitate dialogue about science and help establish positive working relationships between scientists and society. As scientists, we have a responsibility to share what we learn through research with different people who may benefit from this knowledge. However, most scientists receive relatively little training on how to engage with non-scientists. Addressing this gap was part of the motivation for offering a course on science outreach for students at SU.
Students reported how this class helped them better understand the public's interest in science and increased their confidence to lead discussions about science.
For Maya, this experience had additional meaning in inspiring other young women to explore science. "Being a minority woman in science I learned how I can influence younger students who look like me," she said.
For some students, their journey in science outreach is just beginning. Eliza Hurst, who eventually hopes to work in academia, is one of several graduate students from EES and biology who started leading weekly science outreach lessons for students at NSLC earlier this spring. NSLC provides classes and after school programs for members of Syracuse's refugee and immigrant communities. As Eliza explained, "I get so much joy from sharing [my research] with other people that I hope I never stop making it a priority in my professional life."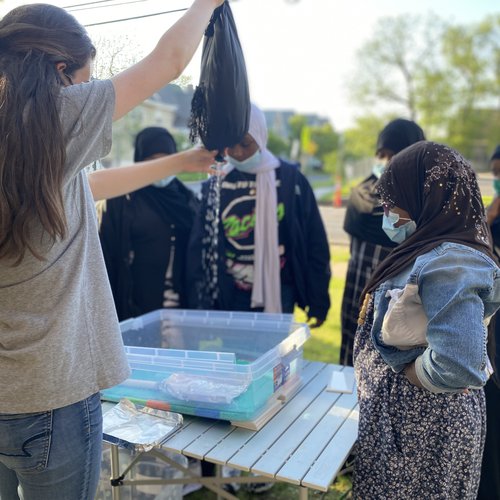 Graduate students involved in this new initiative hope to create a sustainable program where future SU students can engage in science outreach and help forge stronger connections between scientists on campus and the Syracuse community in which we live and learn.
If you are interested in learning more about community engagement opportunities, visit the SU Office of Community Engagement. The online community for Advancing Research Impact on Society (ARIS) offers additional resources and training workshops on connecting with people about science.