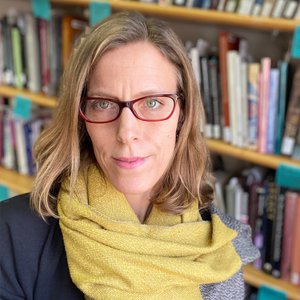 "The Special Collections Research Center has been integral to my teaching at all levels and important to my own research. My awareness of the importance of SCRC has been amplified over the last two years, owing to Covid, as they were unable to open for in-person visits for a time—to the detriment of my scholarship, my student's scholarship, and to my teaching.
In many of my undergraduate courses and all of my graduate courses, my students and I have a session at and work with the archives held at SCRC. They have a rich collection of objects related to U.S. art history, including the papers of hugely important artists like Margaret Bourke White and Jacob Lawrence. I often encourage my MA students to choose capstone projects that draw from the SU Art Museum collection and SCRC.
My own research has benefited from the SCRC's collection. Six years ago, I learned they held the Charles Coiner papers. Coiner was an advertising agent who hired the artist Georgia O'Keeffe to create paintings in Hawai'i for the Dole Food Company. My research in the papers led me to write an essay about O'Keeffe in Hawai'i and how we might decolonize histories of U.S. modernism. This essay won the Frost Prize, a prestigious field-wide prize for U.S. art history. As noted, the idea for this essay was seeded at the SCRC. I fully intended to eventually write about the African American painter Jacob Lawrence—an important early 20th-century U.S. artist—in part because the SCRC has his papers. In short, the SCRC is a very exciting place for a scholar of U.S. art history.
The Special Collections Research Center is tremendously valuable to my teaching and research, as well as for my students' learning experience. It is one of the things that makes me proud to be part of the Syracuse University community."
— Sascha Scott, Associate Professor and Director of Art History Graduate Studies, Art & Music Histories, College of Arts and Sciences at Syracuse University