The Department of Art & Music Histories is proud to announce our undergraduate award recipients of the Sidney Thomas and Abraham Veinus Prizes for 2022, and the recipient of Distinction in Music History and Cultures for 2023.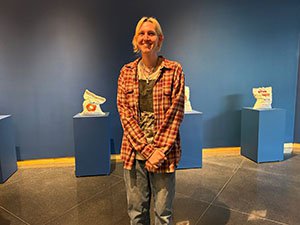 Congratulations to Avery Colligan-Wild for winning the 2022 Sidney Thomas Prize for the best undergraduate student paper in art history. Avery's prize-winning paper is titled "Tracing the Metaphysical Journey of Vrubel's Demon."
The Thomas prize is awarded annually for best undergraduate student paper in art history. The award is named for Professor Sidney Thomas (1915-2009), a member of the department from 1961-1985. Initially trained in literary studies, Thomas began his academic career as a Shakespeare scholar before moving into art history upon his arrival at Syracuse University. Deeply devoted to humanistic scholarship, Thomas edited two benchmark publications in this area: The Nature of Art (with John Gassner, 1964) and Images of Man: Selected Readings in Arts and Ideas in Western Civilization (1972).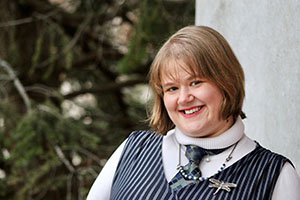 Congratulations to Tara Sandlin for winning the 2022 Abraham Veinus Prize for Best Undergraduate Paper in Music History and Cultures: "Visions of Jeanne d'Arc: Mythologizing and Materializing a Queer Messianic Madonna in Verdi's Giovanna d'Arco."
The Veinus prize is awarded annually to the best undergraduate student paper in music history & cultures. The award is named for Professor Abraham Veinus (1916-2002), who was one of the first faculty to join the Department of Art and Music Histories (at the time, Department of Fine Arts) in 1948, shortly after its founding. A musicologist by training, Veinus wrote an important monograph, The Concerto (1944), and collaborated closely with his colleague William Fleming on the landmark textbook Understanding Music (1958). Embracing the department's interdisciplinary breadth, later in life Veinus also became an accomplished painter, with his works receiving an exhibition at the prestigious Marlboro Music Festival in 1973.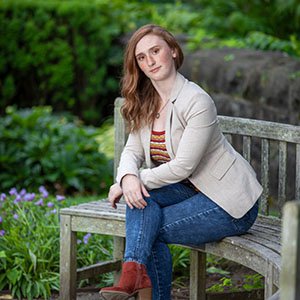 Congratulations to Music History and Cultures major Julianne Stein who graduated with Distinction for 2023. Her MHC Distinction paper is titled, "The History of Western European Music: Expanding the Canon. An Encyclopedia Website and Accompanying Paper."
Majors who have earned a cumulative GPA of at least 3.7 will be invited to earn a degree with distinction. In order to earn this honor, students are required to enroll in HOM 496 - Distinction Project in Music History and Cultures. These students will work independently, under the supervision of a faculty member, to complete a large-scale project in some aspect of music history or cultures. Students will determine the topic for their Distinction Project in consultation with a thesis advisor, whom they will chose from among the Music History and Cultures faculty (in exceptional cases other faculty may serve in this capacity). The thesis will also be evaluated by a second reader, chosen by the thesis advisor (in consultation with the student) from other faculty in Music History and Cultures or related disciplines. In most cases, the project will take the form of a formal essay approximately 6000 words in length. Alternative types of projects are also possible, provided that they meet with the approval of the Music History and Cultures faculty. Regardless of the topic, the project should constitute original work, serving as a persuasive demonstration of the student's skills and talents as well as a vivid component of the student's credentials.