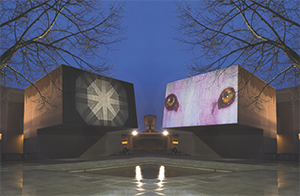 Light Work's Urban Video Project  (UVP) program is presenting "URBAN RENEWAL," a two-person exhibition featuring the work of multimedia artists Emanuel Almborg and Crystal Z Campbell, through Dec. 22 at UVP's outdoor projection site on the north façade of the Everson Museum of Art,  401 Harrison St., Syracuse, Thursday through Saturday, from dusk until 11 p.m.
This is the second exhibition in Light Work UVP's 2018-19 season, "The Past Keeps Happening." The exhibition is supported by the New York State Council on the Arts with the support of Gov. Andrew M. Cuomo and the New York State Legislature.
In conjunction with the exhibition, an indoor screening + Q&A with Almborg and Campbell will take place at Light Work's Watson Theater on Thursday, Nov. 29, from 6:30-8:30 p.m. This event will feature additional work and a conversation with Emanuel Carter Jr., a faculty member at SNUY-ESF; Lanessa Chaplin, project counsel for the Central New York chapter of NYCLU; and Yusuf Abdul Qadir, director of the CNY Chapter of NYCLU, exploring how issues conveyed in the exhibition relate to Syracuse's own history and legacy of urban renewal. A reception will follow.
The auditorium is wheelchair accessible, and CART services are available by reservation (by Nov. 14) by calling 315.443.1369 or emailing info@urbanvideoproject.com.
Also, on Nov. 16, during the Everson Museum's free Third Thursday event, Anneka Herre, UVP director and instructor in the Department of Transmedia in the College of Visual and Performing Arts, will engage with visitors in an open-ended discussion about the works that UVP presents.
Click here to read the SU News article about the UVP URBAN RENEWAL exhibition