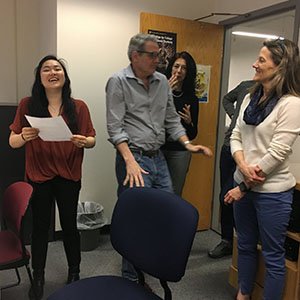 Congratulations to Tammy Hong for winning not one but TWO major awards at SU!
Tammy has been selected as a 2018 Judith Greenberg Seinfeld Scholar. According to the Chancellor's letter that she's holding in her hand, the award recognizes her "exceptional creativity as a scholar" and a "passion for excellence." Only two seniors from across the university are selected for this honor. Here she is in the picture, utterly surprised by the news!
A second award arrived shortly thereafter: Tammy has won the Outstanding Student Research Paper at the poster session in the Maxwell School!
Well done Tammy!