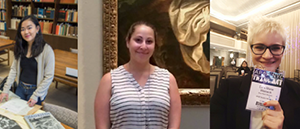 TAMMY HONG. SARAH POISNER. DINA-MARIE WEINECK

Come hear our majors and minors who are presenting their Honors Capstone Thesis projects on Wednesday, May 2, 2018. All talks take place in the Hall of Languages.


11.00 AM. Room 114
Dina-Marie Weineck (Music History and Cultures minor)
"Diversification of Orchestras' Audiences, Musicians, Programming, and
Revenues: Transforming the Relevancy of German and U.S. Orchestras to
their Communities"

11.30 AM. Room 201
Tammy Hong (Art History major)
"Mestrovic's Moses: Public Holocaust Remembrance in the United States Post-World War II"

4.00PM. Room 201
Sarah Poisner (Art History major)
"Birds in Italian Devotional Paintings from the Thirteenth to the Seventeenth Century"