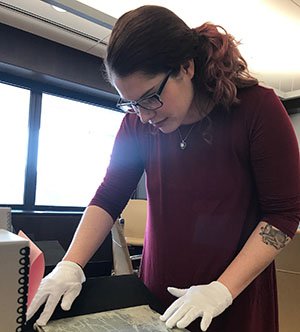 Art History grad student Natalie McGrath has been promoted to the position of Assistant Director at Point of Contact Gallery.  In her own words, "The promotion takes effect at the beginning of the fall semester, so I am currently still working as their collections assistant.  I am also in the process of curating an exhibition for the gallery which will open in August, titled 'Sueños: Celebrating the Surreal.'  This exhibition will highlight the many works in our collection that depicts dreamlike imagery."
This summer, Natalie will be assisting the curator of collections at the Albright-Knox museum in Buffalo, to organize an exhibition of Impressionist and Post-Impressionist works scheduled for Winter 2019. She will also be writing descriptions for the Collection Highlights which will be featured on the museum's website.
Congratulations Natalie!