Michael Cheatham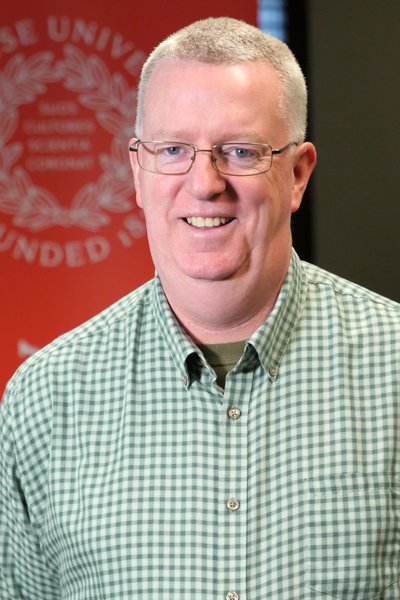 Michael Cheatham
Web Production Specialist

CONTACT
A&S Communications

Email: mmcheath@syr.edu

Degrees
MS, University of New Hampshire, 1985.
Major: Geochemistry
Supporting Areas of Emphasis: Isotope
BS, University of New Hampshire, 1982.
Major: Geology
Supporting Areas of Emphasis: Geochemistry
Experienced Web Specialist with a demonstrated history of working in the higher education industry. Skilled in Wagtail and Cascade Content Management Systems, XML, XSLT, Python, Django, REST API's, HTML, CSS, Adobe Creative Suite.
30+ years of experience in Mass Spectrometry, Optical Spectroscopy, X-ray Spectroscopy, Scanning Electron Microscopy (SEM), Electron Microprobe (EPMA), and Optical Microscopy. Strong media and communication professional with a MSc focused in Geochemistry from Univ. of New Hampshire.
Cheatham, Michael & Sangrey, William & White, William. (1993). Sources of error in external calibration ICP-MS analysis of geological samples and an improved non-linear drift correction procedure. Spectrochimica Acta Part B-atomic Spectroscopy - SPECTROCHIM ACTA PT B-AT SPEC. 48. 487-506. 10.1016/0584-8547(93)80054-X.
White, William & Cheatham, Michael & Duncan, Robert. (1990). 5. ISOTOPE GEOCHEMISTRY OF LEG 115 BASALTS AND INFERENCES ON THE HISTORY OF THE REUNION MANTLE PLUME 1. 10.2973/odp.proc.sr.115.131.1990.
White, William & Cheatham, Michael & Duncan, Robert. (1990). Isotope ratios of basalts from ODP Leg 115 holes (Table 1), supplement to: White, William M; Cheatham, Michael M; Duncan, Robert A (1990): Isotope geochemistry of Leg 115 basalts and inferences on the history of the Réunion Mantle Plume. In: Duncan, RA; Backmann, J; Peterson, LC; et al. (eds.), Proceedings of the Ocean Drilling Program, Scientific Results, College Station, TX (Ocean Drilling Program), 115, 53-61. 10.1594/PANGAEA.755690.
Cheatham, M.M., Olszewski, W.J., and Gaudette, H.E. 1989. Inter-pretation of the regional significance of the Chain Lakes massif, Maine based on preliminary isotopic studies. In Studies in Maine geology. Vol. 2. Edited by R.D. Tucker and R.G. Marvinney. Maine Geological Survey, Augusta, Maine, pp. 125–137.