Dana M. Olwan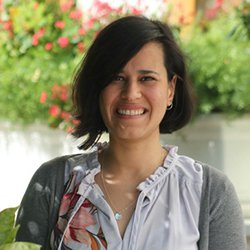 Dana M. Olwan
Associate Professor

CONTACT
Women's and Gender Studies
311 Sims Hall
Email: dmolwan@syr.edu
Office: 315.443.3707

PROGRAM AFFILIATIONS
LGBTQ Studies
Middle Eastern Studies
Native American and Indigenous Studies

Courses
WGS 101 Introduction to Women's and Gender Studies
WGS 201 Transnational Feminist Studies
WGS 301 Feminist Theory
WGS 310 Feminist Inquiries
WGS 400/600 Gender, Sexuality, and Islam
WGS 400/600 Global Perspectives, Local Contexts: Women and Gender in the Arab World (Summer Study Abroad Course; co-taught with Dr. Carol Fadda)
WGS 791 Practices of Transnational Feminism
WGS 453 Feminisms, Sexualities, and Human Rights in Middle Eastern Societies
Dana's research is located at the nexus of feminist theorizations of gendered and sexual violence, solidarities across geopolitical and racial differences, and feminist pedagogies. In support of her work, she has received a Future Minority Studies postdoctoral fellowship, the Social Sciences and Humanities Research Council Art/Research Grant, and a Palestinian American Research Council grant. Her writings have appeared in the Journal of Settler Colonial Studies, the Canadian Journal of Sociology, Feral Feminisms, Atlantis: Critical Studies in Gender, Culture and Social Justice, American Quarterly, and Feminist Formations. She is co-editor with Margaret Pappano of Muslim Mothering: Local and Global Histories, Theories, and Practices (Demeter Press 2016). Shorter opinion pieces can be found on Rabble, Ricochet, The Feminist Wire and Al Jazeera.
Research and Teaching Interests
Areas of research include gendered and sexual violence and the "honor crime," comparative settler colonialisms, feminist pedagogies, and representations of Arab and Muslim women. Her teaching interests include transnational feminist theories of race, gender and religion, gender politics and feminist movements in the Middle East, and indigenous and feminist solidarities.