Samuel Johnson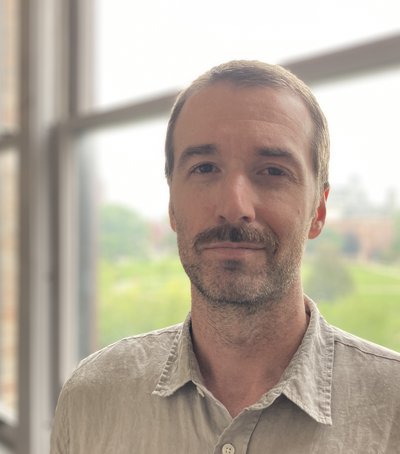 Samuel Johnson
Pronouns: he/him
Carole & Alvin I. Schragis Faculty Fellow, Assistant Professor and Director of Graduate Studies in Art History

CONTACT
Art and Music Histories
308 C Bowne Hall
Email: sjohns32@syr.edu
Office: 315.443.4433

Degrees
Ph.D., Harvard University, 2015
A.M., Harvard University, 2011
B.A., University of Minnesota, 2006
Courses Taught
Undergraduate
Arts & Ideas II
Photography and the Fine Arts
Avant-garde Art, 1905-45
Art After the Second World War
Graduate
The Literature of Art Criticism
Cubism and Abstraction
East/West: Russian Modernism and 20th Century Art
New Media/Old Media
Institutions and the Critique of Institutions in 20th Century Art
Samuel Johnson is a specialist in the art and architecture of the Russian and Soviet avant-gardes. His research deals with art and politics in Russia between the World Wars, with a particular focus on the transformation of the avant-garde under Stalin. He teaches courses on various topics in twentieth century art.
"Counterfactual Modeling in Historical Reconstruction," co-authored with Mitesh Dixit, Lawry Boyer, and Stephen Melville, Technology | Architecture + Design (TAD) vol. 6 no. 1 (2022): 46-58
"Suprematism and/or Supremacy of Architecture" in Celebrating Suprematism: New Approaches to the Art of Kazimir Malevich, ed. Christina Lodder (Brill, 2018), 144-60
"Ornement/masse: la troisième dimension du suprématisme," in Chagall, Lissitzky, Malévitch: L'avant-garde russe à Vitebsk, 1918-1922 (Paris: Centre Pompidou, 2018), 196-201
"El Lissitzky's Other Wolkenbügel: Reconstructing an Abandoned Architectural Project," The Art Bulletin vol. 99 no. 3 (Sept. 2017), 147-69
El Lissitzky on Paper: Print Culture, Architecture, Politics, 1919-1933. Forthcoming from University of Chicago Press, March 2024.
Leonard A. Lauder Postdoctoral Fellowship, Metropolitan Museum of Art, 2015-17