Joe Wilson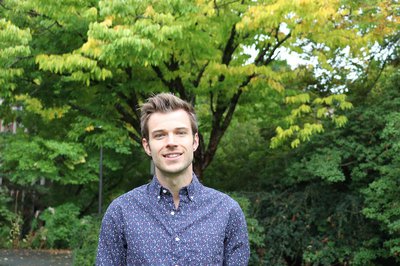 Joe Wilson
Pronouns: He/him/his
Assistant Professor

CONTACT
Writing Studies, Rhetoric, and Composition

Email: jwilso56@syr.edu

Degrees
Ph.D., Department of English, University of Washington
Joe Wilson (he/him) joins the Department of Writing Studies, Rhetoric, and Composition in the College of Arts and Sciences in Fall 2023 as a tenure-track assistant professor. He will teach classes in composition studies, translingual and transnational literacies, World Englishes, queer studies, and writing across the curriculum.
Wilson's research focuses on the mobility of literacies across linguistic, generic, and geopolitical boundaries. His work seeks to understand not only how multilingual writers integrate diverse literacies as they move across contexts, but also the relational stakes and possibilities that the translation of such literacies affords to resist or transform those contexts. His other projects include research on queer orientations to technical and multimodal translation, as well as how to consider such orientations in relation to writing programs and classrooms.
Wilson received a Fulbright in 2018 to study and teach in Kazakhstan, and his research has been supported through two different Mellon Fellowships, as well as a Boeing and Chester Fritz International Research Grant. Wilson earned a Ph.D. in 2023 from the University of Washington, as well as a Graduate Certificate in Russian, Eastern European, and Central Asian Studies.
Transnational literacies; Translingual orientations to writing studies; Queer rhetorics; Critical applied linguistics/TESOL.
Wilson, J.A. (2023). Translation's value to queer orientations to technical communication: On claims to interpretive authority. Technical Communication and Social Justice, 1(1), 79-106.
Wilson, J.A. (2023). Distributing the labor of translation in the context of graduate education in writing studies. In N. Bou Ayash and C.B. Kilfoil (Eds.), Translingual and transnational graduate education in rhetoric and composition. Boulder, CO: University of Colorado Press.
Wilson, J.A. & Soblo, H. (2020). Transfer and transformation in multilingual student writing. Journal of English for Academic Purposes, 44(1), 1-13.
Chester Boeing Fritz International Research Grant, 2022
Mellon Collaborative Fellowship for Reaching New Publics, 2020-2022
Hermione & Louis Brown Publication Prize, 2020
Fulbright – Kazakhstan, 2018-2019
Council for Writing Program Administrators (CWPA) Research Grant, 2017-18.