James Crill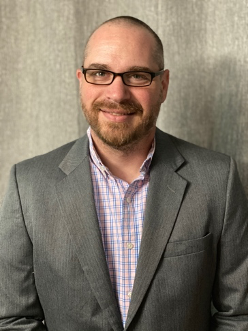 James Crill
Professor of Practice

CONTACT
Forensic Science

Email: jcrillii@syr.edu
Office: 315.443.3569

Degrees
Syracuse University in 2007 with a BS in Biology
Courses Taught
FSC-406 Advanced Forensics
FSC-498 Capstone in Forensics
FSC-645 Biochemical Analysis
FSC-440/640 Microbial Forensics
James Crill joins the FNSSI program as a Professor of Practice in spring 2020.
Prior to joining Syracuse University, Crill was a senior scientist at MRIGlobal, a government contractor. While at MRIGlobal, Crill lead several projects and deployed a mobile forensics laboratory for the Department of Defense as well as acting as liaison and subject matter expert in microbial forensics. Prior to MRIGlobal, Crill worked in the Advanced Technologies department of SRC. At SRC, Crill worked with several government agencies to solve advanced problem sets unique to their needs.
Crill's research focuses on detection and characterization of biological weapons of mass destruction (B-WMD) using several methods including high throughput sequencing, quantitative PCR, and immuno-assays. Most recent projects are focused on database development and curation used in bioinformatic pipelines for the detection and attribution of B-WMD.
Kupakuwana GV, Crill JE II, McPike MP, Borer PN (2011) Acyclic Identification of Aptamers for Human alpha-Thrombin Using Over-Represented Libraries and Deep Sequencing. PLoS ONE 6(5): e19395. doi:10.1371/journal.pone.0019395
Borer PN, Kupakuwana GV, Chen L, Crill JE II, McPike MP (2010) High Throughput Screens for Aptamer Discovery and Characterization. PittCon Meeting Abstracts (Pittsburgh Conf Analyt Chem Applied Spectroscopy):. pp. 1430–1432.
Lashua A, Crill JE II, Duffey E, Allis DG, Hudson BS, Sponsler MB (2011) Inclusion Crystals Containing Isolated Polyacetylene Chains. ACS Anaheim PA